Challenges and opportunities ahead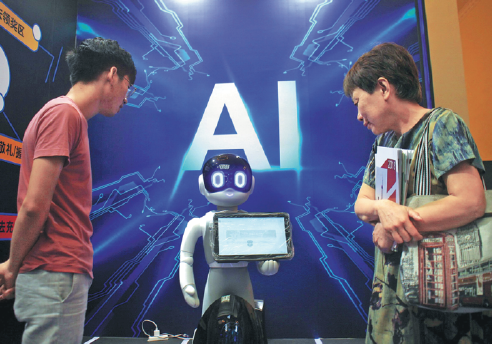 Technology leaders predict leading role for China in artificial intelligence, big data and cloud computing
Editor's Note: China Daily reporter Ouyang Shijia quizzed senior executives from three leading Chinese internet-based companies - Xiao Hong, CEO of movie and gaming conglomerate Perfect World; Zhou Hongyi, chairman of the board and CEO of security software provider 360 Security Technology Inc and Gong Yu, founder and CEO of iQiyi Inc, a video streaming platform. They discussed new landscapes of innovation and the future development of internet business in China.
Chinese tech enterprises have stepped up efforts to master key technologies with self-owned intellectual property rights despite lingering trade friction between China and the United States. In which sectors or cutting-edge technologies do you think the country will achieve breakthroughs in the next few years?
Xiao Hong: With many technological bottlenecks in different industries that have been broken through, China is gradually growing into a global leading force in many fields, from the world's largest total volume of cashless transactions to the world's fastest big data computing, from the world's largest electric vehicle market to the world's most advanced high-speed rail network, and from the world's biggest publisher of artificial intelligence papers to the world's leading photovoltaic industry chain. In terms of emerging technological fields, significant progress is expected in cloud computing, big data and artificial intelligence.
In the future, China will make further breakthroughs in the above-mentioned cutting-edge technologies and applications, including current translation technology, medical artificial intelligence, cloud technology, automated driving systems, civilian unmanned aerial vehicles and voice recognition, which will be perfected in the future.
Zhou Hongyi: Artificial intelligence is the future. Many Chinese companies, like 360, have increased their research and development efforts for AI technologies. I take a rosy view of AI's prospects. However, there's also challenges ahead, such as the safety concerns. AI is based on running programs. Once attacked and controlled by hackers, the consequences may be catastrophic. In the future, there will be hundreds of billions of smart devices in various fields, and we will face unprecedented security challenges. With more than 10 years' experience in cybersecurity technologies, 360 has launched the 360 Brain of Security, a comprehensive smart system deploying AI and big data, to solve network security problems in next five to 10 years.
Gong Yu: I believe China may make breakthroughs in aspects such as artificial intelligence. AI will be at the core of future technological innovation, and personalized content will be the future.
How can companies leverage the internet and innovation to further China's economic transformation?
Xiao Hong: First of all, companies can take advantage of internet thinking to accelerate the industry digitalization, and form new business models for economic development.
Secondly, companies must focus on technology innovation and application, and exploit internet innovative development for further industry upgrades.
Lastly, companies will have to utilize innovative development patterns to effectively integrate global resources, which leads to the realization of mutual benefit and integrated development of all parties.
Zhou Hongyi: In recent years, with the popularization and application of new technologies such as big data, cloud computing and AI, a wide range of traditional companies have embraced the digital transformation and have already reaped the rewards.
Currently, the world is in the wave of the fourth industrial revolution. Characterized by quantum computing, AI, biotechnology and many other cutting-edge technologies, the new round of technological revolution will transform the world economy, offering opportunities for latecomer countries across the globe.
China is no longer stuck with the timeworn recipe of trade, investment and construction, and heavy industry-led growth. It is now seeking new growth engines powered by innovation and technologies.
Traditional companies should actively use the internet and related new technologies to embrace digital transformation, which will contribute to transformation of the country's economy. Tech enterprises need to gear up in the research and investment on key technologies, to improve the ability of participating in global competition. And that will offer another way to serve the nation's economic transformation process.
Gong Yu: For China's entertainment industry, technological innovation, especially the booming internet and AI technologies, will be one of the key factors to drive the industry's rapid development. IQiyi has applied the AI technologies to production, distribution and many other sectors. AI helps improve user experiences, increase the monetization capabilities, reduce the operation costs and raise production efficiency. Meanwhile, technological innovation is also bringing a shift in the trend of entertainment content.
First, AI will not only enable a variety of smart distribution and labeling, but also help increase resolution and make the video clearer with less bandwidth and data consumption, offering better user experiences.
Second, AI will increase the monetization capabilities for both iQiyi and our partners. For instance, powered by AI and deep learning algorithms, we will be able to offer consumers personalized recommendation of products and services according to specific scenarios.
Third, AI will help reduce costs. For example, during the production of reality shows, AI will help automatically recognize the key guests and reduce hours of mediocrity to three or five images. Thus the efficiency will be greatly improved. The smarter machines will do more for us.