Spain eyes bigger role in Belt, Road
Share - WeChat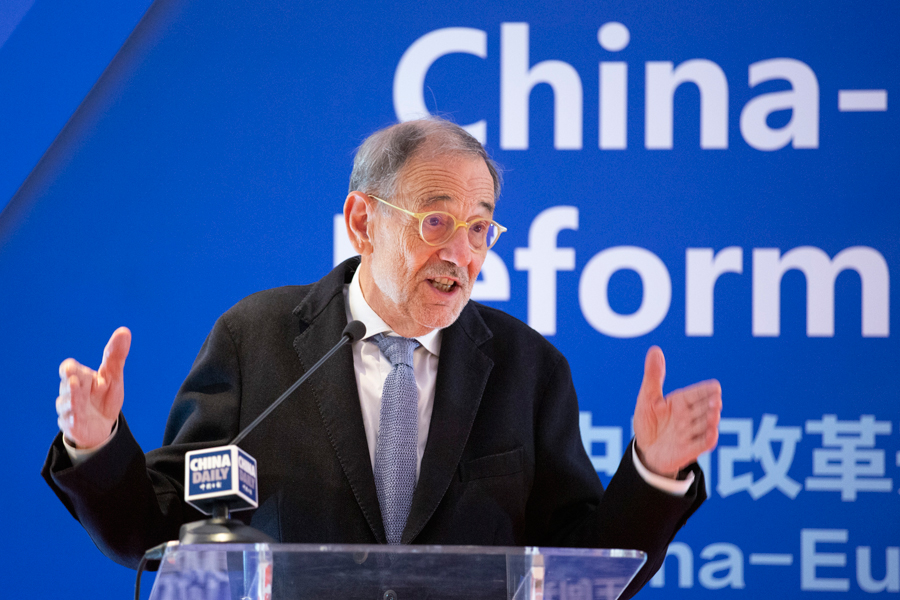 Spain has great potential to further engage in the Belt and Road Initiative and accelerate infrastructure connectivity across Latin America, too, Spanish opinion leaders said.
Their comments came at a time when Spain is playing an increasingly important role in facilitating Eurasian connectivity thanks to Sino-Spanish collaboration across rail, sea and air links in recent years.
"The Belt and Road Initiative is key to ensuring growing global connectivity and open trade links. It produces win-win partnerships and creates new drivers of growth," said Eugenio Bregolat, former Spanish ambassador to China.
"Spain's participation has already generated fruitful results for the Spanish economy, and great opportunities exist for Spain and China to accelerate connectivity in Latin American markets where Spanish companies already have a significant presence," said Bregolat.
Angel Saz-Carranza, director of ESADE Center for Global Economy and Geopolitics, said Spanish firms across construction, infrastructure, energy and transportation sectors are especially well suited to work with Chinese partners to tackle new projects in Spanish-speaking third-country markets.
"Spanish firms can contribute their deep cultural knowledge and established relationships with local partners in many Latin American countries to help ensure new projects' success," Saz-Carranza said.
The Belt and Road Initiative, proposed by President Xi Jinping in 2013, advocates improved connectivity of infrastructure, trade, ideas and knowledge among countries and regions.
Spain has been a keen participant of the initiative. In May 2017, former Spanish prime minister Mariano Rajoy spoke highly of the initiative when he attended the Belt and Road Forum for International Cooperation in Beijing.
Many concrete results already have become reality. In 2014, a new cargo train connecting Chinese export hub Yiwu, in Zhejiang province, with Madrid, Spain's capital, was launched by Chinese company Yiwu Timex Industrial Investment.
The cargo train, which passes through Kazakhstan, Russia, Belarus, Poland, Germany and France, provided Spanish companies a new export transportation option that is cheaper than airfreight and faster than sea freight.
Spanish exports to Yiwu between 2014 and 2017 have increased by more than 300 percent thanks to the cargo train service, according to estimates of the Foundation for Exchange between Yiwu and Spain, an organization financed by the Yiwu government.
Last year, China's Cosco Shipping Ports invested 203 million euros ($231 million) to buy a 51 percent stake in Noatum Port Holdings, operator of Spain's container ports in Valencia and Bilbao and two railway terminals in Zaragoza and Madrid.
Cosco has since invested to help Noatum Port Holdings improve the efficiency of its ports and railway terminals so more trade can flow in a timely and cost-efficient way. From January to July, containers handled by Noatum Port Holdings reached 2.08 million twenty-foot equivalent units-a standard measurement-with an annual increase of 13.2 percent, according to the company's estimates.
Increasing demand for air travel between China and Spain has also led to the establishment of four new direct flight routes between China and Spain in 2016 and one more in 2017. This boosted the number of direct flights between Chinese and Spanish cities to about 30 per week by the end of 2017, about four times the number of weekly direct flights in 2015.
Reyes Maroto, Spanish minister of industry, trade and tourism, reaffirmed in Beijing last month Spain's eagerness to further participate in Belt and Road Initiative development.