UN chief calls for prevention of full-scale attack on Syria's Idlib
Share - WeChat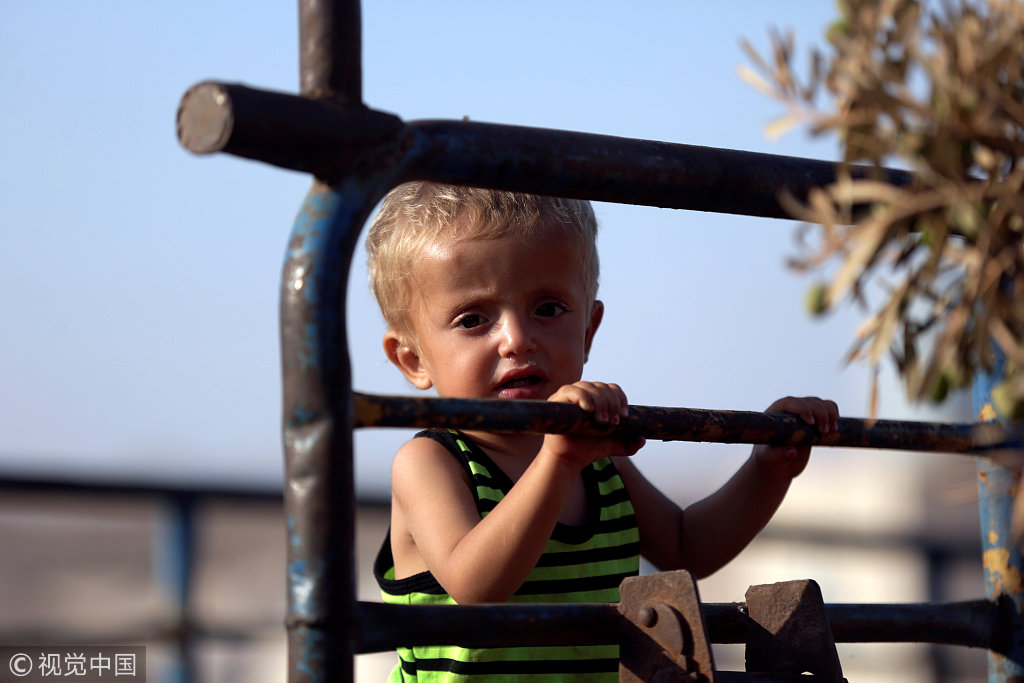 UNITED NATIONS - UN Secretary-General Antonio Guterres said Tuesday that it is "absolutely essential" to avoid a full-scale attack on Syria's Idlib, the last major rebel stronghold in the country.
"This (A full-scale attack) would unleash a humanitarian nightmare unlike any seen in the blood-soaked Syrian conflict," said the UN chief in a press encounter at UN Headquarters in New York.
Almost half of Idlib's population of 2.9 million people had gone there to seek refuge from conflict elsewhere in Syria, including nearly 1 million children. Their lives have been upended and they have nowhere to go, he said.
"Idlib is the last so-called 'de-escalation zone' in Syria. It must not be transformed into a blood bath."
Guterres reminded parties to the conflict of their obligations under international law to protect civilians.
"I understand that the present situation in Idlib is not sustainable and the presence of terrorist groups cannot be tolerated. But fighting terrorism does not absolve warring parties of their core obligations under international law," he said. "I make a clear appeal to all parties directly and indirectly involved -- and in particular the three guarantors of the de-escalation zone, namely Iran, Russia and Turkey: Spare no effort to find solutions that protect civilians. Preserve basic services such as hospitals. Ensure full respect for international humanitarian law."
It is important that the parties -- especially the three guarantors of the Astana process -- find a way in which it is possible to isolate terrorist groups and it is possible to create a situation in which civilians will not be the price paid to solve the problem of Idlib, he said.
The three guarantors bear a particular responsibility since they have their own posts around the situation in Idlib and they have negotiated for a long time the de-escalation zones and different other forms and arrangements, said the UN chief.
It also goes without saying that in the 21st century any use of chemical weapons is totally unacceptable, said Guterres. "Beyond the immediate human toll, such use would lead to a situation spiraling out of control," he warned.
He asked for peace-making efforts, particularly within the framework of the UN-led Geneva process.
There is an urgent need to make greater progress in the Geneva process, and in particular the creation of a constitutional committee as part of the overall political package, he said. "There is no military solution to the conflict. The solution must be political."
"We have a collective responsibility to protect people who have already suffered too much," he said.
Guterres made the appeal after the Security Council remained divided over Idlib on Tuesday.
US ambassador to the United Nations Nikki Haley issued a stern warning on the Syrian government, Russia and Iran over military operations in Idlib.
"We consider any assault on Idlib to be a reckless escalation of the conflict. If (Syrian President Bashar) Assad, Russia, and Iran continue down the path they are on, the consequences will be dire. The world will hold them responsible," she told the Security Council.
Russian and Syrian government air forces have launched over 100 airstrikes in Idlib this month, she noted.
Russian ambassador to the United Nations Vassily Nebenzia argued at the same Security Council meeting that there is a need to fight terrorists in Idlib.
"We cannot allow terrorists to hold hostage and use hundreds of thousands of people as human shields," he told the Security Council. "It is unacceptable to spare terrorists."
Feridun Sinirlioglu, the Turkish ambassador to the United Nations, made it clear that his country is opposed to an assault on Idlib.
"The Syrian regime seeks to legitimize its operation on counter-terrorism grounds. Let us make no mistake: such an operation would not achieve the stated goal," he told the Security Council.
"In a complex place like Idlib, traditional counter-terrorism methods would not yield the desired results. On the contrary, they would create further suffering, alienate and radicalize more Syrians. In this sense, a military operation in Idlib would only play into the hands of terrorists," he said.