Class is back in session for prodigious young hoopsters
Share - WeChat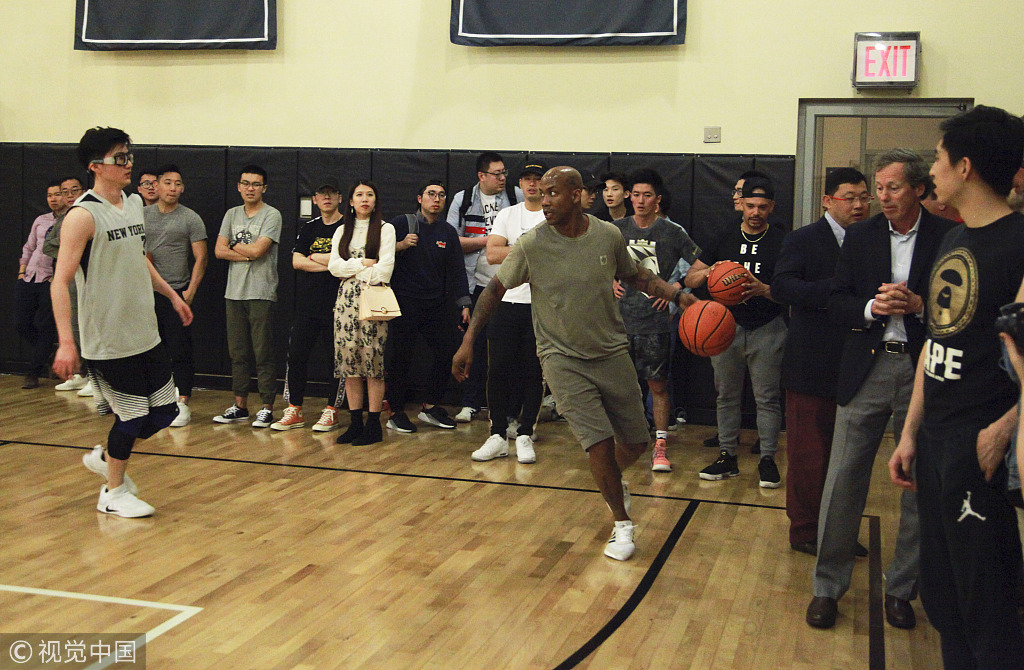 A pioneering basketball program designed to give young Chinese talent the chance to pursue their hoop dreams the American way is back-bigger and better than ever.
After the success of last year's pilot program, 50 places are now up for grabs for the Basketball Pioneer Project's next nine-month term, beginning in October, at the United States Basketball Academy in Eugene, Oregon.
Of the nine Chinese teens on last year's program, seven have won admittance to US high schools.
Fan Yiming was one of those success stories. The 16-year-old, who will enroll at North Broward Preparatory School in Florida this fall, said he initially found the going tough at the academy, but an intense Monday-Friday schedule of basketball training, strength-conditioning and English lessons, followed by weekend games against local high schools, soon whipped him into shape.
"I didn't understand a single word from the coach at the beginning, but I was pretty sure this is exactly what I wanted to experience," said Fan.
"We struggled to get used to the intensity of the workouts and the tight daily schedule, but it forced us to adapt, improve and better manage our time. Everything is built for making progress day by day."
Now the program's sponsor, the State-owned Shougang Group, is searching for a fresh batch of prospects.
With Beijing Sport University on board, the program reaches beyond the traditional State-run sports system by scouting talent during open registration, through July 29.
About 200 boys and girls will be selected to participate in a tryout camp at BSU in August to compete for the final 50 spots.
Former Brooklyn Nets assistant coach Jay Humphries will lead a team-comprised of fitness trainers, nutritionists and a Chinese chef-tasked with challenging the youngsters on the court but making them feel at home off it.
"The sound progress made by the first group of boys boosted our confidence to make it bigger and better this year," said Qin Xiaowen, CEO of Shougang's sports affiliate.
"The combination of athletic training and education staffed by former NBA coaches at the heart of the game is making the program an appealing one, which is different from how we developed our athletes in the past."
Meanwhile, the USBA is upgrading its facilities and customizing its curriculum, aimed at preparing more Chinese players for US high-school competitions and with an eye on advancing to the NCAA, according to the academy's founder and president, Bruce O'Neil.
"We've had great success with the initial pioneer boys," O'Neil said in Beijing.
"They've all transitioned into much better players and well-rounded young men with better English skills and ready to take the next step in American high schools next year."
Those who don't make the grade will be enrolled by BSU's affiliated school to continue their education and training at home but with other basketball-related occupations in mind such as management and coaching, said BSU president Cao Weidong.
"Multiple options are designed for the young hopefuls so that they can pursue their basketball dreams in confidence," Cao said.