A regional body working for global security, trade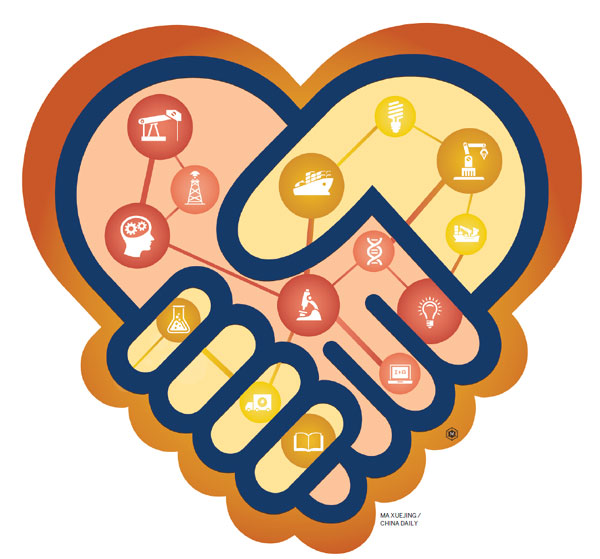 Better is a neighbor who is near than a brother who is far away. In the spirit of this proverb and in stark contrast to some countries' beggar-thy-neighbor policies, President Xi Jinping's four-day trip to Kyrgyzstan and Tajikistan has driven home the point that equality, respect and trust can turn good neighbors into good brothers.
And the Bishkek Declaration the 19th Shanghai Cooperation Organization summit issued on Friday is a testimony to the strengthening brotherhood in the region, and the SCO family's common wish to deepen their win-win cooperation.
It is this strengthening of relations that Xi highlighted when he said more growth areas of cooperation should be created in the region during his talks with Kazakh President Kassym-Jomart Tokayev on the sidelines of the SCO summit on Thursday. That the Bishkek Declaration focuses on safeguarding regional security, promoting trade and people-to-people exchanges, and defending multilateralism speaks volumes about the SCO countries' views, which are starkly different from the unilateral and protectionist practices of some countries.
The SCO's eight members account for 40 percent of the world population but less than 20 percent of the global economy. And they are drastically different in terms of ethnicity, culture, religion, and political and economic systems. They are in different stages of development too.
Yet mutual respect has enabled them to overcome these differences. In fact, the diversities are seen as essential to building complementary, win-win trade relations, as well as promoting mutual learning and people-to-people exchanges. Still, it is important that all the members believe their differences can be resolved through negotiations or shelved for greater mutual benefit.
It is the SCO countries' common need for security, development, and fairness and justice that has helped the regional organization evolve from a security mechanism of five countries in 2001 to an increasingly important platform promoting comprehensive development in Eurasia.
And the expected dovetailing of China's Belt and Road Initiative with Kazakhstan's "Bright Road" economic policy and Kyrgyzstan's national development strategy (2018-40) will boost regional development through more infrastructure projects and increasing trade.
Mutually beneficial cooperation within the SCO framework will create a platform for China to strengthen strategic coordination with its major partners, including Russia, India and Pakistan, all three SCO members, as well as other key regional stakeholders such as SCO observers Iran and Afghanistan, and SCO dialogue partner Turkey. Which in turn will help the SCO members step up the fight against the "three evil forces" of terrorism, extremism and separatism, and thus safeguard regional and global peace and stability in the face of rising threats from the hegemonic and unilateral moves of the United States.
Most Viewed in 24 Hours
China Views