Zeiss expects nation to be growth engine and R&D leader
Share - WeChat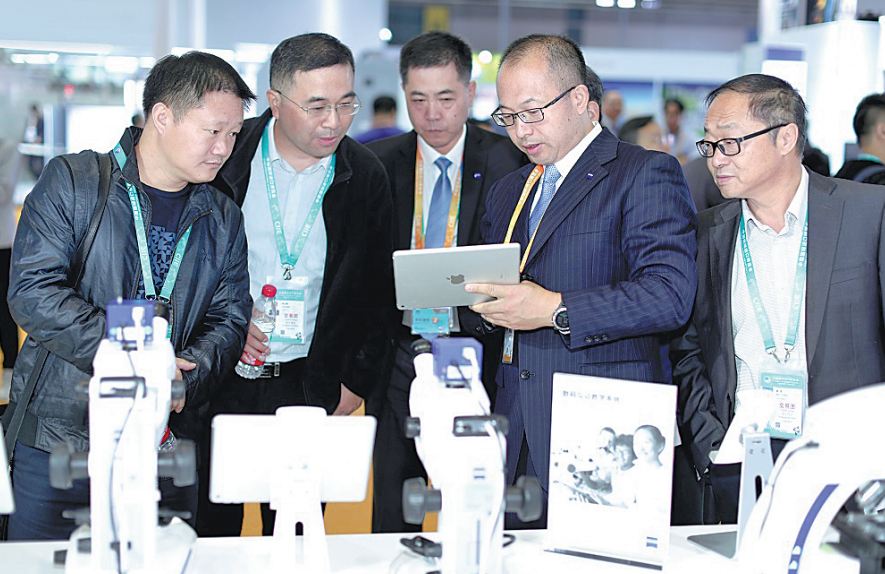 Having achieved consistent revenue growth of over 20 percent annually in recent years in China, optical giant Carl Zeiss envisions the country will not only remain a robust growth engine in terms of business, but also rise to be a leader in research and development that will benefit the global market.
"If we look at the next five years, we are very confident that we can keep growing at this rate. We clearly see a bright future in certain areas," said Maximilian Foerst, president and managing director of Zeiss China.
In the past fiscal year that ended on Sept 30, 2018, the company's China region achieved 5.4 billion yuan ($789 million) of revenue.
While the United States remains the largest market by country for the German-originated company, China has become one of its fastest-growing markets in recent years.
"One of the pressing topics we are addressing is myopia (nearsightedness) management and control," Foerst told China Daily recently.
The company is looking to introduce a number of eye care and correction solutions in China in 2019.
"Myopia is very much an Asian problem, and in particular a Chinese problem. The rates of myopia and progression in young people are much higher and faster in China than in the Western world. That is why we must do our research in China," he said.
The company is now in partnership with nearly 3,000 hospitals across the nation covering the eye care sector.
Vision and healthcare account for about half of Zeiss China's business today. While the company is also planning to bring its semi-conductor business to China, adding to its current portfolio of industrial manufacturing, Foerst foresees that healthcare will remain the dominant revenue generator, while the two sectors are likely to enjoy similarly strong growth.
"If we look at healthcare, there is increasing wealth, an aging population, and China-specific problems like myopia, which will all be driving our business in the future," said Foerst.
"If we look at the manufacturing industry, China is increasing the quality and integration of its manufacturing process and doing it very successfully. And we happen to be a part of this upgrading process, as a provider to support the whole manufacturing industry to go through the upgrade. So we are also in the right and growing industry, which is all about increasing the efficiency and productivity for customers," he added.
In October, the company kicked off the construction of a production facility for eyeglass lenses and medical consumer goods in Guangzhou, capital of Guangdong province, in South China.
Scheduled to launch production by 2020, the facility, a multimillion-dollar investment, is one of Zeiss' most "important investments in Asia", according to the company.
The 173-year-old company first entered the Chinese mainland in 1957 as a microscope provider for local universities and institutions. Today, its regional headquarters inside the Shanghai Free Trade Zone is an integrated hub for manufacturing, research and development, and sales.
"As a company, Zeiss generates 90 percent of its revenue outside Germany, which makes global trade and open business the blood and veins of our business model. We are highly specialized and there are few markets that are large enough to be self-sufficient. So the policy of further opening-up is a major enabler for progress," said Foerst.
"Opening-up not only benefits business, but also helps the development of technology and research. To thrive, research institutions must be talking to each other and learn from each other by exchanging technologies in a global environment."