Gansu students take to court for training with NBA's Spurs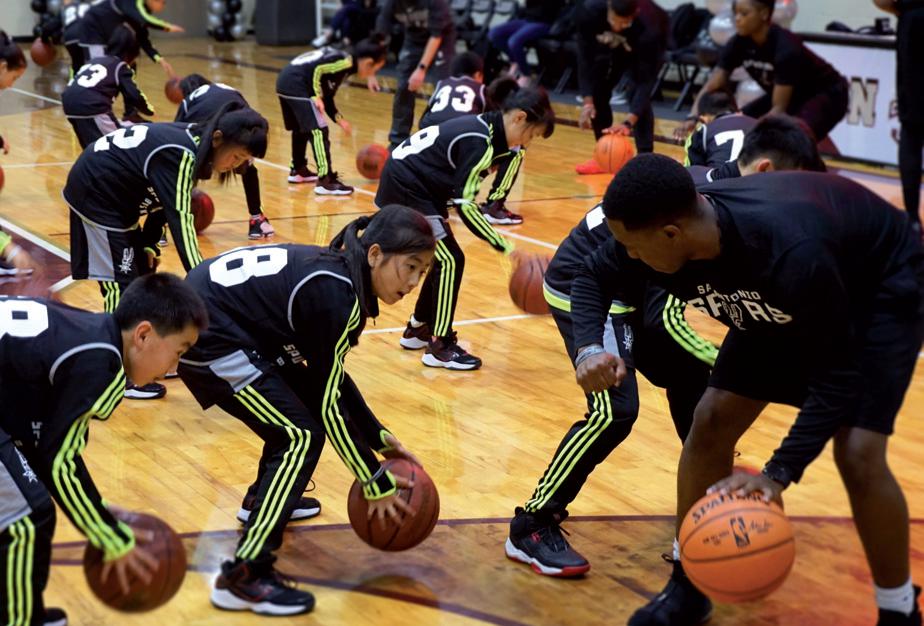 Staff at the Spurs Sports Academy welcomed a special group of Chinese visitors Saturday who arrived at the camp just days before the 40th anniversary of the US-China relationship.
"The 40th anniversary of the diplomatic relationship between the US and China is a coincidence with this trip, but we are thrilled that we are able to use basketball — and sports in general — to make an impact on kids' lives around the globe," said Joe Clark, vice-president of youth sports and business development at Spurs Sports and Entertainment.
Hosted by the Gansu Aesthetic Education Promotion Association and Future SiFang Group, the delegation of 48 elementary and middle school students, many of whom are from rural areas in Gansu province, will participate in a weeklong basketball training program.
Students donning red and blue jackets emblazoned with the Chinese flag were greeted with banners that read "welcome to the Spurs Family" in English and Chinese, which adorned various entrances of the AT&T Center, home of the Spurs.
After high-fiving coaches and camp instructors, students were treated to a tour of the center. They also collected autographs from some of the instructors and exchanged gifts with the staff.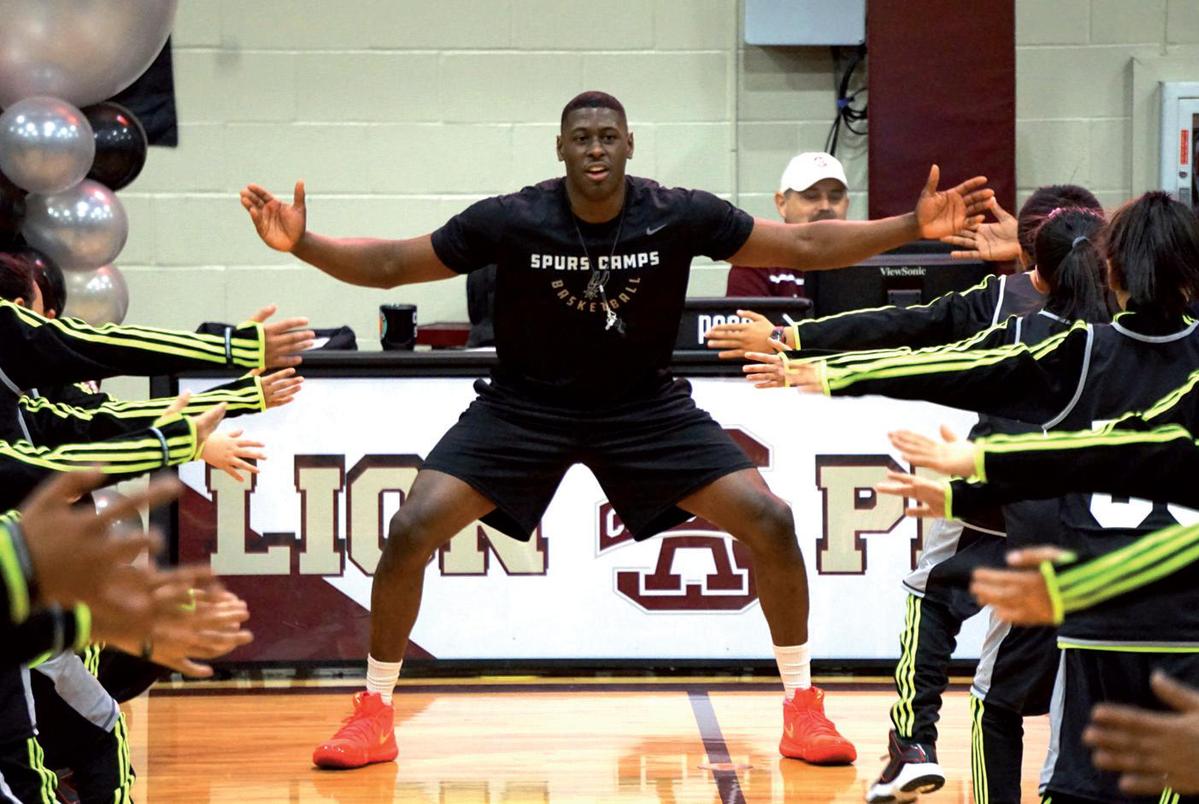 The ceremony, wrapped in the spirit of sportsmanship and friendship, provided many pleasant surprises to Wang Libo, an elementary school student from Linxia City.
"Americans are really friendly," Wang said. "We don't speak English, but they were able to communicate with us in Chinese, and we got along very well."
The 9-year-old told China Daily that Harvard University is her dream school and she plans to visit the institution someday.
Twelve-year-old Nian Kai, who named Kobe Bryant as his favorite basketball player, said the NBA tour was his dream-come-true.
The trip was the brainchild of Xie Jianhua, president of the nonprofit Gansu Aesthetic Education Promotion Association. It was made possible through the contributions of generous donors, he said.
"It's hard for children in rural parts of China to obtain formal training in music and physical education," said Xie, who has dedicated years of his life to training teachers and students from China's impoverished areas and broadening their perspective.
Clark said he is excited for the opportunity to see first-hand the talents that the Gansu children will bring and to help them chase their NBA dream.
"For these kids to have the opportunity to be part of the Spurs Family from afar, and now in an up-close, tangible way — in part because of a foundation that was laid before they were born — is pretty special," he added.
According to Frank Miceli, service vice-president of sales and franchise business operations at Spurs Sports and Entertainment, China is quickly becoming one of the NBA's biggest fan markets.
"For you to experience the Spurs family, from afar, whether you watch some of the games on television, or you follow us digitally, on the internet, now to be here and experience this up close and personally is a very, very special event," he told the students.
Students will perform the dance Hua Mulan and relay a special New Year's greeting to American audiences, which was to be shown during the San Antonio Spurs vs. Boston Celtics game on New Year's Eve.
In addition, there will be an arts and crafts fair displaying Chinese artifacts on game day.
Clark said he hoped to continue similar collaboration with Chinese delegations in the future.
"It's a different type of event, (having) the opportunity to engage with another country," he said.
Contact the writer at teresaliu@chinadailyusa.com