BRI's five years of transport connectivity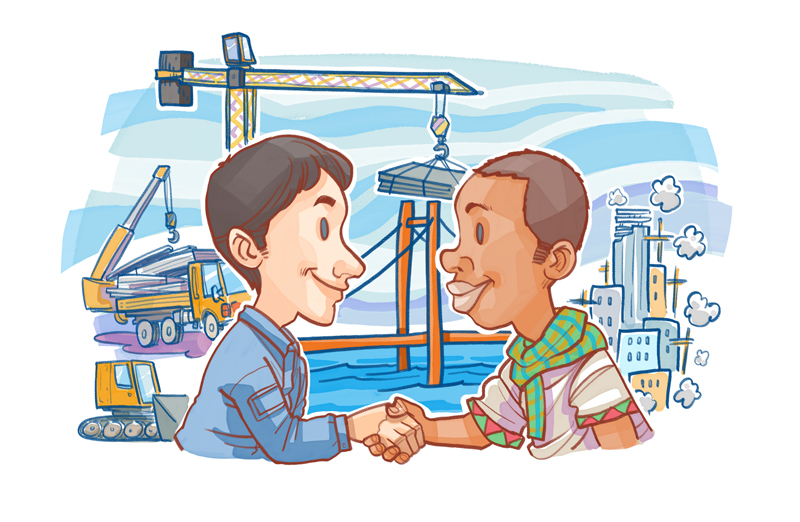 China's Belt and Road Initiative has now existed for half a decade and is already proving to be one of the most significant connectivity projects with a major hallmark in transport infrastructure since the ancient Silk Road networks.
The multi-trillion dollar project has yielded some important contributions to financial integration, trade, people-to-people relations, policy coordination since its conception in the fall of 2013 but the innovations in the transport sector have produced the outlying accomplishments.
Connectivity has been redefined by the extensive scale and swift implementation of BRI projects that seem to have overshadowed prior efforts to make the world more connected. By June this year, 48 Chinese cities and 42 European cities had already been linked by the vast expanse of railway networks that span from Asia to Europe spawned by the BRI.
OBOR - as it known in some sectors- has also seen to the construction of Africa's largest Standard Gauge Railway in Nigeria, spanning over 1,300 km between Abuja and Kaduna. In Kenya where the travelling time from Mombasa to Nairobi has been reduced from half a day to just three hours by their new Chinese built SGR. The fact that this was the country's largest infrastructural development since attaining independence over half a century ago speaks volumes about the achievements of the initiative itself.
The second phase of the railway revolution in Kenya is already in already in motion under the BRI. Other African countries; Tanzania, Rwanda, South Sudan and Uganda are set to benefit from the initiative as well. Ethiopia and Djibouti have also had better railway systems installed that have cut the travelling time from three days to just 12 hours.
BRI has also been instrumental in rejuvenating other foreign and domestic infrastructure projects as in the five years of its launch over 600 ports in over 200 countries have been constructed and refurbished. Thousand of kilometers of highways were constructed or refurbished in several countries while several more are under construction.
Additionally, in the aviation sector, China has increased the number of flights to over 5,000 per week and now has direct flights to almost 50 countries. Under BRI, Chinese companies have also constructed the Victoria Falls airport in Zimbabwe and are in the process of expanding the country's international airport. Similar airport expansion projects are also happening all over Africa under BRI.
The ingenuity of the Chinese leadership is demonstrated by its commitment to seeking out effective ways to connect and interact with more 130 countries that consider china to be their largest trading partner.
In his speech at the conference celebrating 40 years of reform and opening-up last week, President Xi Jinping said; "China cannot develop itself in isolation from the world, and the world needs China for global prosperity" and it is clear that such sentiments have been at the heart of BRI's five-year achievements.
BRI's economic corridors will not only bring prosperity to China but will also aid the development of other countries in the spirit of win-win cooperation and connect other regions to a global value chain. The idea of shared development resonates with Xi's vision for a community of common destiny for mankind.
While the initiative has lately been assessed purely in economic terms contrary to its original five-tier framework, its impact on the socio-political domain has largely been ignored. In five years the initiative has created over 200,000 jobs thereby positively augmenting the social fabric of the communities involved.
The vast railway, highway and aviation networks birthed by the BRI have helped in connecting businesses and individuals alike. It is quite impressive that in just five years, China has reshaped the conceptual anatomy of what the world knows to be the Global Village.
Carter Chapwanya is a published author and currently a Political Science PhD candidate at Shandong University. Arun Upadhyaya is currently an International Politics PhD candidate at Shandong University.
The opinions expressed here are those of the writer and do not represent the views of China Daily and China Daily website.
Most Viewed in 24 Hours
China Views