Sun's Olympic outlook brightens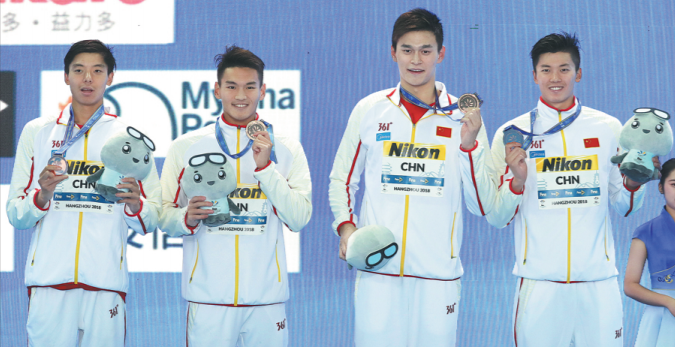 Test run at Hangzhou worlds shows fine-tuning paying off for pool prince
Sun Yang says an encouraging test run at the Hangzhou worlds bodes well for his chances of more Olympic glory at the Tokyo Games.
Sun, a serial champion in the 50m pool, had never taken a short-course race as seriously as last Friday's 4x200m free relay final at the FINA World Championships (25m) in his hometown.
The relay was Sun's solitary event at the meet and acted as a barometer of his efforts to fine-tune technical details in starting, turning and underwater kicking as he bids to gain a tiny but critical edge in speed.
Sun's strong third-leg performance helped the Chinese team land a bronze medal in 6 minutes and 47.53 seconds behind Brazil and runner-up Russia, boosting the three-time Olympic champion's confidence for his Tokyo 2020 medal tilt.
"The result today proved that I've made progress in improving my previous technical weaknesses, which can be better assessed in a short-course race," Sun said after clocking an impressive 1:41.25 over his 200 to power China to a come-from-behind bronze.
"It's my first short-course race in a long time. I was still rusty getting used to the rhythm in the 25m pool but the result was really encouraging so I feel I am capable of making further technical breakthroughs to swim better in Tokyo," said Sun, who owns Olympic golds in 200, 400 and 1,500 free.
All the top three teams finished ahead of the previous 25m world record of 6:49.04 set by Russia in 2010, while Sun's leg time would've landed him gold by a margin of 0.24 seconds in the earlier men's 200 free final, won by American Blake Pieroni.
A race over 25m lengths involves more turns, push-offs and underwater kicks than in an Olympic-standard 50m pool, thus offering more opportunities to gauge technical refinements, according to Sun's long-term mentor, Zhu Zhigen.
"He is not built for the 25m race but he can still draw enough positive energy from the relay performance and learn from the experience this time to continue polishing his details," said Zhu.
With youth no longer on his side, Sun has shifted his focus from distance to speed, setting his sights on defending his 200 title, recapturing the 400 won by Australia's Mack Horton at the 2016 Rio Games and winning the 800's Olympic debut in Tokyo.
Should he succeed, Sun will become the only swimmer in history to win Olympic golds in all four free disciplines, having become the first to be crowned a triple champion in Rio.
However, Sun's declining aerobic endurance could thwart that ambition. He hasn't won an 800m race since the 2015 world championships, and hasn't triumphed in his world-record 1500m event since the 2013 worlds.
The reunion with his London 2012 tutor, Zhu, who specializes in high-altitude endurance training, following a feud over management issues, is expected to improve Sun's stamina.
"A medal in the relay, although it's not the color we wanted the most, is a huge boost for our team and myself," said Sun, who will fly to Australia shortly for his season-break training program with renowned Aussie coach Denis Cotterell.
"I am now fully geared up for a tough training program to prepare for the (long-course) world championships in Gwangju (South Korea) next year and the Olympics in Tokyo," he said.
During last week's Hangzhou meet, Team China bagged 13 medals, including three golds, to finish third on the medal table behind the United States (36) and Russia (14). It was the nation's best performance at a major championship since the 2012 London Olympics.
The meet also announced teenager Wang Jianjiahe to the world, with the 16-year-old winning the women's 800 free and claiming 4x200 free relay gold with teammates Li Bingjie, Yan Junxuan and Zhang Yuhan.
Men's medley specialist Wang Shun won China's first gold in the 200 IM.
Those successes were tempered, however, by the absence of top swimmers from Japan, the US and Australia.
"We have a lot to cheer about but we also have room for improvement," said national team manager Cheng Hao.
"To rival the world's elite in Tokyo requires a lot of hard work down the line."