The German connection
Share - WeChat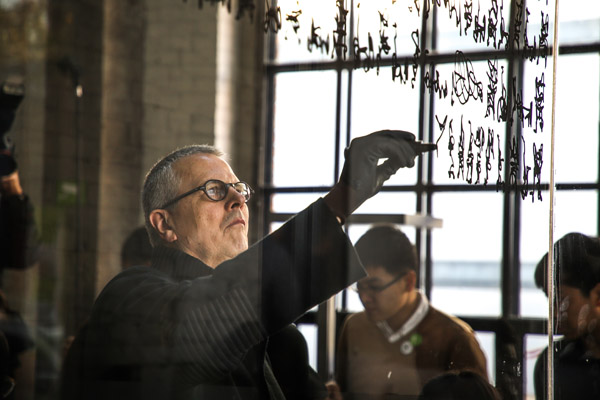 It has been three eventful decades since the Goethe-Institut set up operations in China, Fang Aiqing reports.
The Goethe-Institut celebrated its 30th anniversary in China earlier this year. And a 30-hour celebration comprising concerts, performances, art installations, film screenings, lectures and events for children was held on Nov 17 and 18 at its base in the 798 art zone in Beijing.
Meanwhile, in 30 events held from September through Dec 9, the Goethe-Institut China held discussions on 30 essential questions about the future as well as human and social development, covering art, technology, language learning and gender studies.
"The celebration is a condensed version of our work," says Clemens Treter, director of the Goethe-Institut China.
The venue at the 798 art zone, decorated in green, is considered a cultural space where free talks, artistic productions and creative activities using new technologies are frequently held.
Visiting German President Frank-Walter Steinmeier says: "Among the many branches of the Goethe-Institut I've been to around the world, this is one of the coolest spaces. Congratulations for having such a place filled with creativity."
Steinmeier made the comments on Sunday in the course of a discussion with scholars from a variety of fields on the challenges brought by the digital revolution.
The cultural arm of the Federal Republic of Germany, which is dedicated to promoting knowledge of the German language and fostering international cultural cooperation, the Goethe-Institut, founded its China chapter in Beijing on Nov 1, 1988, due to the joint efforts of late Chinese leader Deng Xiaoping (1904-97) and then-German chancellor Helmut Kohl (1930-2017).
Michael Kahn-Ackermann, the founding director of the institute, says the founding was a very complicated and difficult process that took more than four years of negotiation.
Ackermann was among the earliest overseas students who came to China in 1975.
A sinologist, he has translated books of Mo Yan, the Nobel laureate; Zhang Jie, a two-time winner of China's prestigious Maodun Literature Prize; and author Wang Shuo into German in the 1980s.
Ackermann attributes the founding of the Goethe-Institut partly to China's reform and opening-up and says the Goethe-Institut in Beijing was the only independent foreign cultural institution on the Chinese mainland for 16 years after it was set up.