New coffee shop adds royal flavors to Palace Museum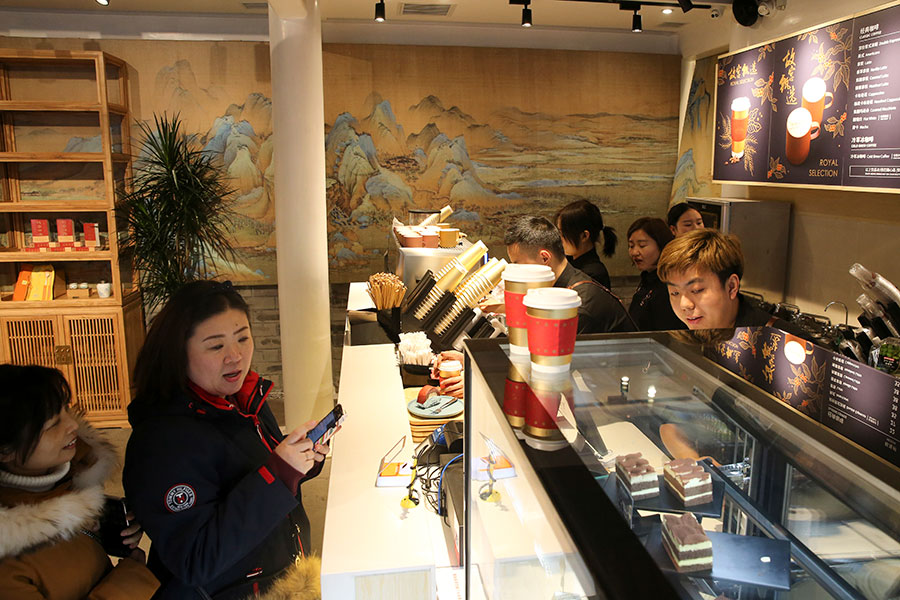 The Palace Museum opened a coffee shop for the modern-day guests of Chinese emperors over the weekend-the Corner Tower Cafe-and it quickly became a hot spot for visitors, bringing traditional cultural heritage closer to the younger generation.
Zhang Lu, a college student who ordered coffee, said she likes the location near the museum's entrance. "The shop is at the corner of the Forbidden City. Having coffee in such a quiet and ancient place makes me think of old stories about what happened here."
Zhang Fan, a business consultant in Beijing, said, "Unlike having coffee in office buildings, it got me closer to culture and history."
The decor of the cafe will be altered from time to time based on the themes of the exhibitions in the Palace Museum, said Zhang Yadong, who runs the shop.
In addition to drinks and food, the Corner Tower Cafe offers cultural and creative items such as stamps, fans and table mats, all of which have designs related to the museum.
Shan Jixiang, head of the museum, said the cultural and creative products will have diverse formats to meet public demand.
As of the end of last year, the museum had developed 10,500 cultural and creative products, generating annual revenue of 1 billion yuan ($146 million).
Wang Anliu, a researcher at Renmin University of China's National Academy of Development and Strategy in Beijing, said the museum has the top cultural resources in China and has developed valuable cultural and creative products in recent years.
Yang Hongshan, a professor of public management at the university, said it was crucial to build and design the cafe to fit the style of the Palace Museum, which comprises some of China's architectural treasures.
The cafe serves more than 30 kinds of coffee, tea and other drinks-priced between 22 and 45 yuan-for 40 guests at a time.
The drinks are given names related to emperors, such as "Kangxi's Favorite Hot Chocolate". Emperor Kangxi was the fourth monarch of the Qing Dynasty (1644-1911).
Visitors don't have to buy tickets for the museum to enter the cafe. Officials said a restaurant, also called Corner Tower, will open soon near the museum entrance.