New couples seek a unique experience on their special day
Share - WeChat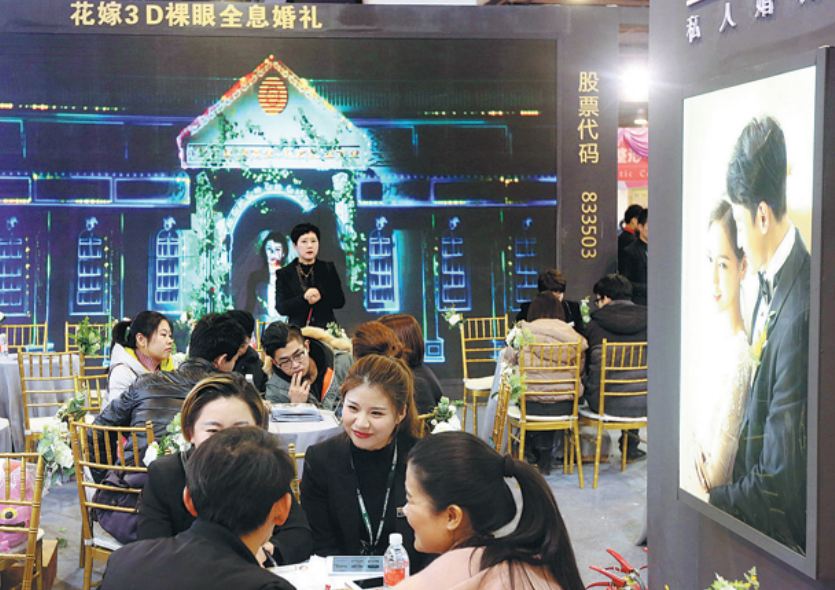 For the post-1960s generation, a wedding ceremony could simply mean a family dinner together, but for those born in the 1980s and 1990s, it means a fancy hotel, decorating the venue with fresh flowers, a diamond ring and a full-blown ceremony.
As Chinese people's quality of life improves, the wedding industry is also experiencing consumption upgrades. Wedding trends have shifted from a simple family banquet to hotel-style ceremonies, one-stop wedding services and a destination wedding. Couples' demands have changed, and personalization and quality have become their major concerns.
Currently, consumers tend to prefer one-stop services that cover planning, photography, outfits and a banquet, among other aspects.
"The post-1990s generation have strong characters and want a fantastic wedding. Therefore, we are devoted to creating such an atmosphere when offering our services," said Deng Weihua, president of Bride Elysee, a Shanghai-based one-stop wedding service provider.
"Weddings are personalized, and there is no specific rule," he said.
According to statistics from China Wedding Expo 2017 in Beijing, the post-1980s generation focus more on the scale of the wedding banquet and their guests' experience, while those born in the 1990s focus on their own desires and the quality of the wedding banquet.
In the past, people tended to rent out wedding dresses, but the post-1990s generation prefer customized wedding couture.
Wedding dress orders at China Wedding Expo 2017 showed that the ratio of customized wedding dresses had risen from 20 percent in 2016 to 45 percent in 2017, and the couture styles were also more personalized and artistically designed.
According to Bride Elysee, the post-1990s generation pursue a sense of ritual and therefore prefer staging a marriage proposal and exchanging marriage oaths. They pay special attention to and celebrate special days such as wedding anniversaries and birthdays. More and more people make a plan for the marriage proposal and select a church for the marriage ceremony.
To grasp these market opportunities, Bride Elysee has launched different wedding themes based on regional variations. For instance, it developed the "light luxury" and "crystal love" wedding themes in Beijing, which were a hit among young people, according to the company.
With the rapid development of social media, the company has developed online products including instant photo sharing and electronic wedding invitations.
"Consumers will have aesthetic fatigue if they take part in a wedding banquet today and happen to join another one held by the same company a few months later. They will no longer find it interesting," Deng said.
"New couples, especially the brides, want their wedding ceremony to be different from others. For this reason, Bride Elysee's market share in each city is controlled under 5 percent. If you want to make profits, you must restrain yourself," he said.
The wedding sector is gradually growing into a new sunrise industry and an increasing number of companies are joining the craze. The entire industry is striving to meet the needs of contemporary youths for diversity, fashion, personalization and the pursuit of romance, according to Bride Elysee.
Companies should play it safe, operate each of their stores well and make sure that every store makes a profit before considering expansion and establishing branches, Deng said.
Some enterprises pay too much attention to market share and hope to open as many branches as possible. However, as the market environment varies across cities, overexpansion may lead to losses, he said.
In 2017, Bride Elysee's sales revenues stood at 303 million yuan ($43.6 million), growing 49.41 percent year-on-year. Its net profit attributed to shareholders reached 34.21 million yuan, up 2.44 percent.
The company successfully listed in the New OTC Market in September 2015, becoming the first one-stop wedding service provider in the Chinese mainland's stock market.