Jaguar Land Rover never stops innovating in both technology and marketing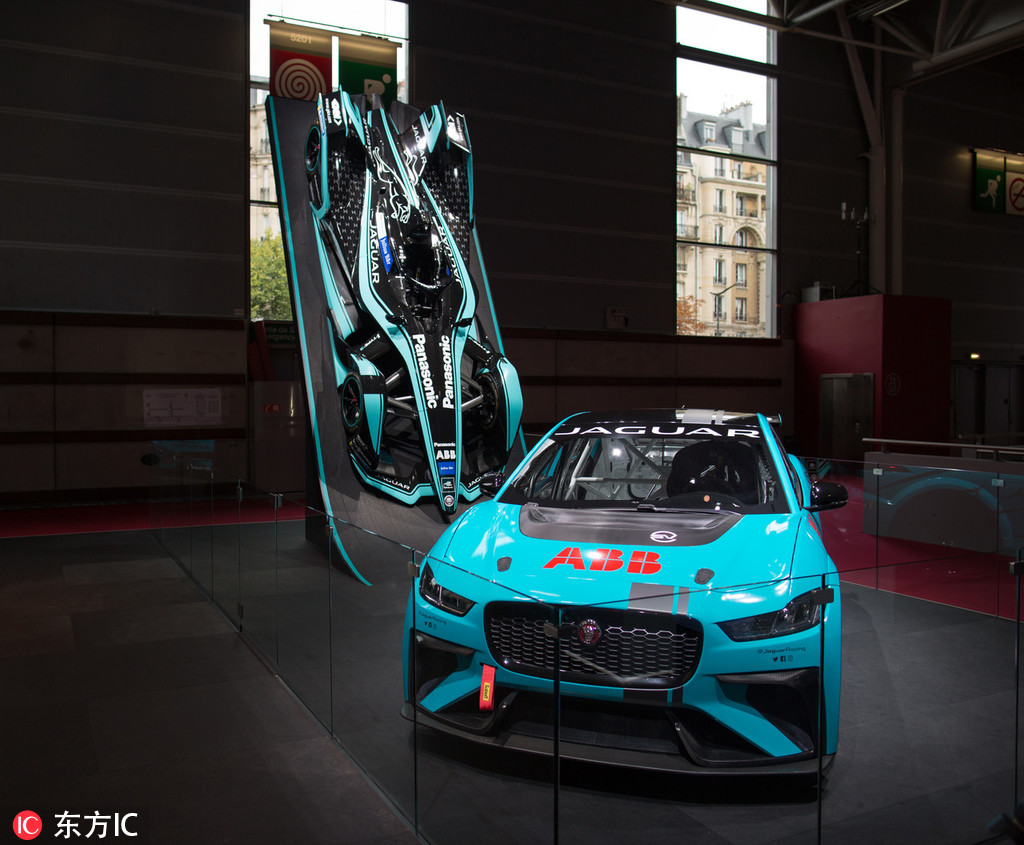 Jaguar Land Rover never stops innovating as it announced the launch of the world's first championship for mass-produced all-electric cars - the Jaguar I-PACE eTROPHY All-Electric Championship, official supporting race of FIA Formula E Championship.
This is the latest sign of the British premium automaker's giant strides and ambitions in the fast-growing new energy vehicle industry.
The event, named after Jaguar's I-PACE eTROPHY race car, will serve as the exclusive supporting race for the Formula E Championship during three seasons, according to the automaker.
The outstanding technology in the I-PACE, on which I-PACE eTROPHY develops, sets a new benchmark for all-electric vehicles.
It combines traditional automotive technology that has continuously improved for almost a hundred years with all-electric technology developed after participation in the Formula E Championship.
Next month, 20 I-PACE eTROPHY vehicles will participate in the Jaguar I-PACE eTROPHY Championship, sharing the same host cities, the same tracks and the same event dates with the Formula E races in 10 metropolises around the world.
Jaguar Land Rover continues to develop race track technologies, and the launch of the I-PACE eTROPHY model provides support for China's participation in the events.
Two Chinese racing drivers - Wang Tao and Zhang Yaqi - will take part in the Jaguar I-PACE eTROPHY Championship, on behalf of the Chinese team sponsored by the Chinese tech giant Baidu Inc, Chinese auto news vertical Autohome, and Star Charge, a new energy vehicle charging equipment manufacturer.
"Jaguar's taking the lead in cooperating with Formula E proves that the British premium automobile brand owns cutting-edge electrification technologies and forward-looking strategies," said Paul Hu, marketing executive vice-president, integrated marketing sales and service of Jaguar Land Rover.
The Jaguar I-PACE eTROPHY, an all-electric race car, is having its Asian premiere at the Guangzhou International Automobile Exhibition, presenting the brand's innovations and achievements in electric-vehicle technologies to customers.
"With the unfolding of the Jaguar I-PACE eTROPHY Championship, there will be a good chance to popularize the Jaguar I-PACE," Hu said.
As a participant in the Formula E Championship for the past two years, Jaguar has accumulated plenty of test results and driving experiences, which have provided feedback for the research and development of the I-PACE, according to the automaker.
From extreme race track experiences to develop a mass-produced model, the Jaguar I-PACE also offers everyday practicality and refinement. According to Paul Hu, while the I-PACE eTROPHY has optimized weight and exterior to meet the needs of the track race, it has kept the original body structure, motor, battery and converter of the marketed I-PACE.
Priced from 648,000 to 736,000 yuan ($93,568.61 to $106,275.45), the Jaguar I-PACE targets young and well-educated customers who have a passion for style and innovation, according to Hu.
"Jaguar I-PACE is for people who seek high technology and refuse to compromise on performance and driving pleasure," he said.
As the first premium all-electric coupe-style SUV from Jaguar, the I-PACE combines contemporary design, Jaguar performance and advanced technologies.
The Jaguar I-PACE can travel up to 456 kilometers on a single charge and accelerate from 0 to 100 km/h in just 4.8 seconds.
JLR is the first premium brand to deliver a mass-produced all-electric vehicle to customers.
The I-PACE handover to its first owners was on Nov. 16 at the Guangzhou auto show, Xia Yu, the famous Chinese actor, was among them, marking another milestone for the automaker.
"As of now, among our 224 dealers there are 31 who have started to sell the I-PACE in 29 cities." Hu said.
"We prioritize distribution to dealers in these cities that have high demand for electric vehicles, and aim to offer premium services to customers," he added.
As part of its dual-brand operation, Jaguar is not the only one innovating.
Land Rover is working to offer an authoritative Road Trip guide for self-driving enthusiasts named after its brand - the Land Rover Road Trip Rating - a service which will further enhance its distinctive brand experience and appeal.
Collaborating with the China Tourism Association, the Geographical Society of China, Chinese National Geography, Baidu Map and other partners.
The Land Rover Road Trip Rating aims to recommend one to three-star driving routes based on four criteria: natural scenery, cultural experience, terrain conditions and unique characteristics.
"The star-rated driving routes will be easily presented by navigation applications. And that's why we are cooperating with Baidu Map," Hu said.
"We hope that all star-rated routes will be at the driver's fingertips in the future, allowing both drivers and passengers to have easy access to precise and intelligent navigation services," Hu noted.
Land Rover is scheduled to establish an independent route rating team. It aims to enrich the guide's information and provide diverse and mature driving routes for its customers, according to the carmaker.