Beijing-style novels shine under the spotlight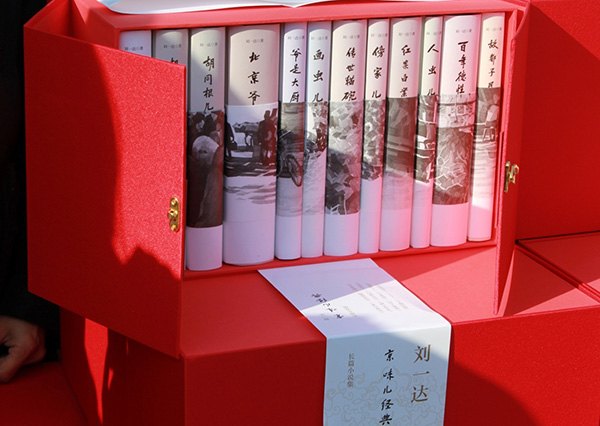 A collection of Liu Yida's Beijing-style novels was promoted at a press conference held in Beijing's Ditan Park on Nov 10.
"Beijing-style novels" refers to books written in Beijing dialect to describe people and stories in Beijing, reflecting the city's unique culture.
According to Liu, Beijing culture mainly includes the culture of the royal family, the scholar-bureaucrats and the ordinary people who usually live in hutongs, Beijing's alleys.
"Among the three kinds of culture, the third one best represents Beijing's characteristics," Liu said.
Chinese writer Lao She, who wrote a lot about people's lives in four-section rectangular courtyard houses and hutongs, is regarded as a symbolic writer to create Beijing-style novels.
Liu, who was born and grew up in Beijing's hutongs, also has enormous affection for Beijing's traditional culture. When he worked as a reporter for Beijing Evening News, he traveled through many hutongs and interviewed 10,000-plus people who lived there.
The collection includes Liu's 12 novels which in the eyes of Wang Xunhai, general manager of Beijing Times Chinese Press, "shows the social changes in Beijing over the past 40 years with vivid characters and legendary stories."
The creation of these books is also about cultural inheritance.
"With Beijing's urban development, much of its original culture no longer exists. I have the sense of responsibility to record some of the past," Liu said.