Malawi hails its 'Chinese queen'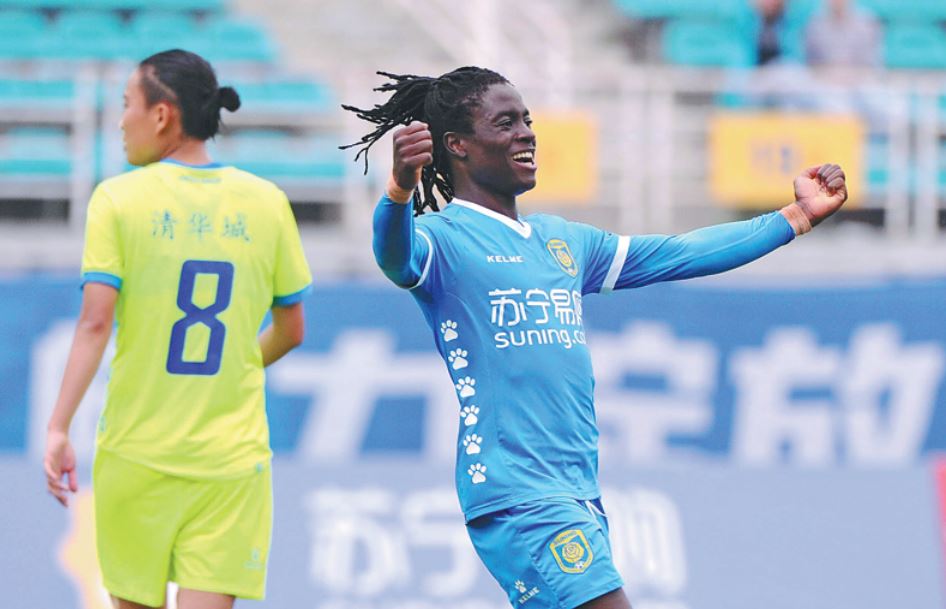 Chawinga toast of African nation after winning Golden Boot award
It's not very often you see a female athlete dominating TV sports bulletins and the backpages of Malawi newspapers.
But that's exactly the case with the African country's soccer superstar, Tabitha Chawinga, who has clinched the Chinese Women's Super League's Golden Boot award in her debut season.
The dreadlocked striker netted 17 league goals for Jiangsu Suning, prompting Malawi's The Nation newspaper to scream "Deadly Tabitha" on the back of its Oct 30 edition.
Chawinga's goal rush wasn't over, however.
The 22-year-old scored once to help Suning to a 3-0 Super Cup final second-leg victory over Dalian Quanjian on Nov 3, adding to her hat-trick in the 4-0 first-leg match, to again make headlines at home, with The Daily Times hailing their "Chinese queen".
Malawi's sports minister, Francis Kasaila, joined in the tributes, telling China Daily Africa: "She is the pride of the country. We should be proud of her. Her achievements should give us food for thought on how much we are investing in ladies' sports."
The Football Association of Malawi also congratulated Chawinga on its Facebook page.
The Malawi captain's season turned into an intriguing duel with Nigeria's African Footballer of the Year Asisat Oshoala of Dalian-the latter helped her side to league glory but Chawinga scored seven goals more than her rival during the campaign.
In winning the Golden Boot, Chawinga has repeated a feat she managed three times when playing in Sweden-in 2014 for Krokom/Dvärsätts, and in 2015 and 2017 for Kvarnsvedens.
Her prolific form in Europe attracted the attention of Suning, which this year signed Chawinga for $171,000-a transfer record for Swedish women's soccer.
Chawinga's scoring exploits in China are extra special considering she missed the start of the season through injury.
"I owe my achievements to God. I would say that is my secret," said Chawinga.
"I am very happy to be the top score," she said.
"If you look at the number of the goals I scored in Sweden, you may think I struggled relatively in China, but bear in mind that I missed several games due to injury and there are also fewer teams in the Chinese league compared to Sweden."
Fellow Malawian player Jasmine Karim told China Daily that Chawinga's exploits are inspiring her to dream big, while National Women Football Association president Severia Chalira commended the hotshot for putting the country's women's soccer scene on the map.
Now there's another Chawinga that defenses should be worried about: Tabitha's younger sister Temwa, who is currently Kvarnsveden's top scorer in Sweden.
So could we soon be seeing a dual sister strike force in China?
Watch this space.