Agreements help deepen cooperation with El Salvador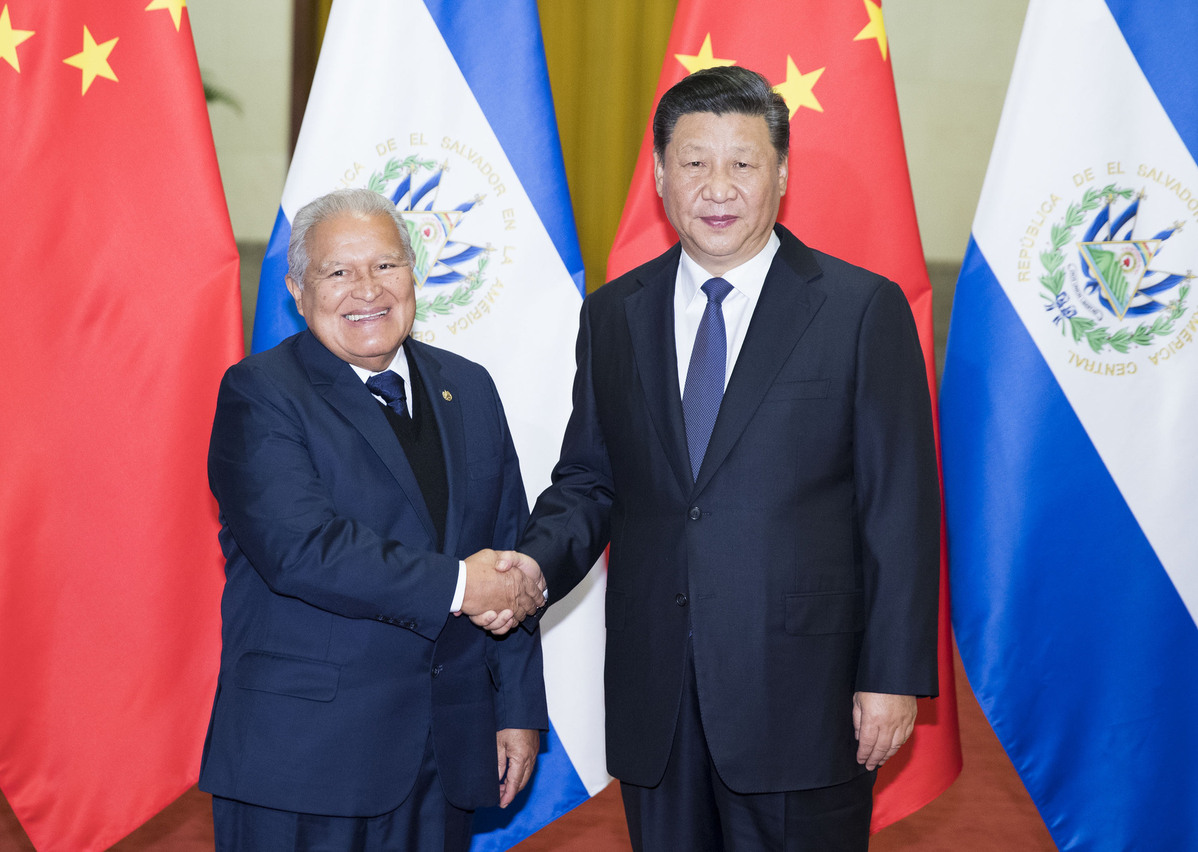 China and El Salvador agreed on Thursday to deepen bilateral ties with a series of cooperation documents signed in Beijing when the Central American country's president, Salvador Sanchez Ceren, was on a state visit to China.
President Xi Jinping held a welcoming ceremony for Sanchez Ceren at the Great Hall of the People before the official talks.
The visit is the first by a leader of El Salvador to China. The two countries established diplomatic ties in August after the country severed "diplomatic relations" with Taiwan.
Xi said that bilateral relations between China and El Salvador have opened a new chapter.
Establishing and developing diplomatic ties are an independent choice by two sovereign countries in conformity with international laws as well as the charter and the purpose of the United Nations, Xi said, adding the relations are within the principle of mutual respect, treating each other as equals, win-win cooperation and common development.
He said the robust momentum for cooperation between the two countries in the past two months has proved that the establishment of the ties conforms to the trend of the times as well as their fundamental and longterm interests.
Xi said that the one-China principle is the foundation of China-El Salvador relations, which should be further consolidated to be more profound, broader and more solid. He called for more dialogue and exchanges to enhance mutual understanding and trust.
Pragmatic cooperation should be strengthened under the framework of the Belt and Road Initiative by leveraging mutual complementarities to develop an all-around partnership, Xi said.
China is willing to develop cooperation with El Salvador in such fields as infrastructure and supports investment by Chinese companies in the country, he said.
Xi said the country is ready to provide support in education, medicine, water supply and disaster prevention, offer additional scholarships to Salvadoran students and develop partnerships with El Salvador in human resources training.
He called on the countries to strengthen coordination in regional and international affairs, and work together to uphold multilateralism and stay committed to advance relations between China and Latin America and the Caribbean.
Sanchez Ceren said El Salvador recognizes and abides by the one-China principle and his China visit demonstrates that his country remains committed to deepening bilateral ties.
El Salvador welcomes Chinese investment and is willing to boost cooperation in such fields as trading, agriculture, infrastructure, tourism, education, finance and science and technology, he said, adding that his country will actively participate in the Belt and Road Initiative and appreciates China's proposal to build a community with a shared future for mankind.