Conference promotes the beauty of dance
Share - WeChat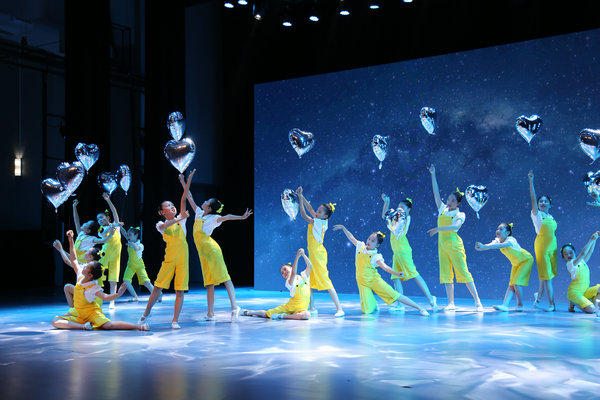 They swayed and stretched after receiving their instruction-several students moving their bodies to express the concept of "space."
That was how Tang Yi, a dance teacher at Beijing Normal University, demonstrated to the audience how to give a class on Laban's theory, a practical theory of dance, at the opening ceremony of the Asia-Pacific International Dance Education Conference.
Held in Beijing from Oct 19 to 21, many experts from home and abroad took part in the conference to discuss how to cultivate dance talent, especially in a comprehensive university environment.
BNU is widely regarded as a specialized university to train teachers, but it is also a comprehensive university, according to Xiao Xiangrong, the head of dance department at the university. That is especially true in terms of the university's dance department in contrast to a specialized art university like a conservatory or dance academy.
In his opinion, specialized art schools focus on cultivating specific talents. For example, students who graduate from a dance academy usually strive to be professional dancers, but students who graduate from BNU's dance department may end up working in a number of dancing-related jobs, such as choreography, dance and teaching.
A report on Chinese internet users' ability to appreciate beauty in dance, jointly prepared by BNU's dance department and the school of journalism and communication, was also released at the event.
Xiao said that some of the results are surprising.
First of all, Chinese internet users have strong aspiration for beauty, which, in Xiao's words, "may coincide with the saying 'It is natural that human beings all take a fancy to beauty'."
However, only a few people are able to derive the meaning of beauty from watching a dance performance. This, according to Zhang Yue, a student of BNU who participated in writing the report, "may indicate that many people still believe dance is only for the minority".
"However, we hope to bring dance to more people, to show them that everyone can enjoy it," she added.
The report also notes that some Chinese netizens are more familiar with Latin dance, hip-hop and ballet, but they seldom pay attention to traditional Chinese dance.
"Despite learning and advancing our experience of other countries, we should still remember our own culture," said Xiao.
It was also found that it is primary school and university students that participate the most in dance activities, while middle and high school students participate the least.
"It indicates that our dance education is utilitarian to some extent. In middle and high schools, dance has to give way to 'major' subjects like Chinese, maths and English," said Xiao.
In terms of personal experiences related to dance, researchers were surprised to find the influence of square dancing.
"Square dancing, according to the report, can really enhance peoples' ability to appreciate beauty," said Xiao.
"Many experts look down on square dancing, but since it does exert influence on so many people, we need to guide it, to make the dancers really know about aesthetic culture in dance."
Finally, the more influential media to spread dance right now are short-video apps like Douyin and Kuaishou.
"Such short videos cannot fully express the beauty of dance. For us dance educators, we want to discuss how to take advantage of such tools and lead people to theaters, which is a real world of dance (and the best place to appreciate its beauty)," said Xiao.
Researchers distributed about 50,000 questionnaires online and analyzed around 3,000 effective responses.
Those who answered the questions were a good cross-section of society, from both urban and rural backgrounds and from different all age groups.
Dance education for primary schools, middle schools, universities, training organizations and even the physically challenged were also among the topics discussed during the conference.
Foreign experts also participated, sharing their ideas.
Angela Carol Perry, an Australian dance teacher, introduced the curriculum from her country that asks students to learn the arts.
They are required to learn music, drama, dance, media arts and visual arts from the ages of 5 to 13. After 13, they can select one or more art subjects to specialize in.
Yoon Mira, one of the leading figures of new dance in the Republic of Korea, gave a lecture on Dalgubul dance, a Korean re-creation of traditional dance, which premiered in 1999.
"Our shared aspiration here today is to make dance walk into more people's hearts, become a key to open their minds, and a part of their lifestyle," guest speaker Chen Xiaoli, a deputy division director of Beijing Municipal Education Commission, said at the event.
Most Popular