Zhang feeds need for greater speed
Former sprinter adjusting to switch from track to skeleton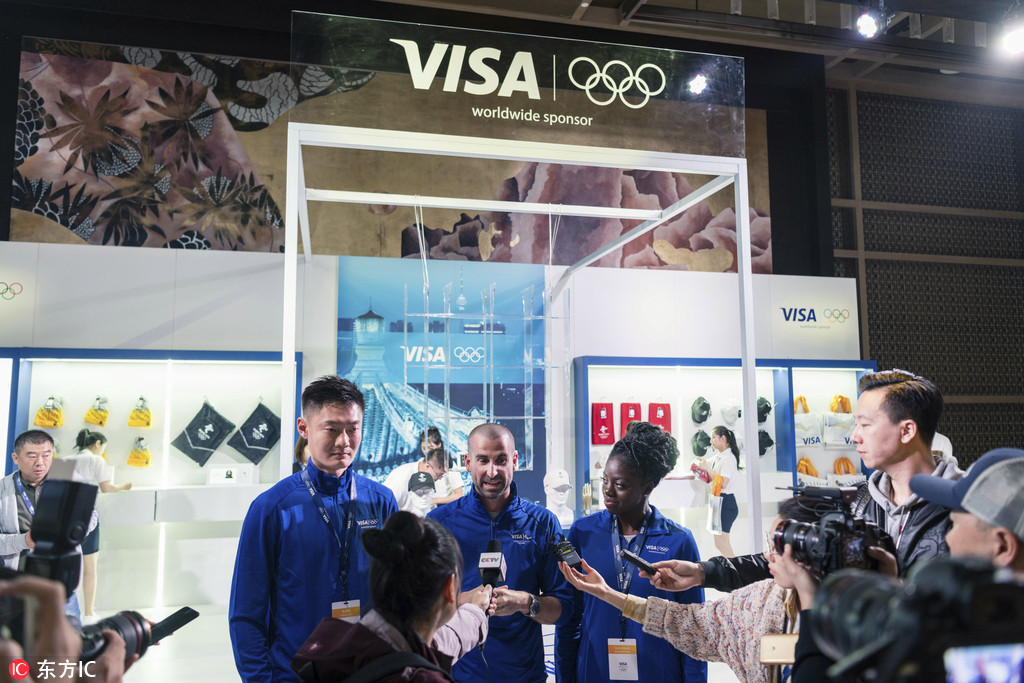 Once one of China's fastest sprinters, Zhang Peimeng is finding new ways to accelerate his adrenalin after switching to skeleton.
Over a 13-year career on the track, the 31-year-old Zhang blossomed into a world-class threat in the 100m, but when it comes to hurtling head-first down a frozen pipe on a flimsy metal frame at speeds approaching 140 kp/h, he's still on the back edge of the learning curving.
After announcing his shift in January, Zhang recently completed his first training program for the Olympic sliding sport in Germany.
"I like everything fast, like motor racing and snowboarding, so I thought skeleton would be a perfect fit for me at the beginning," Zhang told China Daily at a recent Beijing ceremony to announce Visa's sponsorship extension with the International Olympic Committee.
"Instead, it has turned out to be something way beyond my imagination in terms of how dangerously fast sport can be... and my fear built as I took some test runs," said the Beijing native.
Vowing to qualify its athletes for all sports at the 2022 Beijing Winter Olympics, China has built a skeleton national program from scratch by drafting athletes from summer sports to develop the winter discipline with help from overseas powers like Canada and Germany.
Zhang, who represented China in the 100 and 200m at the 2008 Beijing Summer Olympics and won silver in the 4x100 relay at the 2015 worlds, joined a group motivated by the ambition to become the first homegrown athletes to compete in both the Summer and Winter Games at home.
His sprinting power was touted as a potential advantage in the sliding sport, which involves a crucial starting dash. But the transition has proved much tougher than just adjusting his starting posture.
At the beginning of last month's training camp in Konigssee, Germany, Zhang made a false start in a test run and sustained a groin injury after hitting a handle on his sled.
The injury slowed his progress but he's now fully recovered and readying for a more intense training program in Canada later this month.
"It's natural to experience pains chasing a dream," said Zhang. "As scared as I am now, I won't quit just over fear of injury and I believe I will grow conditioned to the speed as long as I have more runs."
Since success in skeleton largely relies on technology, equipment and track familiarity, China is accelerating construction of the 2022 Olympic track in northwest Beijing's Yanqing district to train its pilots under exact Games conditions.
China made its Olympic debut in skeleton in Pyeongchang, South Korea, in February with former long jumper Geng Wenqiang finishing a creditable 13th out of 30 elite pilots.
Geng, who joined the team when it was established in 2015, described the run in the frozen pipe as "like rolling dice in an empty bottle".
"It's all about focus and balance to stick your body as firmly as possible to the whirring piece of metal. I think Zhang will eventually enjoy the sheer sense of speed and the whistle of the wind," said Geng, who finished seventh in his World Cup debut at Lake Placid, New York, last November.
Chinese athletes are not alone in making the switch, as some African countries such as Nigeria and Ghana did the same in Pyeongchang.
Seun Adigun, a former Nigerian women's 100m hurdler and pilot of Africa's first Olympic bobsled team in South Korea, said her best advice for Zhang is to trust the process.
"After enough runs, he will start to realize that he will become more comfortable facing the fear and get more confidence every time he slides down the track," Adigun, also a Visa-sponsored athlete, said.
"He has all the tools-the speed, motivation and a great work ethic. Just like any other technical event, it's going to take time," the Nigerian-American said of Zhang's progress.
After representing Nigeria in 100m hurdles at the 2012 London Olympics, Adigun made her transition to winter sports after drawing inspiration from other cross-sport sledders at the 2014 Sochi Winter Games.
She soon formed a team with fellow athletes Ngozi Onwumere and Akuoma Omeoga to practice on dry land in a wheeled wooden sled and realized their dream of qualifying for Pyeongchang.
"If your dream doesn't scare you then maybe it's not big enough. If it scares you, believe in the process and go for it," Adigun said.