Courageous China goes down swinging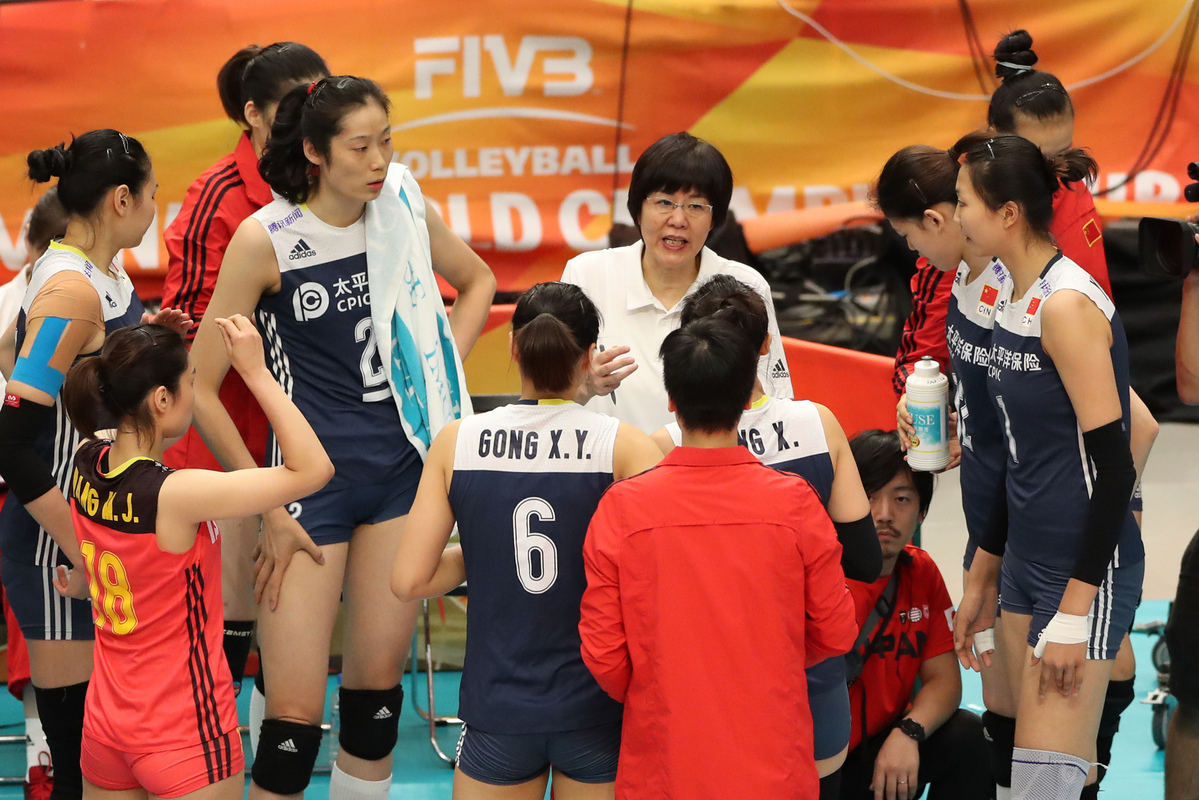 Lang Ping's much-loved squad makes nation proud with bronze at worlds
No gold medal, but Team China's gutsy, never-say-die campaign at the FIVB Volleyball Women's World Championship in Japan left the whole country basking in a warm afterglow.
After a nail-biting five-set semifinal loss to Italy on Friday, Lang Ping's plucky spikers rebounded to emphatically bag bronze with a 3-0 thrashing of the Netherlands on Saturday.
It was a fitting and deserved end to China's tournament, which saw the players again display the outstanding spirit of perseverance that has endeared them to the nation.
The last of China's two golds at the quadrennial championship came in 1986, and while Lang's squad narrowly failed to match 2014's silver, the 57-year-old legend was more than satisfied with the outcome at the three-week tournament, which saw Serbia win gold by beating Italy in a five-set final.
"Of course we need to improve in many aspects, but the teams playing here are all very strong and I think it's not bad for us to get a bronze medal," said Lang, who became the first volleyballer to win Olympic gold as both a player (1984 in Los Angeles) and a coach after helming China to the title at the 2016 Rio Games.
"We have achieved a lot here and the biggest plus was that by playing against strong teams, we gained experience. We could also see that the standard of world volleyball is rising."
She was also philosophical after the Italy defeat, saying: "I told my team to stop thinking about the last two points because if we'd been strong enough we wouldn't have had to play five sets."
It was not for lack of preparation that Lang's squad came up short, with players put through intensive training and warm-up sessions.
"One sip of water and let's go! Don't waste time and keep moving!" Lang barked at her charges before the Italy loss, with players forced to repeat drills should they make even the smallest of mistakes.
"We have to practice hard and condition their bodies for all possible challenges," said Lang, who admitted that perhaps the most difficult challenge was motivating her tired troops for the third-place match against the Netherlands after the draining loss to Italy.
"I had to get them to quickly shake off the disappointment of being beaten because the battle for bronze was also important," said Lang, who despite her own weariness spent the night studying videos of the Dutch.
"We had been in Japan for 25 days. All the good results were earned through our hard work. We could not slip up simply because gold was gone.
"We were all a little bit tired. We'd traveled a lot and changed hotels many times. I couldn't even remember my room number in the hotel when I came back the night of the semifinal."