Star migrant engineer shares secrets of trade and battles injustice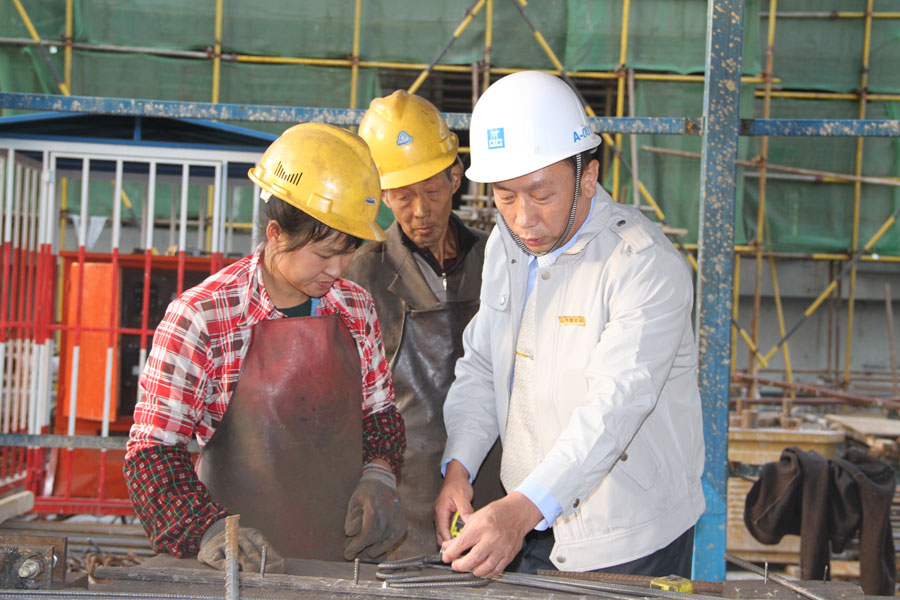 Like millions of migrant workers who left rural homes for job opportunities in cities following the introduction of reform and opening-up in 1978, Huang Jiusheng started from a humble beginning.
Unable to afford further schooling, he dropped out of high school at the age of 17 in 1982 and went to Zhengzhou, the provincial capital of Henan, where he started peddling rice and laying bricks at construction sites.
But he has since achieved things few of his peers could even imagine emulating, like attending a top Peking University program for corporate executives and addressing thousands of fellow freshman in 2013, or being received seven times by the country's top leaders, including President Xi Jinping and Premier Li Keqiang, over the last decade.
When asked about the secrets to his success, the 53-year-old engineer from Xinyang, in the mountainous south of Henan, said they are perseverance, curiosity and honesty.
"When I was still a bricklayer, I bought many books on construction work, which I squeezed in time to read," said Huang, who is now a project manager at the giant, State-owned China Construction 7th Engineering Division Corp, where he leads some 12,000 workers.
"Once I was too tired and fell asleep while reading. The candle fell on the pillow and burned my hair."
Knowing how significant knowledge is for his fellow workers, Huang has given his support to night schools on the construction sites he administers, where the latest techniques in the sector are taught, along with basic legal knowledge.
"A primary construction worker earns only 3,000 yuan ($433) a month in Zhengzhou, whereas their skilled counterparts earn more than twice as much, and are in higher demand," he said.
Figures from the National Bureau of Statistics show there were 286 million migrant workers in China last year - half born since the 1980s. Working away from families and lacking adequate legal protection of their labor rights, the group is among the most disadvantaged in the country.
"When I worked on a construction site in Zhengzhou in the 1980s, l lived in a simple shack along with my workmates," Huang said. "During the summertime, the indoor temperature was so high that the candle melted."
In addition to the poor living environment, migrant workers have limited means to defend themselves when developers or contractors default on their salaries.
The meager wages and lack of legal knowledge mean few are able to hire lawyers to retrieve their hard-earned money. Instead, many block roads and disrupt construction work in protest, or in extreme cases threaten to kill themselves. Though the central government made handling their concerns a priority in 2016, payment defaults remain a problem.
To address the issue, Huang helped established a Party branch in Zhengzhou together with Party members from his hometown. The organization aims to help workmates who experience various problems, especially payment defaults.
"After receiving a call for help, the Party branch will negotiate with the defaulter and press them to deliver the promised salary, and in most cases the defaulter will agree to pay within a certain period," he said, adding it had led to a dramatic cut in the number of workmates resorting to extreme measures.
Huang, elected this year as a deputy to the National People's Congress - China's top legislature - proposed that developers should deposit 20 percent of a project's total investment as a guarantee for workers' pay, which could help stem defaults.
Hong Xianjin, a contractor in Zhengzhou, praised Huang for his hard work and aid to workmates.
"The night schools on construction sites are a win-win solution, for the workers and the contractors as well," he said, adding that skilled workers help improve efficiency and reduce costs.
The 41-year-old said the Party branch had benefited workers and the idea of a payment guarantee fund would help reduce defaults, benefiting millions of people working away from home.
Contact the writers at lilei@chinadaily.com.cn
(China Daily 10/16/2018 page5)