Top dawazi performers walk a tightrope to glory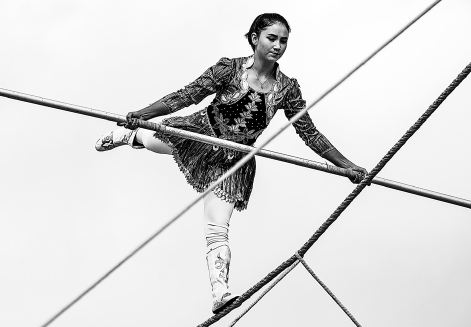 URUMQI - Nurman Guli wears sneakers most of the time, except when she is walking on a tightrope wearing high heels.
The 16-year-old acrobat might be the only tightrope walker in high heels in the Xinjiang Uygur autonomous region.
Tightrope walking is known as dawazi in Xinjiang. It is believed to have been performed for about 2,000 years.
Traditional dawazi performers walk on a tightrope made of grass, 15 to 21 meters above the ground, without wearing a safety harness or any protective equipment.
The activity was given national intangible cultural heritage status in China in 2006.
"There is no one who can perform dawazi wearing high heels like me," Guli said.
On 8-centimeter high heels, Guli can walk on a dawazi, which is only about 3 centimeters in diameter.
"Walking on a 21-meter-high tightrope with high heels is more difficult than I thought at the beginning," she said. It took her almost a year to practice and succeed.
Guli said she does not think performing in high heels is different to when she wears normal shoes, although it does require better control of her center of gravity.
Unlike steel wire, the dawazi grass rope is softer, making it more difficult to balance.
In the eyes of Ayishahim Mamatmin, Guli's acrobatics coach, the girl is the most talented and hard-working student in her school. "Guli has an excellent sense of balance," she said.
Guli has been practicing for more than 10 hours each day since she was 12. "I keep practicing every day to be ready at any time," she said.
Guli is not alone. Gulipia Ghilili, a 12-year-old dawazi acrobat, also tries to contribute something novel to the performance.
Ghilili can perform ballet steps on the tightrope. "I want to be the first ballet dancer on the tightrope," she said.
Both girls are students at a dawazi school in Yengisar county, which was launched by Adili Wuxor, who is a seventh generation dawazi performer in Xinjiang. To boot, Adili has several records recognized by the Guinness World Records organization.
"My students are the future of dawzai, and undoubtedly they will surpass me some day," Adili said.
Having performed dawazi in such cities as Shanghai and Xiamen, Guli dreams of performing on a bigger stage.
"I wish to perform dawazi in big events, like the Olympic Games," she added.