A classic homecoming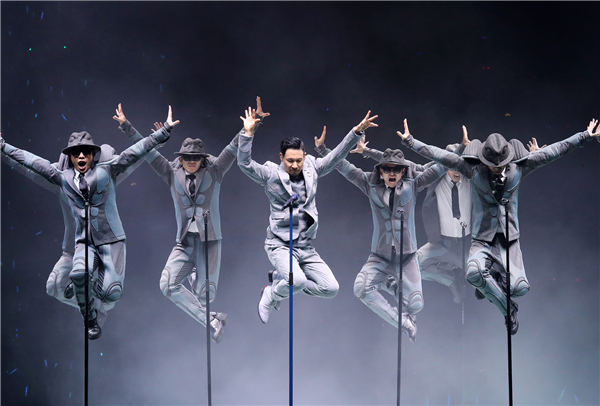 Pop star Jacky Cheung prepares to end a grueling two-year tour with a 15-show stint in Hong Kong.
Walking down onto the stage through a thick cloud of smoke and loud music and to a wave of cheers from the appreciative audience, Jacky Cheung makes his grand entrance at a Hong Kong hotel ballroom.
"I'm still in the mood for these shows," the 57-year-old Cheung announces with a big smile.
He came clad in a bright pink jacket, silver turtleneck shirt and white pants. Cheung is one of Hong Kong's biggest pop stars and has been on his world tour since 2016.
After 191 shows around the globe, he will finally close The Classic Tour, with 15 shows at the Hong Kong Coliseum from Jan 11 to 29, 2019.
As he toasted the crew members who have joined him on his globe-trotting adventure over the past two years, including art director Yee Chung-man and music director Goh Kheng Long, Cheung was full of enthusiasm, while choking back tears of emotion.
"I often got stressed during the tour because lots of things tended to happen. Every week, we would repeat the same procedure and do the same things together," he says. "However, I was always refreshed when I went out on the stage. I practiced my singing at home before the tour began, but it never feels the same as when I sing in front of 10,000 fans."
The singer has made headlines while performing his sold-out shows, but not, as you would expect, for his stellar performances. More than 20 people wanted by police have been arrested at his concerts in the last six months, including a dozen people who were apprehended at his show in Xianyang, Shaanxi province, on Sept 30.
While fans give credit to Cheung's wide popularity, which appeals to people of different ages and all walks of life, the singer says that police relied mainly on facial recognition software to catch the criminals and that "they would be caught by police anyway, and that could happen anywhere, like in a supermarket or at a concert."
He said: "We just need to do the right thing."
It's not the first time that Cheung has embarked on a long and grueling tour schedule. Back in 1995, he had held his record-breaking 100-show world tour. Then, in 2010, Cheung started the Jacky Cheung 1/2 Century World Tour, which has a Guinness World Records' entry for "the largest combined audience of a live act in a year". Between December 2010 and December 2011, Cheung entertained more than 2 million people at more than 140 shows across 61 cities in China, the United States, Singapore, Malaysia and Australia.
"I prepared myself well for the long tour and what made The Classic Tour special is that I made so many plans for it, such as the song list, the dancing, the costumes and the stage set," he explained.