UN official lauds Chinese school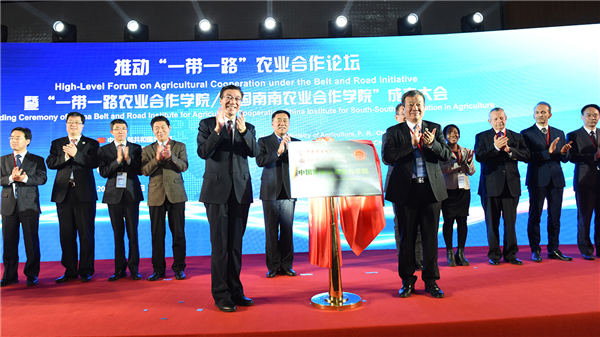 UNITED NATIONS - The director of the United Nations Office for South-South Cooperation, Jorge Chediek, last month commended the leadership of the China Agricultural University for launching two major platforms for exchanges in agriculture and rural development.
At Global Thinkers Dialogue: China's South-South Cooperation in Agriculture, Chediek said the establishment of the China Belt and Road Institute for Agricultural Cooperation and the China Institute for South-South Cooperation in Agriculture will contribute to agricultural and rural development research and knowledge sharing, as well as promote agricultural cooperation and innovation worldwide.
Agriculture is the single largest employment sector in the world, providing livelihoods for 40 percent of the global population, he said.
"It is the largest source of income and jobs for rural households.
"One key way we can enhance agricultural and rural development is through South-South sharing of experiences," he added. "This can be attained through adopting, adapting and broadening best practices that promote agricultural development that is continuing to increase between developing countries."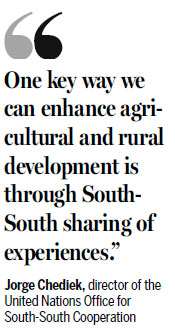 He praised China as the leading agricultural producer among developing countries, saying it has made great strides in reducing hunger and has used its own experience to support other countries to follow suit.
He expressed the hope that dialogue will provide the opportunity to learn from China's expertise, best practice and the lessons it has learned in areas such as providing education and agricultural training, enhancing scientific research, and building and strengthening value chains.
Sun Qixin, president of the China Agricultural University, said that South-South cooperation has become an "undeniable" force in pushing forward global growth.
He presented "An Evaluation Framework for the South-South Cooperation and its Application in the China-Tanzania Cooperation" at the meeting, saying that this report aims to shed light on the tools and methods needed for this kind of cooperation.
Adonia Ayebare, ambassador of Uganda to the UN and president of the High-level Committee on South-South Cooperation, noted at the meeting that Africa is a net food importer and that the region needs to overcome the daunting challenge of feeding 1.5 billion people by 2030, and approximately 2 billion people by 2050.
"There is, therefore, an enormous need and an opportunity for Africa to develop its agricultural sector," he said, underscoring the benefits of South-South cooperation for Africa's agricultural industries.