Cleaning up the planet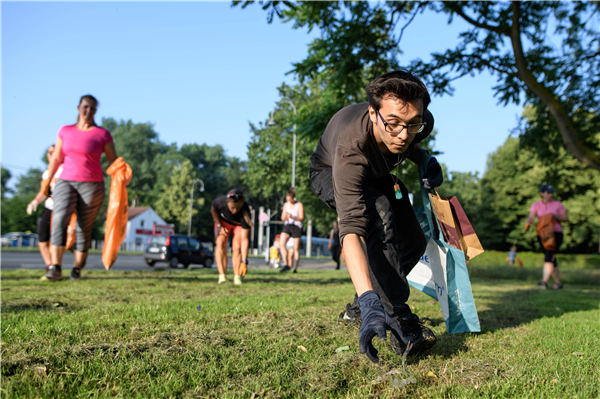 China joins global effort by mobilizing more than 1 million people to take part in the campaign
BEIJING - More than 100,000 volunteers in 132 cities spent a weekend picking up plastic and other waste across the country, in a joint worldwide effort to clean up the planet.
To celebrate the 10th World Cleanup Day on Sept 15, some 700 non-profit NGOs and social groups held activities aimed at cleaning up the environment and tackling the waste crisis throughout China, mobilizing an estimated 1 million-plus people.
It is the first time that China has participated in the event, which was launched in Estonia in 2008.
On Sept 15, an international civic action kicked off in the Pacific islands of Fiji and Vanuatu, and continued around the globe in a 24-hour marathon that ended in American Samoa.
More than 13 million people from 155 countries and regions joined forces to collect man-made non-degradable trash, according to World Cleanup Day headquarters, which called the event "the largest peacetime civic action in human history".
From snowcapped mountains to vast oceans, people united in taking action to remove waste from the environment to raise awareness of the severity of the crisis.
The Asian countries of Indonesia and Pakistan topped the volunteer chart with 3.3 and 3 million participants, respectively, while in Kyrgyzstan, volunteers accounted for 7 percent of the population.
"Today, I truly believe that, as humans, we do have more hope!" says Eva Truuverk, head of the managing board of the Let's Do It foundation, promoter of World Cleanup Day.