Australian politico shows she still can't kick offensive habit: China Daily editorial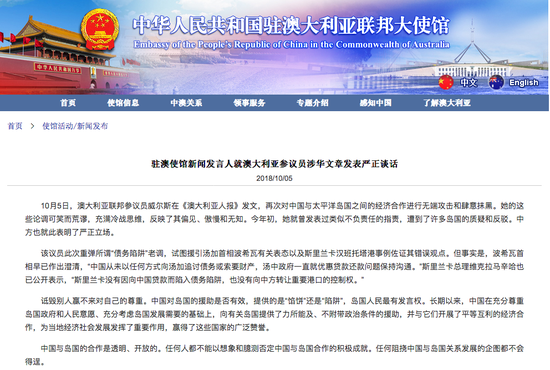 The Chinese embassy in Canberra was fully justified in hitting back at the "unwarranted invective and blatant slander" of Concetta Fierravanti-Wells in her latest criticism of Beijing's aid program in the Pacific. Considering that China-Australia ties are at a new crossroad, politicians in Australia should make more contributions to bilateral cooperation, rather than continuing to throw mud at China, which is a key economic partner of their country.
On Friday, in an article published in The Australian newspaper titled "Bellicose China is popping up everywhere", Federal Senator Fierravanti-Wells repeated the tired old accusation that China's economic cooperation with the Pacific Island countries is a debt trap. This is not the first time that Wells has pointed an accusing finger at China's collaboration with Pacific Island countries. In January, in her capacity as minister for international development and the Pacific, Wells accused China of providing loans to Pacific Island nations on unfavorable terms, only to prompt a strong rebuttal from the Pacific Island nations themselves, saying that she was not telling the truth and tarnishing the image of these countries.
By striking up the same old tune again last week, Fierravanti-Wells is trying to mislead the Australian public's perception of China.
But her bias and malicious intentions will not daunt China and those countries from engaging in cooperation based on the principles of equality and reciprocity that is helping people in the region enjoy better lives. Wells and those with like-minded views should ask themselves how much Australia has done to improve the livelihoods of the people in the Pacific Island nations.
In recent years, Australia has been under increasing criticism from the outside world for neglecting the Pacific Island region. Viewing it as its own backyard, Canberra seems only want to bask in its traditional geopolitical influence in the region without making due contributions to the region's development.
Worse, there is a worrying tendency that Canberra and Washington now view the region as an arena in which they are competing for influence with China. In fact, the Pacific is big enough for the three countries to engage in regional cooperation. Canberra and Washington should discard the Cold War mentality and join hands with Beijing to build a better future for people in the region.