Eastern Economic Forum: Sending a positive message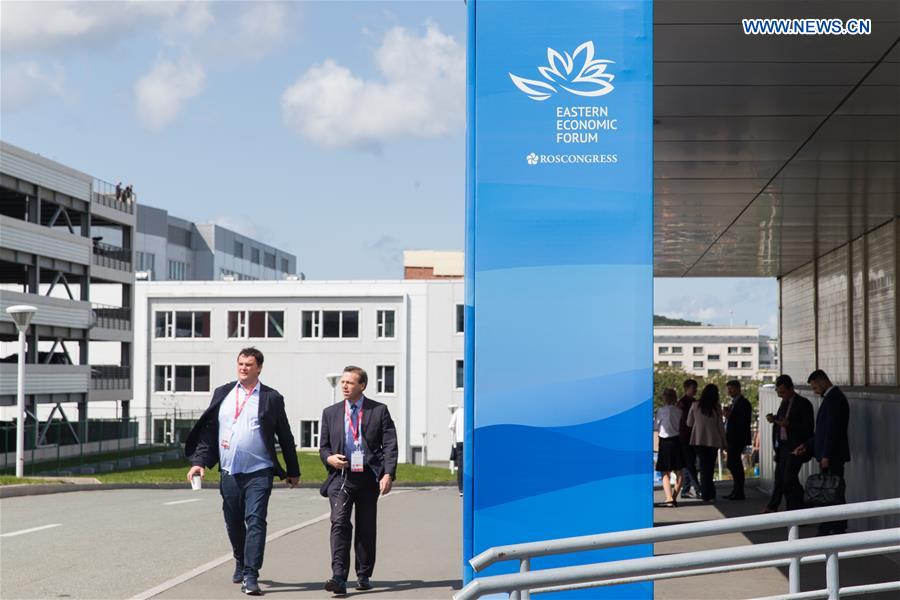 Last month major leaders gathered in the Russia's far eastern city of Vladivostok to attend the Eastern Economic Forum (EEF) and discussed issues such as globalization, free trade, growing protectionism on trade and also issues of conflict, peace and security in the regional and global level. The forum was held from September 11- 13 and participants from more than 60 countries attended the event. The major conclusion of the forum was to increase cooperation to contribute to inclusive economic development in the region and also around the world.
Some scholars said that because of the confrontation and hostile approaches of the Western countries, Russia has turned to the East to furnish diplomacy and cooperation. No doubt, the aim of Russia to look toward East is to retain strong position amid Western economic sanctions and over-coverts encirclement, enhancing diversification among economic and political partners and to build the huge cooperation to tackle the Western influence. In the East and Northeast parts, North Korea, South Korea, Japan and China all are willing to work with Russians. The countries of Southeast Asia are also keen to cooperate with Russians. Russia's role as a member of six-party talk to resolve problems of Korean Peninsula is appreciated and it also a good market for South Korean manufacturing industries.
Since the days of the Cold War, Russia has spoken up in favor of Pyongyang particularly at the international forums to ask United Nations and powerful countries to take balance and pragmatic approach to resolve the Korean Peninsula issue peacefully. At the sideline meeting of EEF, Russian President Vladimir Putin asked Japanese Prime Minister Shinzo Abe to play constructive role to lower the tensions in Korean Peninsula. Mongolia, a land-locked country, also joined the EEF. It has bordered with Russia and China and also good relationship with both countries in all political, economic, security and also cultural dimensions. Mongolia is rich in natural resources, which is useful for any mechanical, electronic and computer hardware manufacturing industries. As a member of the Belt and Road Initiative (BRI), Mongolia is taking huge benefits through multiple cooperation with China and many other countries.
Russia and Japan have some historical problems related with some islands dispute and Japan's rapprochement with the West. Even though with Putin's efforts since three years, both countries are discussing on many fronts and cooperating in multiple arenas. During the Abe's meeting with Putin in St Petersburg, Abe proposed some issues to sort out problems and create a new chapter of relationship. According to the Russian media, Putin agreed to aggravate dialogue and discussion to resolve the issues based on mutual trust and pragmatic overview. Disputes on islands still are making problem to harness fresh cooperation between two countries even though they are in regular meeting and discussion since some years. The last visit of Abe in Moscow, both countries signed 11 bilateral agreements related to the security, trade, commerce and industrial cooperation. It is said that Trumps' economic posture and pressure is hampering Japan's economies. It could be devastating if Japan does not prepare accordingly to tackle Trump's protectionism. Abe will be reelected again in the upcoming election. He will be longest serving prime minister in the post-WWII political history of the Japan. In the last meeting of his party Liberal Democratic Party (LDP), Abe said that he would further broaden the regional diplomacy to contribute in the regional peace.
Chinese President Xi Jinping's presence in the EEF was significant to enhance regional cooperation on multiple fronts. Xi proposed to tackle all kinds of obstacles seems in the road of globalization collectively and contribute for peace, stability and development in the region and also in the world. He clarified on the importance of BRI and its forthcoming inclusive impacts to change the world positively. History says that the Chinese and Russians have never been so close than now in terms of close cooperation on political, economic and security issues. Through BRICS, BRI and other multilateral and bilateral forum, both countries have common voices on multipolar world, inclusive and balance economic model and issue of security to tackle terrorism and other common threats.
Russia is located at the significant geo-political situation. Both countries signed many agreements to harness multiple cooperation based on mutual trust. They have done a lot through Shanghai Cooperation Organization (SCO) to harness security cooperation among other member countries and also to contribute for regional peace and stability. The US-led Quadrilateral Security Dialogue and Indo-Pacific Strategy are seen an effort to contain China and the BRI particularly. But due to the increasing efforts of China, Russia and other BRI countries, it seems that American strategy no longer work in the changing global geo-political and geo-economic dimensions.
EEF was successful in terms of many aspects. Though this forum was organized to harness economic cooperation, it had also given a tangible forum to regional leaders to discuss and sort out the common challenges regarding with political, economic, security, terrorism, climate change and many others too. Leaders attended the multilateral and bilateral level meetings to talk on common agendas. The overall challenge posed by Trump administration is not only economic but also in many spheres like security, political, social, environment and global peace. He is going again the incumbent global order without giving right alternative. This is very dangerous. Changing circumstance demand new global order but this would not happen and acceptable from unitary effort. No doubt, this could only be attained through global dialogue, efforts and cooperation. Any efforts to go against the tide of globalization and global trade would be more disaster particularly to America than others. So conclusion of the last month EEF meeting to harness multiple efforts to retain norms of globalization, economic growth and trade are really appreciated and meaningful.
Buddhi Prasad Sharma is a PhD Candidate at the Communication University of China (CUC). He is also President of Himalaya Dialogue and Leadership Foundation (HDLF).