Sophistication sells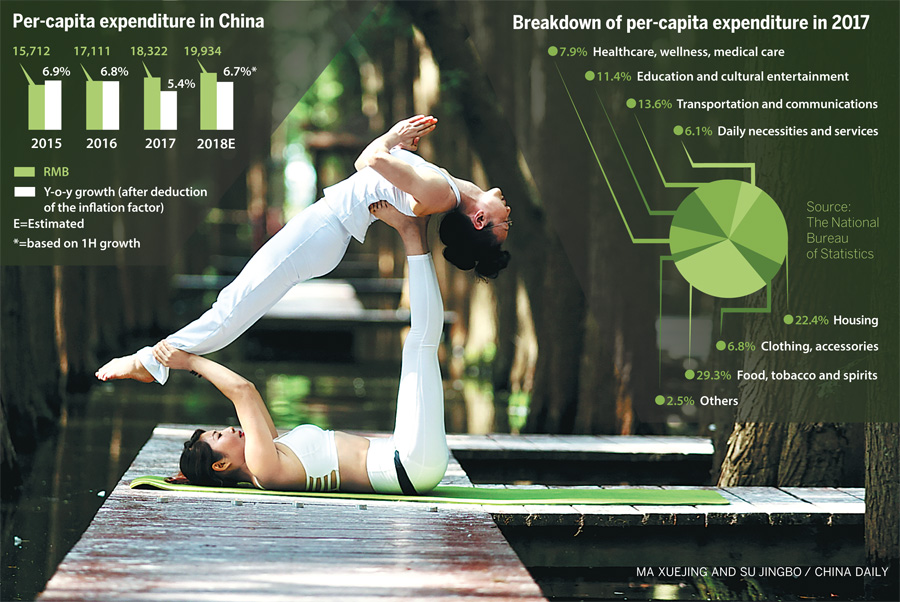 Consumption upgrade powers firms offering services like high-end yoga
If you personify China's consumption upgrade, you could say she is striking a pose full of poise these days.
And the posture, which seems to herald glad tidings for high-end lifestyle, wellness and fitness businesses, is in full evidence at lucrative yoga studios that are mushrooming across China, industry insiders said.
Two figures illustrate well the evolution of consumption upgrade: China's per-capita consumer expenditure reached 18,322 yuan ($2,667) in 2017, up 5.4 percent year-on-year. And consumers such as Christina Zhang, 25, a Beijing-based housewife, are more than willing to part with 15,000 yuan or more for an annual membership at high-end yoga studios.
"Yoga" is Sanskrit for union-of body, mind and spirit, and well-heeled Chinese are pulling out all the stops to achieve that, egged on by new-age wellness startups that offer a variety of services and a range of yoga disciplines.
For Zhang, a typical weekday afternoon is marked by an hour-long session at a high-end Bikram Yoga studio in downtown Beijing. The class sees her stretching herself in a variety of postures called asanas.
As the inventive poses gradually wring sweat out of her shapely, supple frame, she disappears for a quick shower, and emerges from it radiating beauty that seems to arise from an equanimous mind anchored in a contented soul.
Zhang reenergizes herself with some pastry, washing it down with a cup of refreshing black tea, while allowing her mind to float with the soothing soft music flowing out of invisible hi-fi speakers embedded in the studio walls.
"I think what I get here is worth the price," Zhang said. Her 15,000 yuan per annum membership contrasts with around 2,000 yuan yearly fee at traditional gyms that also offer yoga classes. But exclusive yoga studios offer a quieter environment and professional, experienced instructors.
And rising demand for such exclusive services and high-end products is a clear sign that China's consumption upgrade is gathering steam, experts said.
That steam is propelling new businesses such as Pure Yoga, a high-end yoga center that opened shop at WF Central, a premium shopping mall in Beijing, on Aug 5. Pure Yoga is operated by Pure Group, a Hong Kong-based owner of a popular lifestyle brand.
The Beijing studio is the group's third venture on the Chinese mainland. Spread over 12,000 square meters and well decorated, the Beijing studio adheres to Pure Yoga's aesthetic style and incorporates unique natural elements that inform its design philosophy.
The eco-friendly materials, including sustainable bamboo flooring, non-volatile paint, latest lighting devices, as well as the cutting-edge air-and water-purification systems, appear to create an oasis amid the concrete jungle.
"With world-class facilities and thoughtful use of space, Pure Yoga inspires people of all ages and abilities to make yoga part of their lives and enjoy the best yoga experience in a pure and healthy environment. We want to offer busy urban residents a space to relax and reenergize their soul," said Connie Chou, business development manager of Pure Group.
The studio in Beijing boasts four group yoga rooms and one private chamber. This layout offers room for private coaching. To make sure every student gets the best out of their yoga experience, the certified, experienced teachers offer all members more than 125 premium classes each week, covering more than 20 types of yoga. The facility also provides bilingual teaching assistance.
"Practising yoga with professional yoga instructors, and in such pleasant environment, I felt my body and soul relax," said a practitioner after a yoga class taught by Italian instructor Dario Calvaruso.
Founded in 2002, Pure Group opened its first yoga studio in Hong Kong. Seeing growing demand in first-tier cities, the company marched into the Chinese mainland.
Colin Grant, CEO of Pure Group, said, "We mainly target medium-to high-income individuals in first-tier cities, such as bankers and lawyers."
He said people's sports-related consumption is growing continuously, and the consumption levels of Beijing and Shanghai are comparable to that of Hong Kong.
"People's income is going up. Plus, their mindsets have shifted to 'I want a healthier lifestyle'. In the past, they may have wanted to spend money on buying fancy clothes and shoes. But now, they want to eat healthier, buy sports apparel, and live healthier. People are prioritizing consumption related to health."
The company sees the rising demand on the mainland as a big opportunity. "The percentage of the population having a gym card in first-tier cities on the mainland is 1 to 2 percent, while the figure for Hong Kong is roughly 5 percent. Therefore, huge opportunities lie on the mainland. We aim at increasing our penetration rate in first-tier cities such as Beijing and Shanghai," Grant said.
Agreed Qu Jing, a sports analyst at Beijing-based market research consultancy Analysys. "High-end yoga can be viewed as the upgraded version of the normal one, and demand for that can be seen in the increase in the number of studios.