China and US need trust and cooperation: China Daily editorial
Share - WeChat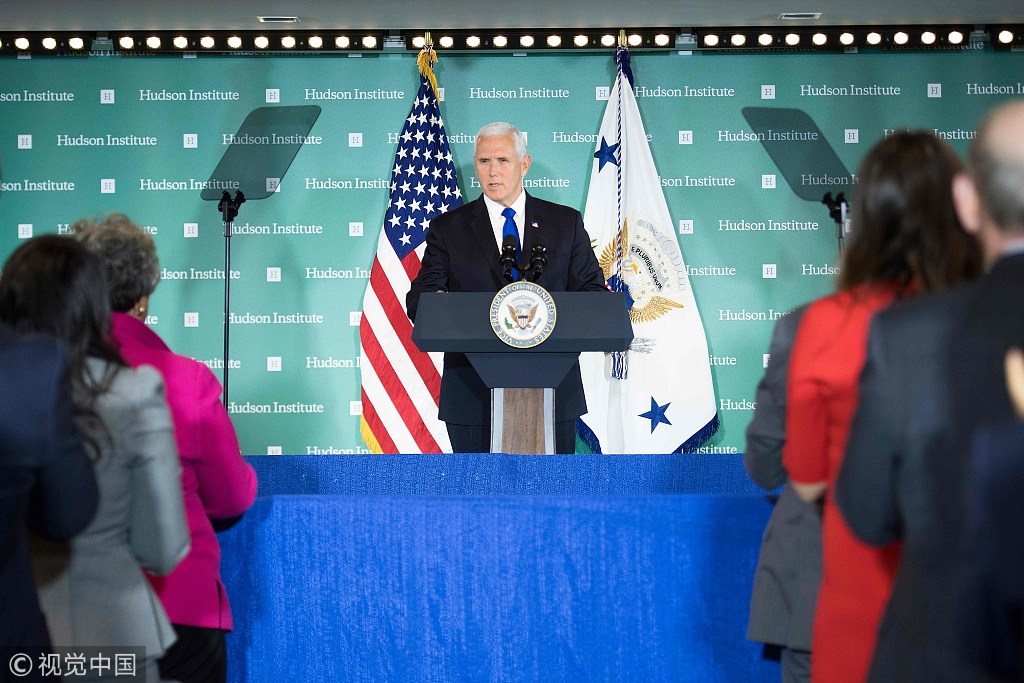 Were it not for the opening paragraphs that depict China as ungrateful to the United States' bounty, or the ending menace in which he urges China to "reach back", US Vice-President Mike Pence's beggar-thy-neighbor speech at the Hudson Institute on Thursday was nothing but a duplicate of outdated concepts of Cold War mentality and zero-sum games.
Speaking with fervor and assurance, but sadly without facts, Pence, in a stream of groundless accusations, accused China of aggressively trespassing upon US interests, while flaunting how the current US administration's policies have worked out.
However, as the Foreign Ministry noted on Friday, the accusations are unwarranted, slander China, confuse right and wrong and create "something out of thin air", which China firmly opposes.
And although China wants to resolve the trade conflict, the US keeps changing its position. Cui Tiankai, China's ambassador to the United States, has said that although both sides had made headway, the demand from the US changed "overnight … this is very confusing, and making things very difficult".
By the way, what Pence wants is not a prosperous China, but an obedient China that should be forced to follow US terms whether in trade, cross-Straits ties, international cooperation or even China's territorial integrity.
The impatience flowing between the lines in Pence's speech laid bare the US administration's anxiety, in part, over China's peaceful rise, for which the Chinese people need not feel indebted, or grateful, to any other country.
The speech, which weaved ironically between a palpable victim mentality and a strong sense of condescending superiority complex, shows the administration must carefully hide that it is outwardly strong but inwardly weak. No US administration has been so "successful" and yet so controversial.
And if it is the US administration's strategic decision to turn its hostility to all-out confrontation, as Pence's tirade hints at, this would shake up the foundation of one of the world's most important bilateral relationships.
China unswervingly pursues the path of peaceful development, and will by no means seek its own development at the expense of the interests of the US or other countries.
Since China and the US, as the world's two largest economies, have broad shared interests, they have few options in their bilateral ties, except for mutually beneficial cooperation on fair, equal and reciprocal terms — if they are both true to their common mission as responsible big countries.
The future of world peace hinges on the abilities of the two countries' leaders to coordinate their national interests and prevent competition and tension, which always exist, from escalating to violent conflict.
But achieving that goal needs the commitment from both sides to build trust, expand cooperation and manage their differences in the spirit of no conflict, no confrontation, mutual respect and win-win cooperation.
Most Viewed in 24 Hours
China Views