Theresa May upbeat on Britain's post-Brexit future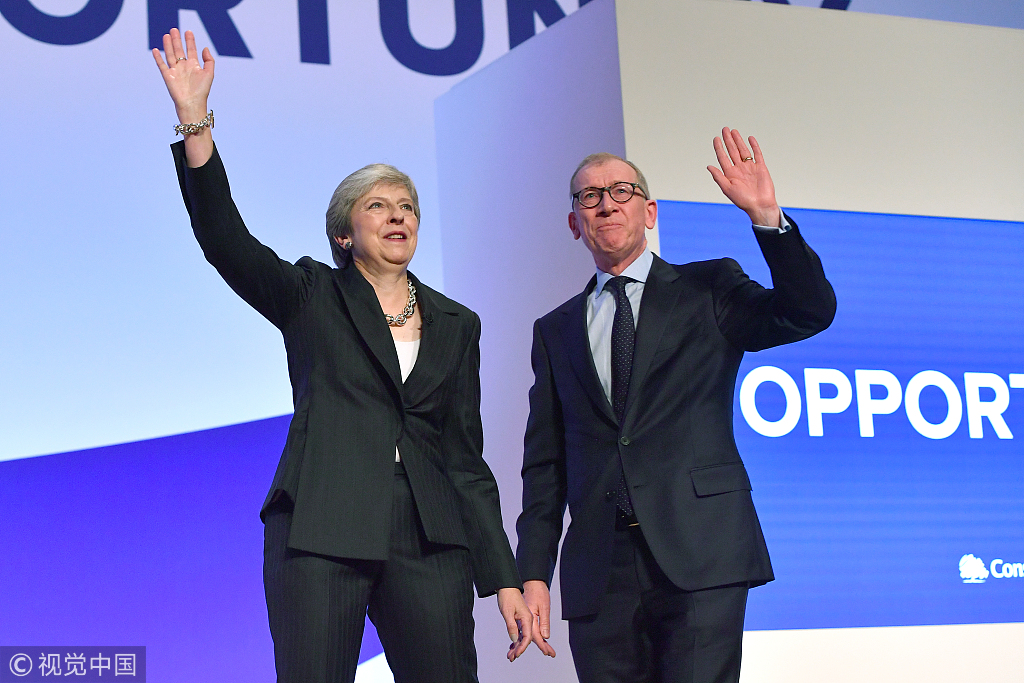 Prime Minister Theresa May sought to reassert her authority with her keynote address to the Conservatives' annual conference on Wednesday, a day after Boris Johnson made an overt pitch for the leadership of the party.
Minutes before May literally danced onto the stage to make her speech in Birmingham, Conservative MP James Duddridge submitted a letter of no-confidence, urging her to quit as party leader.
May is under huge pressure to unite her party at the end of a conference which has exposed deep splits over her approach to Brexit.
Britain's post-Brexit future is "full of promise" and the country's "best days lie ahead of us", insisted May, while also warning about the dangers of Jeremy Corbyn's buoyant Labour party.
She said: "Millions of people who have never supported our party in the past are appalled by what Jeremy Corbyn has done to Labour.
"Don't let anyone tell you we don't have what it takes: we have everything we need to succeed."
"They want to support a party that is decent, moderate and patriotic. One that puts the national interest first, delivers on the issues they care about and is comfortable with modern Britain in all its diversity."
On Tuesday, Boris Johnson had made a leadership pitch by spelling out his own domestic policy agenda in a 40-minute speech in which he called for a return to optimism and said that the government should tackle the housing crisis.
Johnson said: "If I have a function here today it is to try, with all humility, to put some lead in the collective pencil, to stop what seems to me to be a ridiculous seeping away of our self-belief, and to invite you to feel realistic and justified confidence in what we can do."
Speaking on the BBC's Today program on Wednesday morning, Duddridge, a Brexiter and a supporter of Boris Johnson, said that the Brexit negotiations had been "an absolute disaster" and that Theresa May was not providing proper leadership.
He told the program: "We need a strong leader and we haven't got that at the moment.
"Boris yesterday was inspirational, motivational and rallied the troops, rallied politicians, something you could get behind and that's what we need, we need a leader not a chief executive, an administrator, we need a vision to go forward and that's what Boris presented yesterday."
Meanwhile, David Lidington, the Cabinet Office minister and Theresa May's de facto deputy, told gathered media that Boris Johnson did not provide new answers to Britain's Brexit problems in his speech. Asked about the former foreign secretary's intervention, Lidington said:
"He's always got some well-crafted lines and it's the end-of-the-pier show sort of event. What he's not done is, I think, provide any new answers to some of the questions that have been raised."