Story of a small green worm which is worth a fortune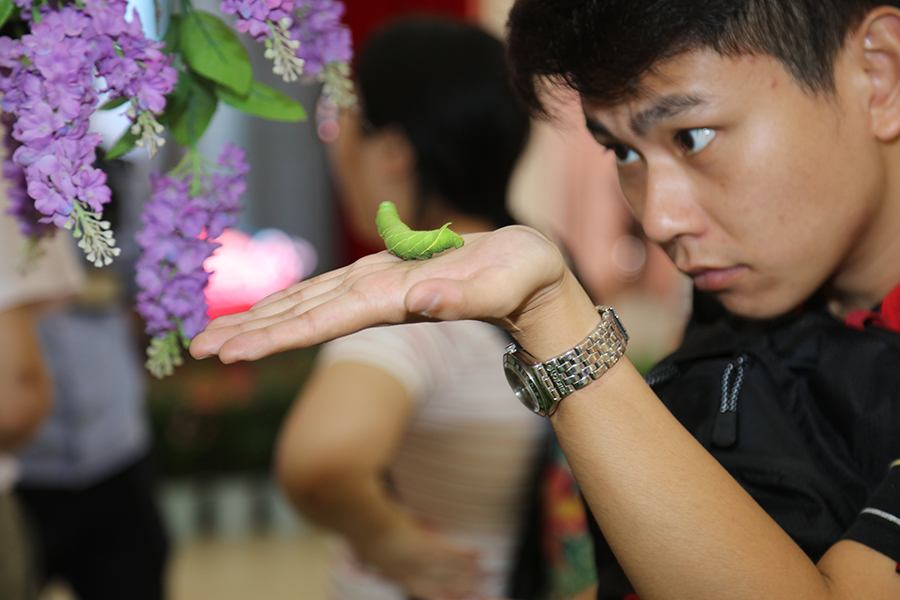 A small green worm is fostering an industry worth 1 billion yuan ($146 million) in Guanyun, a country in the seaside city of Lianyungang, in East China's Jiangsu province.
Be cautious in Lianyungang when a dish that looks like stir-boiled egg white is served because you may not have the courage to eat it when you know its ingredients.
The dish is made of green silkworm-like insects. They are about 5 centimeters long and are usually seen on soybean leaves. While people in other places use pesticide to kill the worms, people in Lianyungang grow soybeans to farm the worms.
The dish, called doudan by the locals, not only puts off many travelers, but also some locals who refuse to eat the worms because of their appearance.
"My mum freaked me out when she ordered the soup made from the worms," says Ji Kun, a grade-nine student living in the city's Lianyun district.
"But I started to like its flavor after the very first spoon. It tastes like the combination of oyster, crab meat and soybean."
"The dish hurts the eyes but pleases the tongue," he says. "I'll eat the worms but avoid looking at them before they are cooked."
According to Li Aimei, a restaurant owner in Haizhou district, the worms feed on soybean leaves and dew. They have high protein and low fat, and can cure some stomach ailments.
"You think about Peking duck when you are in Beijing; you want to try hotpot when you are in Chongqing. Doudan is the specialty that you should not miss when you're in Lianyungang."
She says that to make the dish, the chef first boils the worms in water, and then uses a rolling pin to press out the white meat and throw away the green skin. The meat is often cooked with cabbage, garlic and chili. And sometimes it is simply fried to make it crispy.
Every year in August, a doudan festival is held in Lianyungang's Guanyun county.
The dish is not cheap. A bowl of doudan often sells for more than 1,000 yuan.
According to Ma Shisheng, the director of the county's green food office, about 3,000 farmers work in the doudan industry now. And they farm the worms in 10.7 million square meters of soybean fields in the county.
"The output of the doudan industry exceeds 1 billion yuan a year," he says.
"Many local farmers live a better life because of the worms."