All survive crash landing in lagoon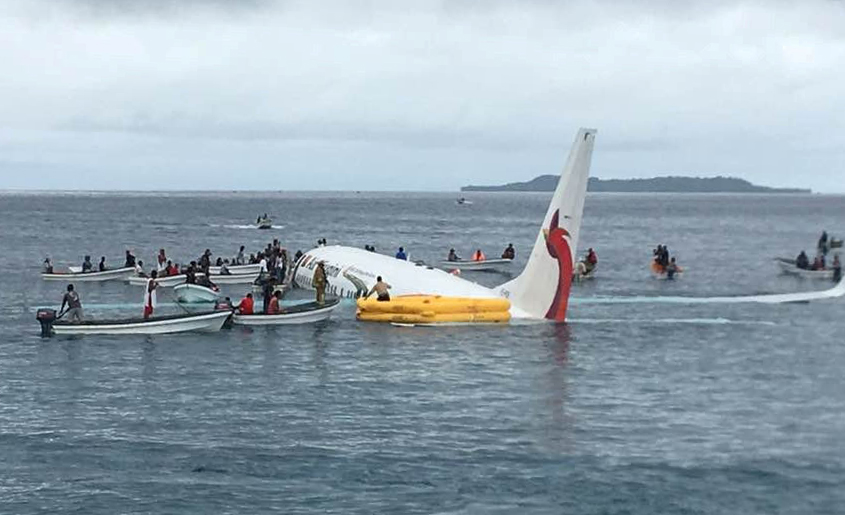 WELLINGTON - All 47 passengers and crew survived a plane's crash landing on a Pacific lagoon on Friday morning, wading through waist-deep water to the emergency exits and escaping on local boats that came to the rescue in the Micronesia archipelago.
Passengers were forced to swim for their lives and seven of them were later taken to a hospital, according to officials, including one described as being in a critical but stable condition.
Within minutes, locals scrambled a flotilla of small boats to pluck the 35 passengers and 12 crew from the water.
Passenger Bill Jaynes said the plane came in very low as it was attempting to land at the Chuuk Island airport.
"I thought we landed hard," he said. "Until I looked over and saw a hole in the side of the plane and water was coming in. And I thought, well, this is not the way it's supposed to happen."
Jaynes said the flight attendants were panicking and yelling, and that he suffered a minor head injury. He said he called his wife, who started crying.
"I was really impressed with the locals who immediately started coming out in boats," he said. "One would think that they might be afraid to approach a plane that's just crashed."
The sequence of events remains unclear. Jaynes said the only scenario he can imagine is that the Air Niugini plane hit the end of the runway and continued into the water. However, the airline said the plane landed short of the runway.
The striking images of people being rescued from the half-submerged plane were reminiscent of the 2009 crash landing in New York City known as the "Miracle on the Hudson".
"It's really fortunate that we didn't have any fatalities," said Glenn Harris, a government aviation security inspector for the Federated States of Micronesia.
Harris said the plane left from the Micronesian island of Pohnpei about 700 kilometers to the east before ending up in the water at about 10 am.
He said he has yet to see a passenger manifest, but typical passengers would include business people from Micronesia, Papua New Guinea and Australia, as well as some tourists. Chuuk is known for its world-class diving, with dozens of WWII shipwrecks visible in the clear waters.
Harris said he doesn't know what caused the crash landing or whether the pilots had alerted air traffic control of any problems. He said an investigative team would be on the ground in Chuuk by Saturday to figure out what went wrong.
The airline said in a statement that the passengers and crew members aboard the Boeing 737 were all able to safely evacuate. It said the weather was poor at the time, with heavy rain and reduced visibility.
Ap - AFP