Run for changing diabetes lights up Beijing Design Week
Share - WeChat A Running for Changing Diabetes event named Sports Changing Diabetes was held on Friday at Beijing's 79 tank in front of 751 D-park as part of Copenhagen's exhibition for the Beijing Design Week.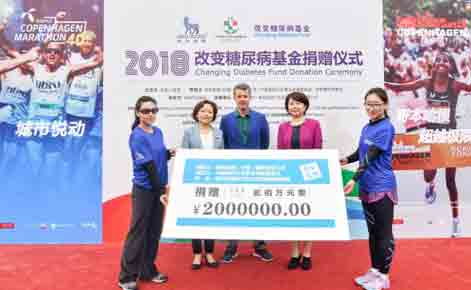 An important event in the Beijing Design Week, this year's Running for Changing Diabetes attracted close to 400 participants including diabetes patients, officials from the Danish Embassy, members of the Copenhagen delegation, student groups and representatives from all sectors of society.
Notable participants who showed up to support the Running for Changing Diabetes include: HRH Crown Prince Frederik, Wang Dan, Secretary-General of China Health & Medical Development Foundation (CHMDF), Christine Zhou, SVP & President Region China Novo Nordisk Pharmaceuticals Co., Ltd.and Kristian Teglkamp, Health Team Counsellor of the Danish Embassy in China.
Before the start of the run, Novo Nordisk announced that it will continue to support the Changing Diabetes Fund over the next two years to help more people with diabetes exceed their own expectations towards themselves through sports and live healthier lives.
The latest statistics from International Diabetes Federation (IDF) indicate that the number of Chinese people with diabetes has reached 114 million. Apart from threatening a patient's physical health, the disease also seriously affects the mental health of both the patient and their family members.
In 2017, Novo Nordisk and the CHMDF launched the Changing Diabetes Fund to help diabetes patients exceed their own expectations towards themselves through sports and live healthier lifestyles, while encouraging more patients to throw off the mental shackles placed on them by diabetes. Since its foundation two years ago, the Fund has supported a 21-year-old type-1 diabetes patient and an aerobics team composed of seniors with type-2 diabetes in becoming model patients for others to look up to.
"Novo Nordisk has been dedicated to Changing Diabetes for 95 years," says Christine, "In the future, we will continue to work with governments, social organizations, health care professionals, communities and patients to change diabetes in China by improving the patients' understanding and management of the disease while helping to restore their confidence and live better lives."