Festival dinner with a grand cru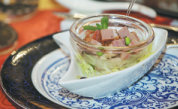 In 2010, Xavier Planty started a tradition by celebrating the Chinese Mid-Autumn Festival at his winery in Bordeaux, France, with 50 dinner guests.
For the eighth year of celebrating the festival, he decided to move the soiree to Beijing, more specifically at Guigongfu, the mansion of a Qing Dynasty (1644-1911) empress.
Bordeaux, however, was not forgotten completely. For the moon festival dinner, he brought a 6-liter bottle of Imperial de Chateau Guiraud 1998 from his winery, which is one of the first Classified Grand Cru producers (of 1855) in Sauternes.
"A special wine is for a special moment," extolls Planty of the tipple, which was one of just seven such bottles that remain. "Plus," he adds, "our Chateau Guiraud goes well with the skin of Peking duck."
Born in 1955 in Bordeaux, Planty is now the co-owner of the winery. He obtained his master's degree in psychology and plant genetics and got a national diploma in oenology before becoming the manager of Chateau Guiraud in 1996. He subsequently initiated a revolution in the vineyard's growing culture, which now prohibits the use of all synthetic products.
In 2011, Chateau Guiraud became the first Premier Grand Cru Classe to be awarded the Agriculture Biologique certification in France.
Planty's philosophy at Chateau Guiraud is guided by constant inquisitiveness and a desire to let nature take its course, allowing the vines to achieve their full potential.