Links with island stand the test of time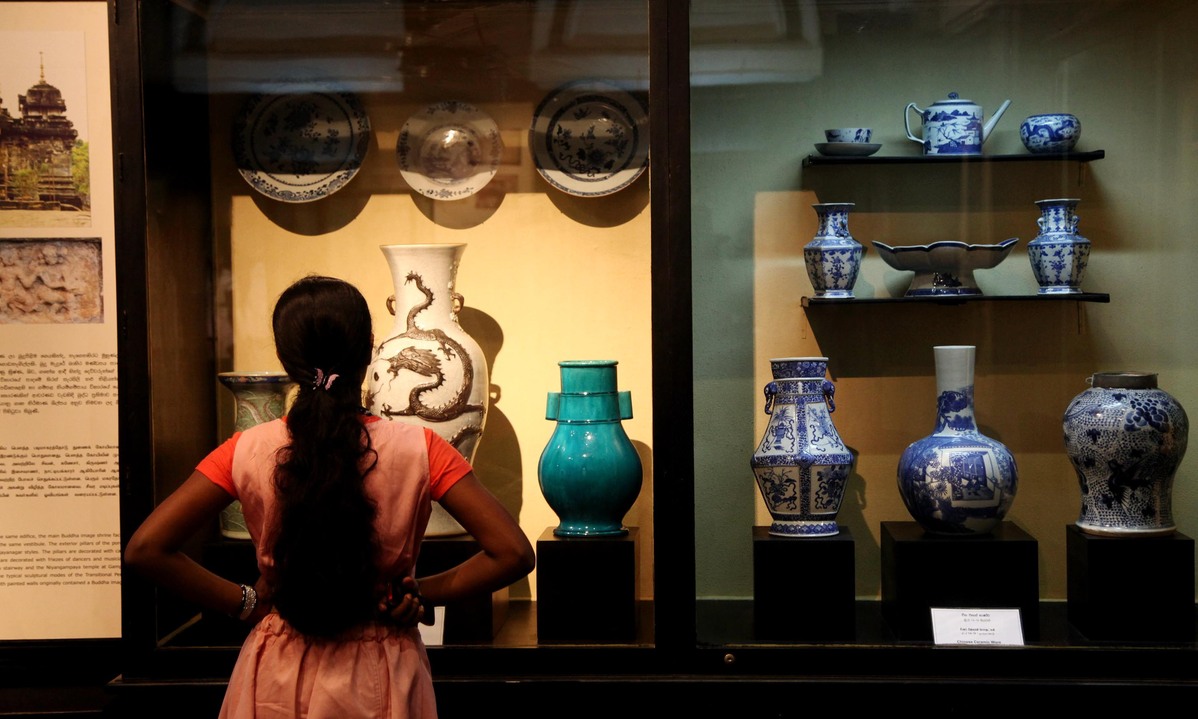 Many traces have been found in present-day Sri Lanka of the island's historical links with China, which lies more than 5,000 kilometers away.
Early last month, an archaeological team from the Shanghai Museum unearthed a large number of porcelain pieces made during the Northern Song Dynasty (960-1127) at Allappidi, a historical site in Jaffna, a port city in northern Sri Lanka.
The pieces were believed to have been taken by sea from China to the island, formerly known as Ceylon, as it played an extremely important role on the ancient Maritime Silk Road for its exceptional geographical location.
In the 15th century, Chinese mariner Zheng He made seven key voyages to lands in and around the South China Sea, the Indian Ocean, and beyond, indicating that what became Sri Lanka was an important junction between East and West on the Maritime Silk Road.
At the National Museum of Sri Lanka, visitors from different countries stand in front of a stone monument, the Galle Trilingual Inscription, which bears inscriptions in three languages-Chinese, Tamil and Persian. It is believed that the monument was left by Zheng during his second visit to the island.
But Faxian, an itinerant Chinese Buddhist monk, had set foot on the island more than 1,000 years before Zheng did.
In 399, Faxian, who was already in his 60s, set out from Chang'an, in present-day Shaanxi province, in search of Buddhist sutras. Having encountered many hardships and dangers, he reached the "Lion Kingdom", known today as Sri Lanka.
In 412, Faxian returned to China via the Maritime Silk Road, carrying with him many books. Faxian's book, A Record of Buddhist Kingdoms, is an important source for scholars studying the ancient history, geography, customs and Buddhism of Central Asia and South Asia.
In the center of Colombo, the Sri Lankan capital, stands one of the oldest temples in the country, the Gangaramaya Temple, where many local Buddhists pray and meditate. The temple's architecture is a mix of local, Hindu, Thai, British and Chinese styles.
Sri Lankans often sit quietly under the Holy Bodhi Tree in the temple, which boasts luxuriant foliage like a huge umbrella, symbolizing protection from evil and also acting as a reminder of the Buddha's awakening.
After meditation, they place offerings to worship Buddha, the Hindu deity Shiva, as well as Guanyin-an East Asian deity of mercy-and even Guan Gong, a Chinese general in the Three Kingdoms period (220-280) known for his loyalty and righteousness.
The attraction of the Gangaramaya Temple lies not only in how it blurs the line between the sacred and the mundane, but also in how it embodies Sri Lanka's tolerance of religions and cultural diversity.