Swedish police action appalling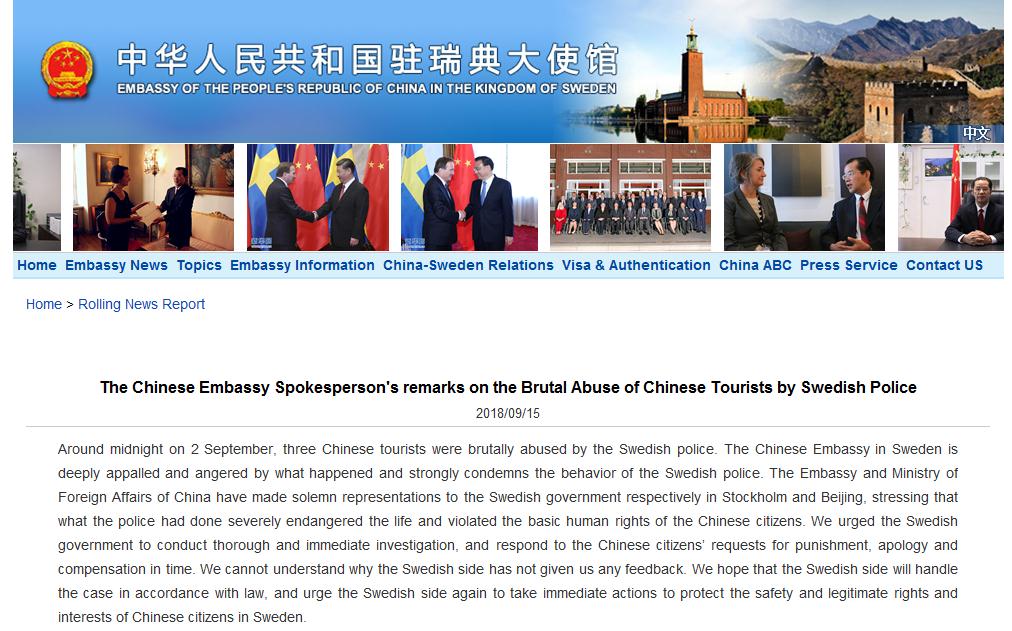 When some Chinese tourists misbehave with locals or are disrespectful to local customs overseas, the Chinese government and people immediately condemn their actions. But Chinese tourists traveling abroad often are at the receiving end.
On Sept 2, a Chinese man and his parents landed in Stockholm, Sweden, in the early hours of the morning. After reaching the hotel, the man requested the staff to allow his parents to rest in the lobby because they were not feeling well and couldn't check into their rooms until a few hours later. And he offered to pay for it.
The man later said the hotel not only declined the request but also called the police, who ignored his explanation and pleas, and dragged his father from the sofa and pushed him to the ground. The three were eventually forced into a police car and dropped near a cemetery kilometers away from downtown Stockholm.
Responding to the incident, the Chinese embassy in Sweden said on Saturday that it is appalled at the way the Swedish police treated the Chinese tourists, and strongly condemned the law enforcement officers' action.
The Chinese Foreign Ministry has made a solemn representation to the Swedish embassy in Beijing, saying the Swedish police's action put the lives of the Chinese tourists in danger and violated their human rights, and demanded a thorough investigation into the incident. The Chinese embassy made a similar representation to the Swedish government in Stockholm.
The Swedish police's savage treatment of the Chinese tourists has instilled a sense of insecurity among the Chinese people traveling abroad, whose numbers are increasing with each passing year.
Despite the different accounts of what actually happened at the hotel, it is a fact that the Swedish police took the three Chinese tourists away from downtown and dropped them near the cemetery. Imagine being dropped in a strange place in an unknown country without knowing the local language.
Instead of considering the requests of the helpless Chinese tourists on humanitarian grounds, the Swedish hotel and police chose to deliver them the harshest possible punishment.
The rude treatment the foreign tourists got in a developed country that claims to be civilized and a torchbearer of human rights is indeed shocking and unacceptable. That Sweden has not ordered a thorough investigation into the incident in response to the Chinese representations could also be construed as arrogance.
-CCTV.com
Most Viewed in 24 Hours
China Views