Maradona to be new head coach of Mexican second division team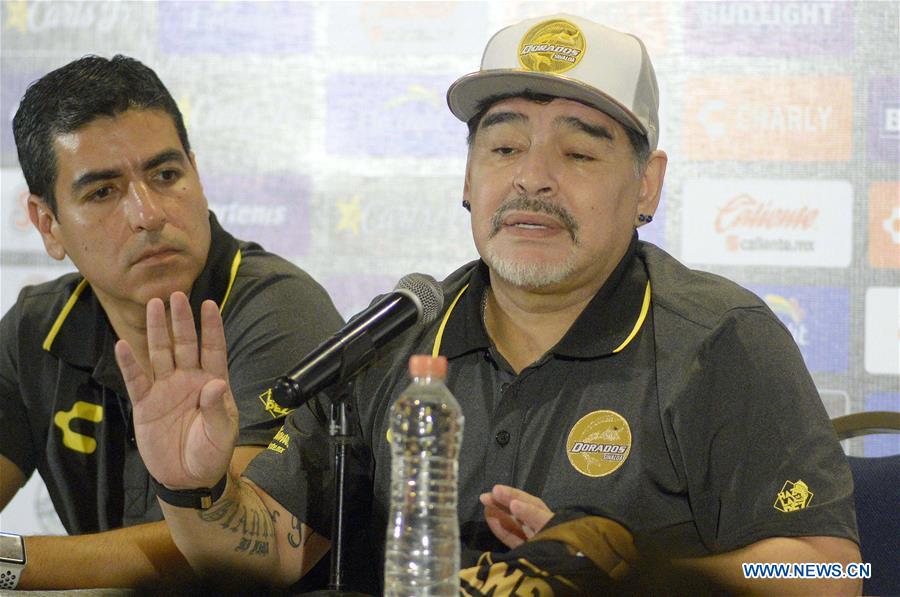 "Emotionally I feel that I'm in the best moment of my life. I am well with my children and only a minor problem with an ex," he said, laughing.
"I want to give Dorados what I lost when I was sick. ... I have been for about 14 years, and today I want to see the sun and I want to go to sleep at night," Maradona continued. "Before, I didn't go to sleep and I didn't even know what a pillow was. That's why I accepted the offer from Dorados."
Maradona, one of the sport's all-time greats, was suspended by FIFA after testing positive for cocaine in 1991 and also tested positive for doping during the 1994 World Cup. He was later hospitalized in 2000 and in 2004 for heart problems attributed to cocaine use.
His erratic behavior captured headlines this summer at the World Cup in Russia, where he made an obscene gesture with both middle fingers after Argentina scored a late winner to defeat Nigeria 2-1. He was also seen pulling his eyes into slants while gazing at a South Korean fan, and was captured on video in a seemingly inebriated state.
Maradona's contract with Dorados is reportedly worth $150,000 a month, which would make him the second-highest paid coach in the country, despite previous uneven results. He took the Argentine national squad to the quarterfinals at the 2010 World Cup, and later managed Al Wasl and Al-Fujairah clubs in the United Arab Emirates.