A life in the public eye
Share - WeChat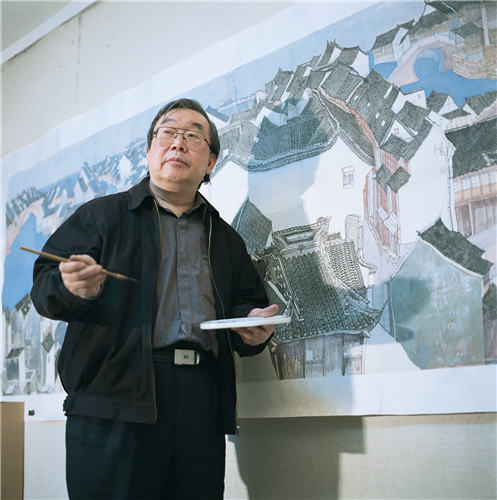 Yuan Yunfu may not be a household name, but he's one of the founding fathers of the modern Chinese public art scene, as an ongoing retrospective of his work demonstrates.
Unlike his peers, Yuan Yunfu (1933-2017) is not a household name in China. However, his artist friends Wu Guanzhong and Huang Yongyu, whose paintings have been exhibited widely both at home and abroad, have achieved commercial success.
The late art professor at Tsinghua University has long been recognized as a prominent figure in China's decorative arts scene and is one of the founding fathers of Chinese contemporary public art. Many of his paintings adorn the interiors of landmark venues in Beijing, where visitors walk past, or stop to take a snap, without knowing anything about the man behind these artworks.
Yuan's works were among the first wall paintings installed in Beijing's subway stations in the early 1980s. He created a painting to adorn the platform of Jianguomen station, one of the most bustling interchanges of the subway network. The colorful artwork, composed of 3,000 ceramic tiles, traces the history of astronomy in China; the motif echoes the Beijing Ancient Observatory - built in the mid-15th century - that still stands outside the station.
Yet, the most notable public artworks in Yuan's oeuvre are arguably Mountains and Waters of Sichuan, one of the seven wall paintings that were unveiled at terminal one of Beijing Capital International Airport in 1979, and A Thousand Li of the Yangtze River, a lengthy landscape that hangs inside the "Golden Hall" on the third floor of the Great Hall of the People.
These two works were actually developed from different sections of one original painting, which Yuan created more than 40 years ago to depict a panoramic view of the Yangtze.
In 2011, Yuan, with the assistance of his artist son Yuan Jia, recreated the painting, titled A Thousand Li View of the Yangtze River. The 10-meter-long ink scroll is the heart of Bright Glory: The Aesthetics of Yuan Yunfu, an exhibition that runs through Oct 7 at the Tsinghua University Art Museum, which reviews a career as both an artist and an educator which spanned more than six decades.
Most Popular