Angola's non-oil sector holds lots of promise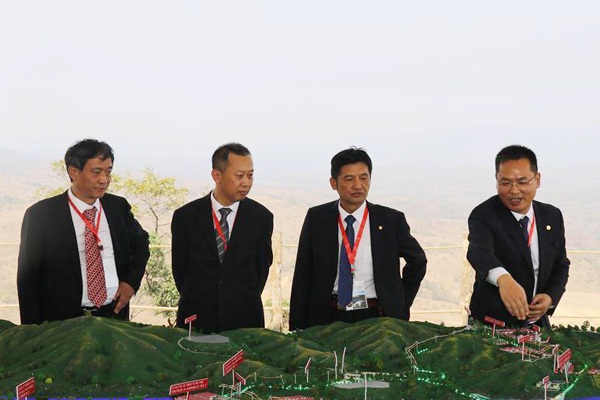 Angola is located in the southern part of Africa, and shares its borders with the Democratic Republic of Congo to the north, the Republic of Zambia to the east, and Namibia to the south. It has a land area of 1,246,700 square kilometers, and coastline that is 1,650-km long. Angola gained independence from Portugal on Nov1 11, 1975, after about 500 years of colonization.
After independence, unfortunately, Angola plunged into a civil war, which stopped most of the economic activities. Only the diamond and petroleum sectors did not cease production, because they were the ones that financed the civil war between the two political groups.
The Angolan civil war finally ended after 27 years in 2002, allowing economic activities to restart across all provinces. But it was necessary to rebuild the infrastructure, such as roads, bridges, railways, airports, ports, dams and hospitals, which were destroyed during the civil war.
To rebuild the infrastructure, however, Angola needed enormous amounts of financial resources. So the government of the day appealed to the Paris Club to finance the country's reconstruction, but the efforts did not yield the desired results. It was then that Angola turned to China, which readily, and without any prerequisites regarding governance, democracy and human rights, agreed to finance the national reconstruction project.
With the support of China, Angola has been able to rebuild much of the infrastructure, from roads, bridges, railways and airports to hospitals, schools and housing. From 2002 to 2017, Angola spent about $112 billion on reconstruction and construction projects across the country.
Other countries such as Portugal and Brazil, too, have provided credit lines for financing some infrastructure construction projects in Angola. But China is by far the largest creditor for national reconstruction projects.
The main infrastructure reconstruction projects in Angola and in most of the African countries are being financed and carried out by China and Chinese companies. To a certain extent, the Chinese companies have created jobs in the construction sector. Since 2007, China has been Angola's main trading partner in terms of exports. Earlier, the United States (with an average of 40 percent) led the set of countries where Angolan oil was exported.
In 2016, however, out of $25.5 billion of Angola's total oil exports, 54 percent went to China, and only 5 percent to the US and 3 percent to Portugal. In 2017, of the $31 billion of Angola's total oil exports, 62 percent went to China, and only 3 percent to the US and 4 percent to South Africa, according to Central Bank of Angola data.
The main economic partner of Angola is, of course, Portugal because of historical reasons. About 14 percent of Angolan imports came from Portugal in 2016, and 13 percent from China. In 2016, Angola's total imports added up to about $25 billion, which increased to $28 billion in 2017.
Angola's trade with China has the potential to further increase with the signing of the visa facilitation agreement on ordinary passports between the two countries this year. The agreement will allow businesspeople of both countries to travel for business, tourism, education and healthcare purposes without having to go through the lengthy process of obtaining a visa.
Angola needs support to diversify its economy and exports, as oil accounts for more than 95 percent and diamonds about 3 percent of its exports. For that, however, Angola requires more direct foreign investment in its non-oil sectors so as to increase their productivity to meet the domestic demand and diversify exports. Wood, coffee (which during the colonial period was the largest export but accounts for less than 0.5 percent of the total exports today), marble, granite, fish, cement and beverages are Angola's main non-oil exports.
Therefore, Chinese investors are welcome to invest in the non-oil sector in Angola, as in the years to come the non-oil sector is projected to grow faster than the oil sector.
The author is a researcher and auxiliary professor at the Catholic University of Angola (CEICUCAN). He contributed this article to China Watch, a think tank powered by China Daily.