Cooperation boosts Africa's development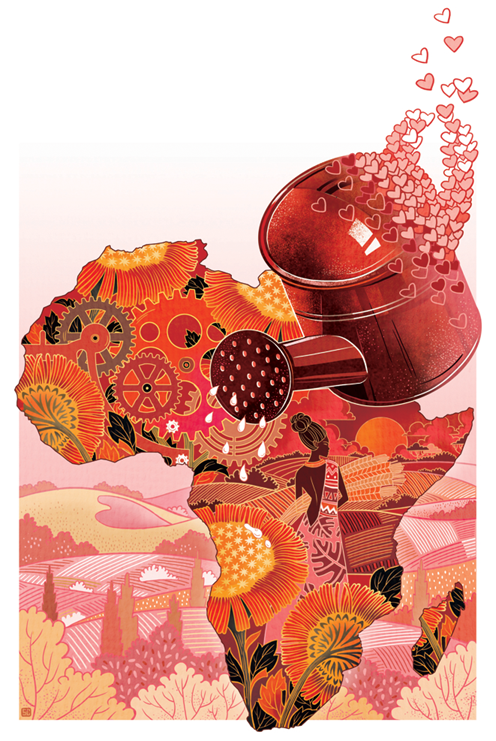 Countries are attempting to write a new chapter of unprecedented progress for the continent
The vast and remarkable changes that have taken place in Djibouti, a small country in northeast Africa with a population of mere 1 million, show the huge benefits that cooperation with China can bring about. An infrastructure boom is underway in the country thanks in part to China's support and investment.
The Djibouti International Free Trade Zone, which began the first phase of construction in July, will be the largest free trade zone in Africa, and the Ethiopia-Djibouti railway, Doraleh Multi-Purpose Port and the affordable housing for thousands of households that is already completed have all received Chinese investment. Being in Djibouti for only three years, China has already made a huge difference and fostered hope among the locals. This is in stark contrast to the Western countries that have had a presence in Djibouti for more than 100 years and left the country as poor and undeveloped as ever, as Ismail Omar Guelleh, president of Djibouti, said during his visit to China last November.
The new engines for growth springing up from cooperation with China offer bright prospects for Djibouti's future. The impressive progress Djibouti's neighbor Ethiopia has made thanks to its close economic cooperation with China has prompted Djibouti to strengthen its partnership with the Asian giant, a consultant for Djibouti's Ministry of Finance explained.
Enhancing Sino-African cooperation and seizing the development opportunities are not only Djibouti's successful policy orientation, but also the common wish of other African countries. Particularly, a number of African countries have grasped the historical opportunities for greater development and actively taken part in the construction of the Belt and Road Initiative with the aim of realizing leapfrog development and significantly promoting industrialization.
Cooperation in infrastructure vital to Africa's development
As the two wings of Sino-African production capacity cooperation, construction of infrastructure and industrial parks are in full swing on the African continent. For instance, China has helped African countries build a dozen railways including the Mombasa-Nairobi Standard Gauge Railway that connects two major cities in Kenya, the Ethiopia-Djibouti railway and railways in Angola and Nigeria.
The construction of infrastructure has laid a solid foundation for industrial cooperation between China and African countries. Just as Kenyan President Uhuru Kenyatta said on May 31 last year, when inaugurating the Mombasa-Nairobi Standard Gauge Railway, the railway lays the groundwork for Kenya's industrialization and will begin to shape the story of Kenya for the next 100 years.
The railway has greatly facilitated the personnel flows between Nairobi and Mombasa and reduced the time of cargo transportation from more than 10 hours to about four hours, lowering the logistics costs by more than 40 percent. Since it opened, it has served about 1.3 million passengers and handled more than 60,000 cargo containers while offering training sessions to more than 5,000 skilled technicians and managerial personnel and creating nearly 50,000 jobs. Currently there are 100 Kenyan students studying railway majors in China.
Overall railway construction has contributed 1.5 to 2 percent of Kenya's GDP growth, helping commercial industries along the railway form and facilitating the development of a whole industrial chain including ports.
Industrial cooperation holds huge potential
Meeting the practical needs of development of both sides, Sino-African production capacity cooperation enjoys promising prospects. Most African countries are rich in resources and labor, but not sufficiently industrialized, with industry only accounting for small percentage of their economies. China, meanwhile, has adequate funds and advanced technology and equipment, which fit African countries' needs for development. Also as it has transitioned from being an agricultural country to being the workshop of the world, China has abundant experience in development which it can share with African countries.
No wonder Sino-African production capacity cooperation has been listed as the first priority in the 10-point plan for Sino-African cooperation that President Xi Jinping proposed at the Johannesburg Summit of the Forum on China-Africa Cooperation. In addition, the China-Africa Industrial Capacity Cooperation Fund has been set up for this purpose, which has received $10 billion in initial funding.
Sino-African production capacity cooperation has generated early gains. China has helped create six overseas business cooperation zones in five African countries-Ethiopia's Eastern Industry Zone, Nigeria's Lekki Free Trade Zone and Ogun-Guangdong Free Trade Zone, Zambia-China Economic& Trade Cooperation Zone, Mauritius Jinfei Economic Trade and Cooperation Zone and the China-Egypt TEDA Suez Economic and Trade Cooperation Zone-since the FOCAC Summit in Beijing in 2006. More than 100 African industrial parks have been co-built, or are being co-built, by China. By the end of 2017, China's investment in Africa had exceeded $100 billion with more than 3,500 Chinese enterprises investing in Africa, opening up new space for Africa's development.
Sino-African cooperation mutually beneficial
Cooperation between African countries and China is mutually beneficial. For instance, Dongguang Huajian International, a major shoemaker in China, has become the largest Chinese private enterprise in Ethiopia, netting more than $122 million of foreign exchange earnings and creating 7,500 jobs for local people. With an annual output of more than 5 million pairs of women's shoes, Huajian accounts for more than 65 percent of Ethiopia's shoe exports. As a representative of Chinese enterprises in Africa, the development history of Huajian in Africa showcases the mutual-beneficial nature and results of Sino-African cooperation.
Besides, 65 enterprises have settled in the China-Egypt TEDA Suez Economic and Trade Cooperation Zone, which have a combined investment of up to $1 billion and provide jobs for more than 3,000 locals.
All in all, the tangible improvements that Sino-African cooperation has brought about and China's contribution in helping to facilitate Africa's development make the allegations of it being neocolonialist and an exploiter of the continent's resources both invalid and ridiculous. African countries are endeavoring to seize the chances stemming from cooperation with China and the Belt and Road Initiative, in their attempts to write a new chapter of unprecedented progress for the continent.
The author is a senior research fellow at the Charhar Institute and a researcher on African studies, Chinese Academy of Social Sciences.