Japanese auto brands boost production capacity in China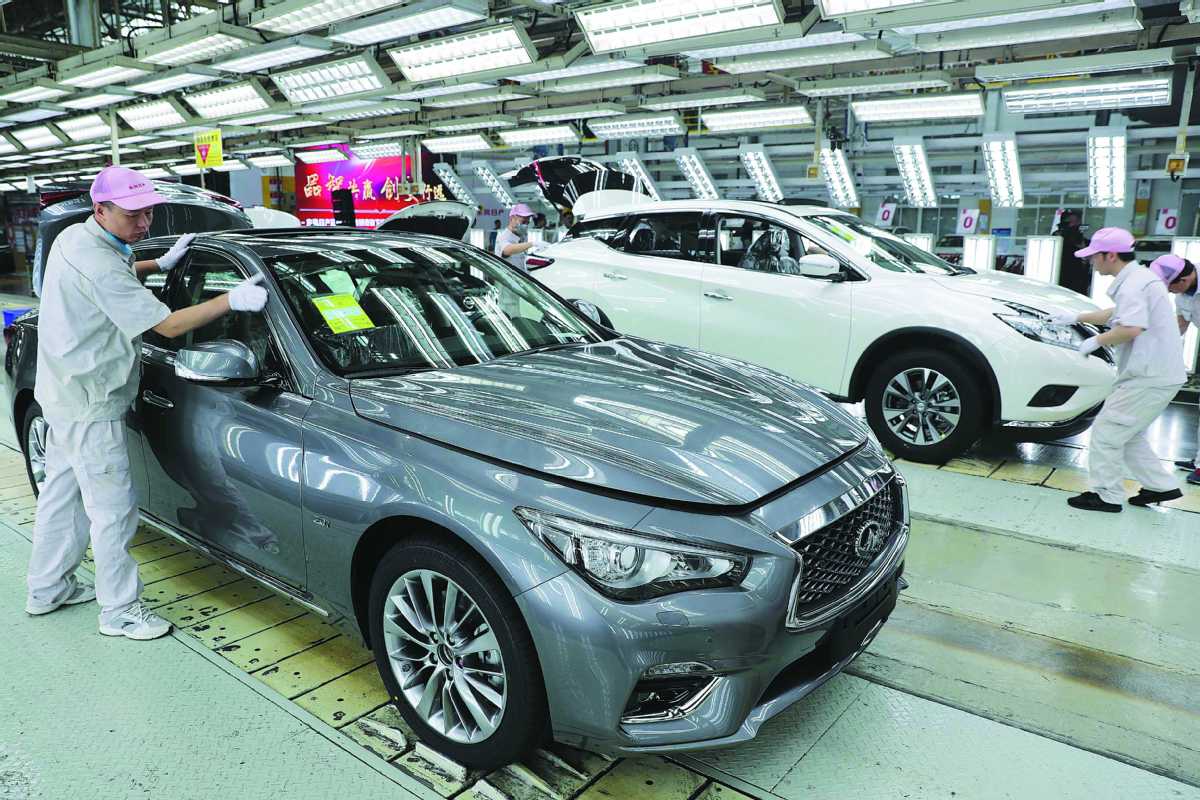 Nissan, Toyota look to increase share in world's largest car market, Cao Yingying reports.
Japanese carmakers intend on building more plants in China in order to increase production capacity and expand their businesses in the largest auto market worldwide.
Last Monday, Japan's Nikkei newspaper reported that Nissan Motor Co plans to invest 100 billion yen ($899 million) to build an auto assembly plant in Wuhan, Hubei province, which is expected to have an annual production capacity of 200,000 to 300,000 cars.
When the plant is fully operational in 2021, it will boost Nissan's vehicle-making capacity in China by 40 percent.
Nissan, which has operated in China through a joint venture with Dongfeng Motor Group Co Ltd since 2003, is in the final stages of talks with its Chinese partner about the new plant, Nikkei reported without citing sources.
Hiroto Saikawa, CEO of Nissan, said last month that to achieve the goal of producing 1 million more vehicles in China by 2022, the company will need to decide whether or not to build new plants soon.
Early in February, Dongfeng outlined a five-year plan that said it would increase its market share in China by focusing on electric cars and introducing 40 new models, to become a top three player in the domestic market.
The Wuhan plant is to be a definitive step in the car maker's previously disclosed multiyear plan in China.
In addition to the new plant, new production lines will be added to the Dongfeng plant in Changzhou, Jiangsu province, which will increase capacity by 120,000 passenger cars a year, a spokesman from Nissan told Reuters.
According to Nissan's statistics, the automaker sold 720,447 vehicles in China in the first half year, an increase of 10.8 percent compared with the same period last year. It ranked fifth by sales in 2017, with 1.52 million cars sold in the country.
Nissan's Japanese rival, Toyota, also plans to boost its annual production capacity at its Guangzhou plant by 24 percent making an extra 120,000 vehicles, including making electric cars, according to a report by National Business Daily last Tuesday.
The Tianjin plant for Toyota's Chinese joint venture with FAW Group has gained approval for the launch of a new energy project that will see its annual production also increase by an extra 120,000 vehicles, including 110,000 plug-in hybrids and 10,000 pure electric vehicles.
When the upgrades are completed, Toyota will have total annual production capacity in China of 1.4 million vehicles from its plants in Tianjin, Guangzhou, Chengdu and Changchun.
The carmaker is aiming for 2 million annual sales in the country by 2020, according to the company.
"To achieve the goal, capacity expansion is a necessary task for Toyota, as some models were limited by capacity last year, such as the popular SUV model-Highlander," Ren Wanfu, a car industry analyst, told International Financial News.
According to the China Association of Automobile Manufacturers, Toyota's two joint ventures, FAW Toyota and GAC Toyota, sold 693,000 and 440,000 vehicles respectively in China last year.
In spite of this, its sales in the country only accounted for 12.4 percent of Toyota's global sales.
Toyota is targeting the likes of Germany's Volkswagen and United States-based General Motors-China's leading foreign car manufacturers in its latest expansion.
According to Ren, the expansion shows that Toyota is repositioning itself to have more focus on the new energy vehicle segment than it did previously.
Last December, the carmaker released a 2020-30 new energy vehicle plan, which said that it would launch at least 10 pure electric vehicle models before 2020, many of which would be introduced in China first.
Toyota is expecting to sell more than 5.5 million electric vehicles worldwide by 2030, the company said.