Freight train fetes 10,000th Europe trip
Share - WeChat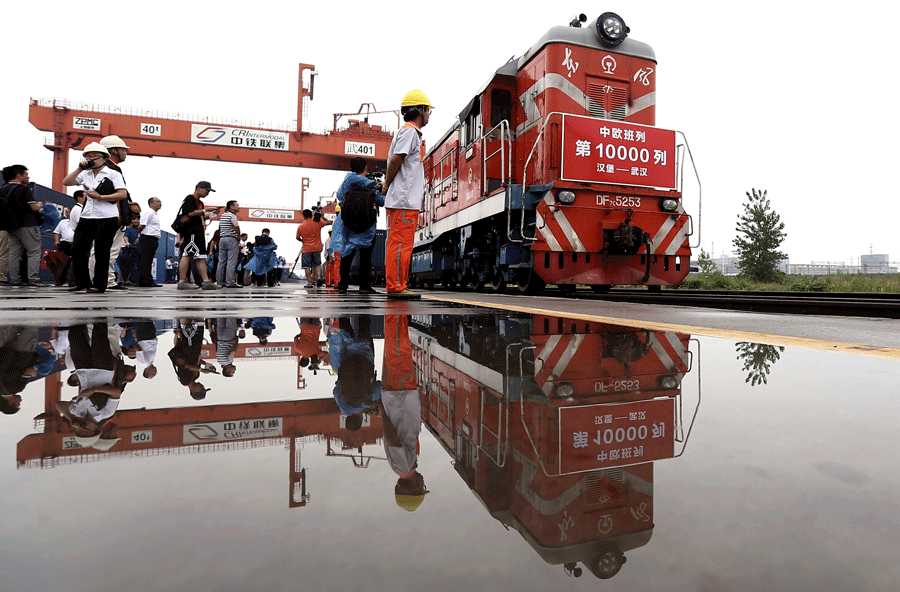 China Railway Express, also known as the China-Europe freight train, completed its 10,000th trip on Sunday as it returned to Wuhan, Hubei province, after a two-week journey from Hamburg, Germany.
Chinese freight trains made the trips between China and Europe on 65 rail routes since China Railway Express began the service in 2011.
Gao Ruorui, deputy general manager of Wuhan Han'ou International Logistics Co, said he has witnessed the development of the freight trains, with the number of trains departing from Wuhan steadily increasing over the years.
About 500 freight trains are expected to head to Europe from Wuhan this year compared with 377 in 2017, official data shows.
"The company now runs 16 rail routes to European cities including Moscow and Hamburg, and Lyon, France," he said. "The trains departing Wuhan carry products like automobiles, electronic components, steel products and cables, while returning trains are usually loaded with dairy products from Belarus, French wine and German beer."
China-Europe rail services are available between 48 Chinese cities and over 40 cities in 14 European countries. Last year, more than 3,000 trips were made via the service, and the number is expected to reach 4,000 this year, according to China Railway Corp.
Li Chongyu, a general manager at China Railway International Group, said that besides the expanding network, efforts have been made to raise efficiency and lower costs.
Travel time has been shortened to less than two weeks from more than 20 days for many journeys, and transport costs have been cut by 40 percent, he said.
"China will continue to cooperate with other countries in 2018 to improve the quality and efficiency of the China Railway Express service and build it into a competitive international logistics brand," Li said.
Sun Junjun, who has been operating the freight trains for two years in Wuhan, said that he has felt a greater responsibility because the service is now seeing rapidly rising demand from many European countries.
"The speed of this express is faster than typical freight and the load is lighter, so it requires the driver to have greater skills," said the 27-year-old driver. "I'm very proud to dedicate myself to boosting commercial ties between China and Europe."