Venezuela unveils new currency in reforms
Share - WeChat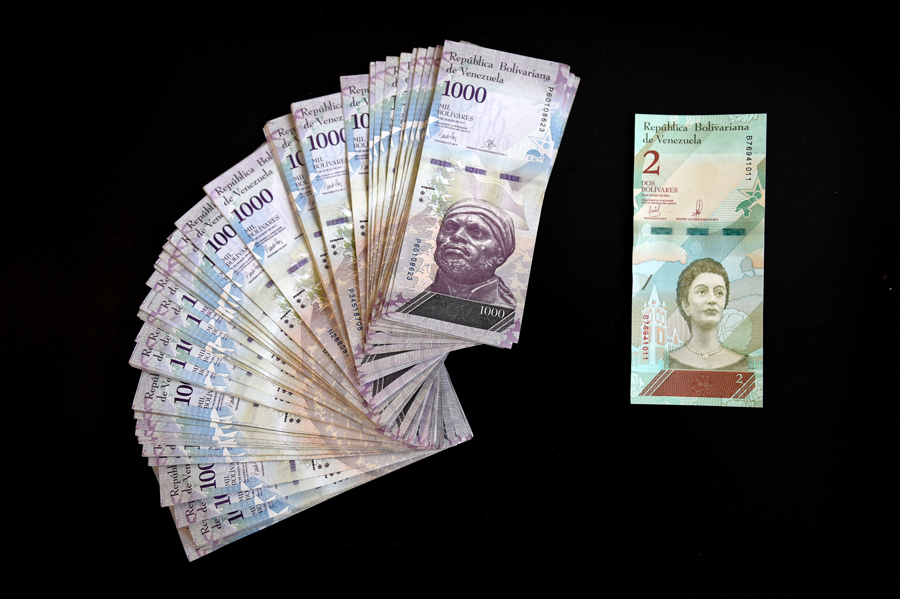 Venezuela introduced new banknotes on Monday as the government launched economic reforms to tackle the country's hyperinflation.
The new note, sovereign bolivar, aims to simplify monetary transactions by lopping off five zeros from the bolivar, which will be taken out of circulation.
To ease the transition, President Nicolas Maduro declared Monday as a national holiday, giving Venezuelans a chance to unhurriedly adapt to the new bills.
The new currency will have two coins and paper denominations ranging from 2 up to 500. The lowest represents the buying power of 200,000 current bolivars while the highest stands in for the 50 million note.
To bolster the sovereign bolivar, the government tied its value to Venezuela's cryptocurrency, the petroleum, which is backed by the country's rich oil and mineral reserves.
Maduro said one petro would equal $60, with the goal of moving toward a single floating exchange rate in the future tied to the digital currency.
Inflation this year could top 1 million percent, according to economists at the International Monetary Fund.
The largest bill under the outgoing cash system was the 100,000 bolivar note, equal to less than 3 cents on the commonly used black market exchange rate. A cup of coffee can cost more than 2 million bolivars.
The redenomination of the currency is one of a series of measures the government is taking to help the country's battered economy recover from recent blows.
The president said he will raise petroleum prices to international levels, ending the time when Venezuela has the world's cheapest gas in late September.
Maduro added his economic team is trying to guarantee that the price of the basic basket of goods remains below the new minimum wage taking effect on September 1.
The new minimum wage of 1,800 sovereign bolivars, equivalent to 180 million old bolivars, represents a 3,000 percent increase.
Wang Peng, researcher from Chinese Academy of Social Sciences, is taking a wait-and-see attitude to the possible effects of the new measures.
"It is difficult for the latest adjustment to change the current economic situation significantly within a short time," he said. "The currency circulation still exceeds the amount of money needed to maintain normal economic operations in the country."
Xinhua contributed to this story.