Yogurt Festival starts in Tibet
Share - WeChat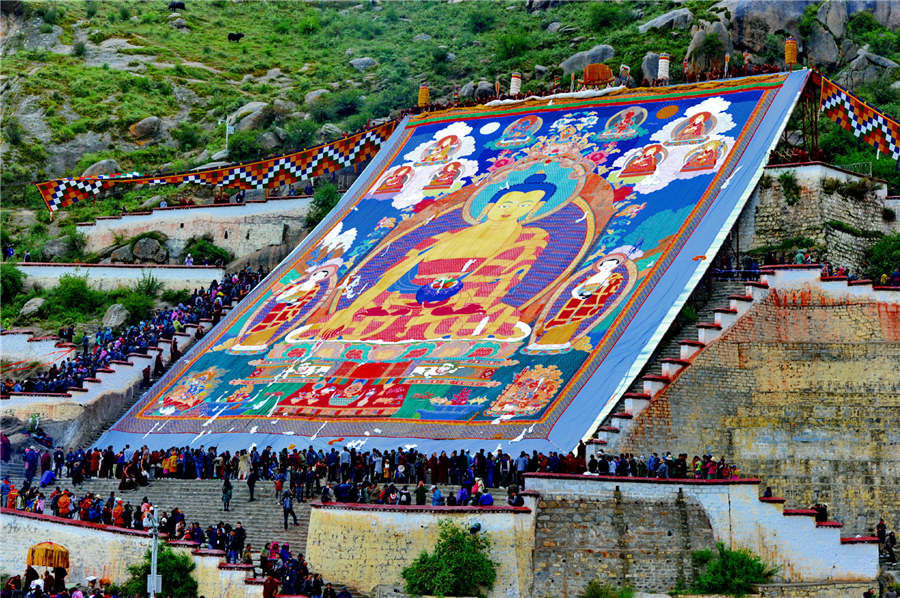 Celebrations for the traditional Shoton Festival, or Yogurt Festival, began in Lhasa, capital of Southwest China's Tibet autonomous region Saturday.
This year's event will feature the traditional "sunning of the Buddha" ceremonies, with huge Thangka paintings bearing the image of the Buddha displayed on the hillsides near the Drepung and Sera monasteries, as well as Tibetan opera performances, horse riding performances and an ethnic costume show.
"My family and I arrived here at 4 am, and we are heading to Sera Monastery to watch the Thangka painting after paying tribute here," said Soinam Doje, a 71-year-old herder from Maizhokunggar county, while standing in front of the Drepung Monastery in Lhasa.
The festival will last for one week from Aug 11 to 17.
Shoton Festival, which literally means "yogurt banquet festival," is one of the most important festivals for Tibetans.
It dates back to the 11th century when it began as a religious ceremony for local residents to offer yogurt to monks finishing their meditation retreats.