Liupanshui – the 'Cool City' of China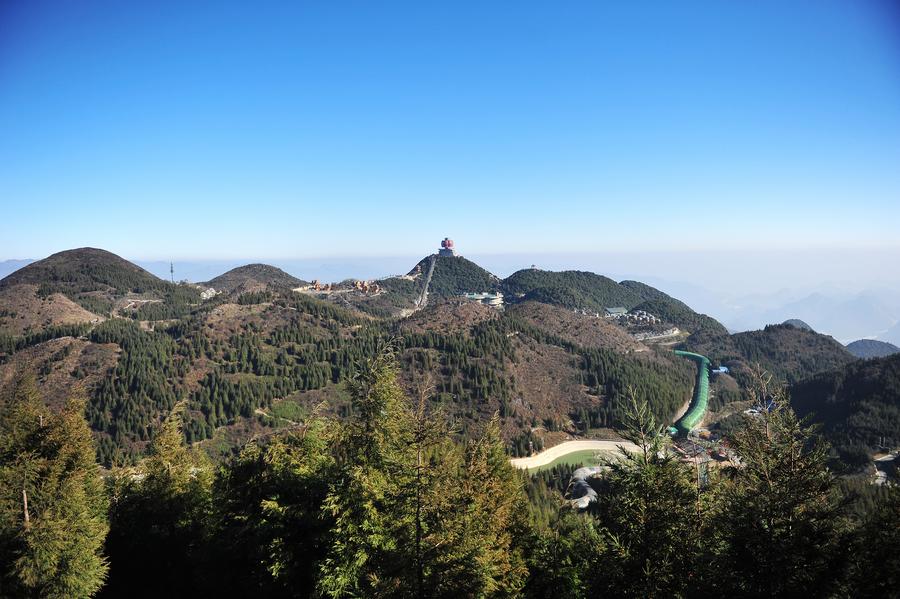 China's 40 years of reform and opening-up has lifted 800 million people out of poverty and made the country into the world's second-largest economy. China seeks to open wider to the outside world via continuing "go global" and "bringing in" approach and extending cultural bonds and people-to-people exchanges.
The year 2018 marks the 40 anniversary of reform and opening-up and construction of Liupanshui city. Addressing 45 reporters from domestic and foreign media and 20 students from ASEAN countries last week in Guizhou province, Wang Zhiqiu, director of editorial department from People's Daily's Guizhou Bureau, said that in the wake of reform and opening-up, Liupanshui, the "Cool City of China", has undergone tremendous changes, with the three most prominent ones known as "reform of resource changing into assets", "capital changing into stocks" and "farmers changing into shareholders".
Geographical location
Liupanshui is in western Guizhou province with 3.4 million population, with the ethnic minorities represented by the Yi, Miao and Buyi accounting for 26.27 percent. The city was established in 1978 and its name combines the first character from the names of each of its three constituent counties: Liuzhi, Panzhou, Shuicheng. The total area of this city covers 9,965 square kilometers. Liupanshui is known as the "Cool City" for its low average summer temperature and contains a number of county-level divisions, Panzhou prefecture-level city, provincial economic development zones and 87 towns.
In the Belt and Road Initiative and Yangtze River Economic Belt planning, Liupanshui is one of 66 regional circulation cities and 196 road traffic hub cities.
Agriculture
Agriculture is one of the main sources of economic growth.
Many kinds of fruits, including kiwi and mango, are planted in parts of Liupanshui. Kiwi fruit, which has entered the market of Southeast Asia, North America, etc., is popular in Liupanshui and fruit wine series have passed FDA certification and are allowed to enter the US market, said Wang Zhiqiu.
During our five-day media tour, we visited Langdai Kiwi Industrial Park where 1,000 people, mostly middle-aged women, work, according to Wang Guohua, general director of publicity department of Liuzhi district. He said the locals form 90 percent of the work force in kiwi industry and earn 60 to 80 yuan per day. He added that kiwi has a good market and they seek to enter Europe in the future and also start online selling. Locals are happy with their jobs in the kiwi industry and it has contributed a lot to their living standard, he said.
Culture
Liupanshui has a diverse ethnic culture as 44 ethnic minorities generate colorful national culture and folklore. The cultural heritages such as the Yi and Buyi people's folk songs of Panxian and Miao's wax printing of Suoga tourn, Liuzhi, reed-pipe instrument skills of Nankai town will leave visitors wanting more.
The Miao culture, which is symbolized by the longhorn hair decoration, includes a colorful marriage, funeral and sacrifice with unique music and dance. In Miao culture men do the farm work and women do household chores.
"Torch Festival" of Yi nationality, "Corban Festival" of Hui nationality, "Singing Festival" of Buyi nationality and other national dances such as "Sea Horse dance", Sheepskin drum dance", "Horse dance", "the Reed-pipe dance" are of great cultural importance and have broad appeal.
Tourism
Last year, Liupanshui received more than 30 million tourists and generated tourism revenue of over 20 billion yuan. In the first quarter of the current year, the number of tourists reached 11.09 million, an increase of 60.8 percent over the same period last year.
So far, Liupanshui has constructed more than 10 key tourism zones, including 6 national 4A level tourism attractions and 6 provincial tourist resorts.
The continuous "blowout" growth of tourism industry has contributed to the economic and social development of the city and the added value of tourism accounted for 6.8 percent of GDP. Moreover, the attraction of tourism, aided by media publicity and summer marathon, has led to the development of transportation and accommodation industries. That is, the poor have been linked to the development of tourism through the "three changes". As a result, some members of poor families have become tour guides, some have taken part in the management of scenic spots and some have opened hotels and farmhouses in the scenic areas.
Conclusion
All the aforementioned facts about Liupanshui will contribute to "three tasks" of comprehensively eliminating poverty, building a moderately prosperous society, and promoting the basic modernization.
Similar to all cities in China, Liupanshui also owes its economic, social and cultural development to China's reform and opening-up. In this city, people live a peaceful and prosperous life. They are grateful to the Communist Party of China for its efforts to alleviate poverty and promote their living standard.
The author is an Afghan journalist and freelance writer based in Beijing.