Wang grabs share of early lead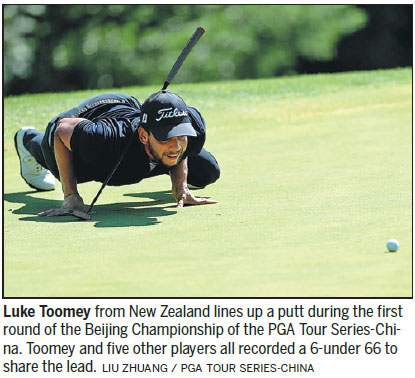 Sixes were wild in Thursday's opening round of the Beijing Championship, the ninth event on this year's PGA Tour Series-China.
China's Wang Xu, New Zealand's Luke Toomey, Singapore's Quincy Quek and American Joseph Winslow, winner of the Yantai Championship earlier this month, each shot 6-under 66 to share the early lead in the 1.5 million yuan ($221,000) tournament.
Hong Kong's Motin Yeung, third in the order of merit standings, carded five straight birdies en route to a 67 at Topwin Golf and Country Club, which previously hosted Tour events in 2015 and 2016, and the last three China Opens.
Yeung shared fifth place with Japan's Hidetomo Sato, Americans Joseph Gunerman and Gregory Moss, Canada's Peter Campbell and Italian Aron Zemmer, who outshone order of merit leader and playing partner Charlie Saxon (70), and Chinese amateur "Carl" Yuan Yechun (71), winner of last week's Qingdao Championship.
Toomey, 25, played in the first group off No 1 and posted the clubhouse lead after seven birdies - including three of the last four holes - and a bogey over the Ian Woosnam-designed course at Topwin.
Last month, the Kiwi closed with a 9-under 62 to share eighth place at the Kunming Championship, but he missed the cut in Yantai and Qingdao over the past two weeks.
"This is a course that suits my eye and there are endless ways to play it. I feel really comfortable here," said Toomey, who tied for 10th at the Chongqing Championship in March in his first Tour event after progressing through Q-school.
"I got the putter rolling today. I holed some really nice putts from 10-20 feet, which I haven't done these last couple of weeks, so I feel really good on the greens. I can see the lines out there, so I putted well."
Singapore's Quek, who teed off on No 10, carded four birdies on his first nine holes before picking up further shots on Nos 1 and 8 in a bogey-free round as the temperature soared to 33 C.
"Overall, the temperature was manageable and it's nice that there were water points on every tee-box. I also had an umbrella, so that definitely helped," said Quek, 31, who tied for sixth in Kunming.
"I'm starting to see a trend, starting to play a lot more under-par and managing my game a lot better than I used to. Now when I go out for a round, the confidence level is just a little bit higher than it used to be. Fairways look a little bit wider and holes look a little bit bigger."
Winslow, who also teed off on 10, is looking for his second title in three weeks and was pleased with his score after an eagle on the par-5 eighth.
"I hit a nice drive to where I had about 230 yards to the pin, which is a perfect little 4-iron for me. I hit a nice, high cut to 10-12 feet and rolled it right in, so that was a nice way to close my round," said Winslow, currently fifth on the order of merit.
"One of the big things from a nutritional standpoint is the electrolytes I take on the course. I drank two bottles to keep the energy up. Overall, I did a really good job just playing my game and staying mentally tough out there."