African students look forward to Xi's visit to Africa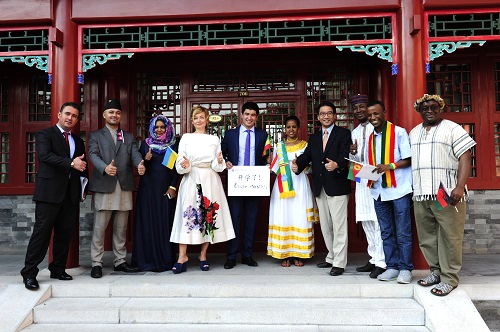 Many African students in China are looking forward to President Xi Jinping's visit to Africa, hoping to see deeper friendship and cultural interaction between China and Africa.
President Xi will go to the United Arab Emirates, Senegal, Rwanda and South Africa for state visit. He will also attend the 10th BRICS Summit held in Johannesburg, South Africa. Before President Xi goes back to China, he will stop in Mauritius.
A student from Senegal, Abdoulaye N'Diaye, said Senegalese will welcome President Xi with most enthusiasm. N'Diaye graduated from Institute of South-South Cooperation and Development in Peking University this June.
President Xi announced at the 70th anniversary of the founding of the United Nations in September 2015 that China will establish the Institute of South-South Cooperation and Development. The institute was formally set up at Peking University in April 2016. The institute aims to train high-end talents for developing countries, build a communication platform among developing nations, and promote South-South cooperation to contribute to the whole world.
N'Diaye said China is one of Senegal's largest investors and has helped Senegal build many infrastructure projects including railways and stadiums.
Senegal is also optimizing the business environment for Chinese investors. He hopes this visit will further deepen mutual trust and cooperation between two countries.
As an official of the Ministry of Internal Affairs of Senegal, N'diaye expressed admiration for China's achievements in reform, opening-up, poverty alleviation and economic development. He said Senegal hopes to learn from China's successful experience and combine Senegal's national conditions to find a suitable development path.
Tanzania Zambia Railway is an important symbol of China-Africa friendship, said an official from Tanzania, also a student of Institute of South-South Cooperation and Development. He hoped that Xi's visit this time would add another milestone to China-Africa friendship.
This year is the first year of the second "golden decade" of BRICS. An official of South Africa hoped that President Xi would explain further the concept of "BRICS plus". He hoped that the BRICS countries can work together with more African countries to promote a more just and rational global governance system.