Life behind the scenes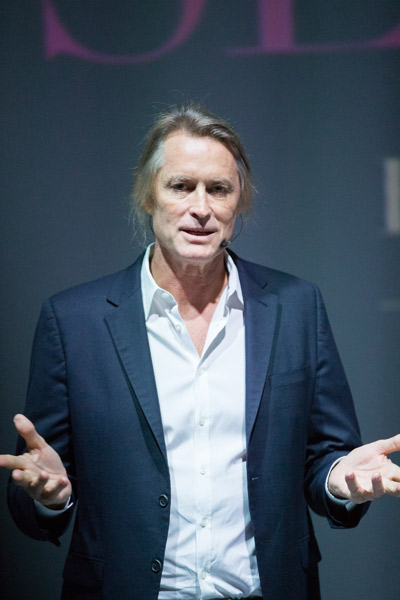 The official backstage photographer of the Victoria's Secret fashion show for the past 15 years speaks about his passion to Xu Haoyu.
The night before the final of Chinese talent show Produce 101, Russell James walks into the venue in Hangzhou, in Zhejiang province, wearing black flip-flops.
Clad in a white T-shirt with its lower hem peeking out from a thin blue sweater and similarly colored jeans, the man spends around half an hour surveying the scene and getting a feel for the environment.
Born in Australia, and currently based in New York, James has been the official backstage photographer of Victoria's Secret fashion show for the past 15 years.
While he has known many of the VS angels since they started modeling, he still has to get to know 10 or 20 new girls quickly every year, to try and bring out the best in them.
"I tend to approach people on a very personal level. I like to connect with people, and understand a little bit about what drives and what motivates them."
As for the scene backstage at Produce 101, he wants to show the emotion of the contestants through his photographs.
As James recalls, his love of photography started at 8 or 9 through his father, who had an old box camera.
He says that he would secretly sneak into his father's closet without his permission and look at everything upside down through the lens.
The curiosity and interest planted in childhood grew while he was traveling around Europe.
After visiting Italy and Paris, he moved to Stockholm in Sweden. And it was in the historic city that he began taking photos of landscapes as well as people from North Africa.
In 1996, he flew to New York after getting a call asking him to shoot for Sports Illustrated with African American supermodel Tyra Banks.
To date, James' works have been published in many well-known magazines including W, Vogue, Allure, Harper's Bazaar, Marie Claire, American Photo, and French Photo.
Russell's photographic achievements range from working for brands such as Hermes in association with the Guggenheim, to breakthrough advertising campaigns for global brands such as Rolex, Evian and Revlon.
He has also photographed many big names, including former United States president Bill Clinton.
James has won many awards, including the Hasselblad Masters Award in 2007.
Speaking about his work, he says: "Some people say, 'you had overnight success'. And I say, where there is overnight success, there are thousands of nights that nobody saw."
It is not commonly known that James was told to leave school and try something else at the age of 14, because he didn't really fit in.
So, he got his first job making trashcans, and then training dogs. And he was also a police officer for several years.