Marimba was music to my ears
Share - WeChat A celebrated Chinese percussionist, who made his home in the UK, tells of his love for an unusual concert instrument
Percussion virtuoso Le "Leo" Yu will return home to China this summer on a landmark tour representing the United Kingdom's prestigious Royal Northern College of Music. He arrived in Manchester as a scholarship student 12 years ago and now has international students of his own.
A sense of nervous excitement reverberates through the refectory at Manchester's prestigious Royal Northern College of Music, where students sit patiently waiting to perform examination recitals.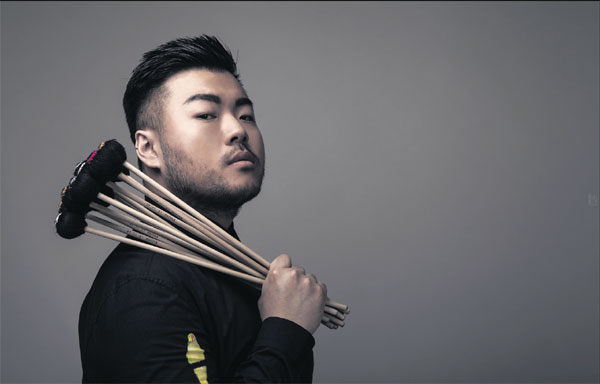 Dressed in the elegant finery of classically trained musicians, they carry apprehensive smiles and an array of intricate instruments, large and small.
Two young Chinese percussionists nod to their tutor, Le "Leo" Yu, then pass outside to take a break from the tension in the spring sunshine.
"There's nothing more that I can do for them," Le says. "I'm a little nervous for them, but I'm sure they'll do really well."
Only 12 years ago, he too was a nervous percussion student, stepping into the world-renowned RNCM having earned a scholarship on the strength of a DVD showcasing his talent to officials holding auditions in Beijing.
He remembers fondly the day he traveled half way around the world from his home in Xi'an to see the Chinese words for welcome - huan ying - written on the door mat at the RNCM.
"That's when I knew I'd made the right decision," he says. "I asked my parents what I should do when I was offered the scholarship and they told me, 'It's your dream, you must go and study in Manchester'."
The RNCM has become a magnet for talent from across the world, attracting students aware of its reputation as a first-class centre for music study.
In academic terms, thirty-year-old young man is visiting international tutor in marimba at the RNCM and an honorary associate artist. He graduated with the first International Artist Diploma in Solo Percussion from the RNCM, and has performed with orchestras the world over.
But he is also a percussion virtuoso who palys the marimba - a large woodwind percussion instrument of the xylophone family. In July he will return to China for a landmark tour as director of the RNCM Percussion Ensemble.
Born in the Chinese city of Hanzhong and raised in Xi'an, both Shaanxi province, Le has worked many notable musicians and performed in front of members of the royal family at the 60th Royal Overseas League Competition Award Ceremony in London's Southbank Centre. He won the first prize of mixed ensemble category with his Aurora Percussion Duo.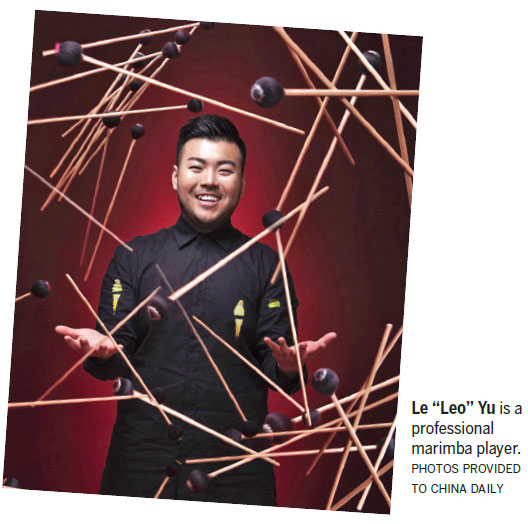 A year later the duo was chosen by Yehudi Menuhin's Artists Agency "Live Music Now" to deliver projects to special educational needs students across the UK.
Since 2016, Le has been a jury member for the China National Percussion Competition and the Southern Percussion International Tuned Percussion Competition in London. He is also an artistic adviser for the Sichuan Percussion Ensemble. He has been invited to give master-classes at School of the Arts, Singapore, the Hong Kong Academy for Performing Arts, China Central Conservatory of Music, ShenYang Conservatory of Music, Xi'an Conservatory of Music and Zhejiang Conservatory of Music and many more.
Growing up, he recalls, there was a piano in the house but he never played it. It belonged to his dad, a keen singer and musician, who opted to work in television because in the 1980s it was difficult to make a living from music. His mother, Hong Yan Mo, was one of China's first-generation supermodels, showing off clothing by famous Chinese fashion brands at some of the earliest catwalk shows to take place in the country.
"It wasn't until later in life that I realized that I was part of a family who were interested in arts," Le explains. "I have seen lots of celebrities in my house and supported my mum in one of her fashion shows when I was only four. My dad dreamed of being a musician so was incredibly supportive when I said it was something I wanted to do."
Le's interest in music developed in 2000, when he saw a TV gala on Chinese Central Television over the Chinese New Year period.
"There were two kids, one a girl and one a boy, playing the drum kit. I thought it was so cool," he recalls. "I told my dad, 'I want to learn percussion, I want to learn drums', and he was surprised, but he bought me a drum kit. I later told my dad I wanted to be a professional percussionist. Again, he supported me. I attended Xi'an Conservatory and it was a professor there who asked me if I knew what the marimba is."
For the uninitiated, the marimba is a vast woodwind instrument, ages old in origin, but similar in age to Le as a formal concert instrument. It was originally played in Africa, and Guatemala in Central America and was introduced to North America in the late 19th century.
It was the Japanese marimba player Keiko Abe who spoke to instrument maker Yamaha about developing it into a concert instrument. The first five octave marimba was built in 1986, only a short time before Le was born.
Le is sponsored by Yamaha, with the company Encore sponsoring his mallets. So why did he choose that instrument above others?
"As a percussionist, especially in the early stages, you always play on drums and you never hear any melodic instruments, except for the triangle," he explains. "When I trained in the Xi'an Conservatory, the professors showed me the other instruments, including the marimba. I learned that, as a percussion musician, you can play a melody and I very much became interested in playing the marimba.
"I asked my dad, 'Could I have a marimba?', and he got me one. My parents were always very supportive. I used to practice all the time and my mum would say, 'Could you stop for a while and eat some fruit, or drink some tea?'. Normally in China, families encourage children to play piano. They never forced me to practice. I was lucky because I just loved it."
Le is committed to ensuring as many young musicians as possible can have the same opportunities and experiences he has had since leaving home as a teenager. His experience of leaving China for a new life in Manchester has allowed him to understand the appeal of living, studying and working internationally, he says.
"I want to encourage some young musicians from the UK and China because I have traveled a lot to play instruments and I want to help some people to travel as well. When I was their age, I didn't have that much information.
"It's the same for every international student," he adds. "You come to a country and you are not only learning what you do - I came here to be a percussionist - you are also learning about the place you choose to study and live. You ask yourself, 'do you know the stars that came from here, the culture, and what it's like?'.
Directed by Le, the RNCM Percussion Ensemble will tour in China for the first time from July 18 to 28, the first UK percussion conservatory ever to tour the country. The tour will begin in Beijing's Forbidden City concert hall, before visiting Tianjin Grand Theatre and the Qintai Concert Hall in Manchester's Twin City, Wuhan, Hubei province. The ensemble will spend three days in Wuhan, with a concert on day one and a percussion summer school in Qintai Concert Hall, with ensemble members teaching and doing workshops with local children. The tour will end with a percussion showcase concert at the 13th China National Youth Percussion Competition and Festival in Shanghai. The ensemble was invited to perform by Chen ShaoLun, president of the Shanghai National Percussion Association.
For China Daily