Foreign foods are reaching Chinese dinner tables faster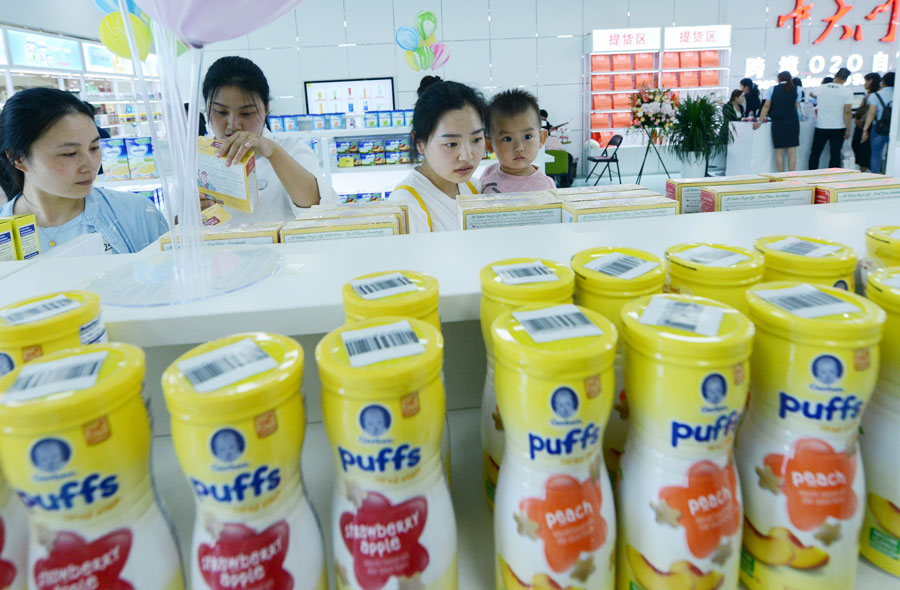 SHANGHAI-Starting Sunday, China cut import tariffs for daily consumer goods. The average tariff rate for cultured and fished aquatic products has been cut from 15.2 percent to 6.9 percent.
As China reduces import tariffs and simplifies customs clearance processes, it will take much less time for foreign food to make it to Chinese dinner tables.
A batch of fresh milk leaving a New Zealand farm on Monday can reach Chinese dinner tables as soon as Wednesday. At the beginning of the year, it took eight days.
Lobsters, salmon, oysters and other fresh seafood from Canada can reach China's first-tier cities within 36 hours, thanks to China's trade facilitation policies and fast growth of cold-chain transportation. The customs clearance time has been reduced to less than two hours in several major cities, including Shanghai, Beijing and Guangzhou in Guangdong province.
"We now guarantee our lobsters fresh and alive when they arrive on Chinese customers' doorsteps. If not, they can reject the package on sight," said Leo Liu, general manager of 50N Natural Ecology Group Ltd, a Canadian company.
The tariff cut can make the company's products more competitive in China, said Liu.
Currently, traditional export markets for Canadian aquatic products and food enterprises are in the United States and Europe, rather than China. Liu's company has opened online shops on leading Chinese e-commerce platforms, but sales volume in China only accounts for 5 percent of the company's sales.
"Canada's food trade with China is mainly grain, oil and other commodities. With China's import tariff cuts, we are selling more consumer products to China to catch up with the country's upgraded consumption habits," Leo said.
Food traders are preparing for increasing imports of fresh and frozen food to the China market. Ye Zi, chief business officer of HM (Shanghai) Trade Co Ltd, said the company has started to import frozen aquatic products from Japan for the first time.
"Frozen aquatic products have a shelf life of eight months. As the whole customs clearance process is limited to two weeks, it is now possible to sell imported frozen aquatic products in China," Ye said.
Milk produced by New Zealand brand Theland can reach Shanghai's supermarkets and China's e-commerce platforms roughly 72 hours after production and bottling near Auckland.
The process used to take five days, said Sheng Wenhao, board chair of Theland New Cloud Digimart, which owns the brand. He said trade facilitation has made it possible to sell imported pasteurized milk in China, which has a shelf life of no more than 15 days.
Earlier this year, the Shanghai Entry-Exit Inspection and Quarantine Bureau and the government of Changning district, home to the city's biggest Japanese and Korean communities, launched a trial program to speed up import inspections.
Theland and four other brands, which municipal regulators rate as having good reputations and reliable quality, have been added to the program's list, allowing them to enjoy fast-track import quarantine and inspection. Theland milk's customs clearance time of eight days has been reduced by more than half since then.
Yang Dongsheng, head of Changning's commerce commission, said during the trial, the inspection and quarantine department has changed the work mode to carry out the import supervision procedures beforehand and afterward.
"We start the quality inspection in the country of origin, and implement random checks after the imports arrive in China," Yang explained.
Chocolate, as an imported product that has witnessed China's opening-up and consumption upgrading, also reflects changes during this round of trade facilitation.
Shanghai Maxmile International Trade Company is the general agent of several famous chocolate brands including Guylian in China.
Wei Wenzhong, general manager of the company, told Xinhua News Agency that Chinese customers now have more diversified demands for flavor, locality and roasting methods of chocolates.
He said shea butter, while popular around the world, is still new to Chinese consumers. Chocolates with shea butter ingredients used to be blocked in China because shea butter did not have a Harmonized System code, which is an internationally standardized system of names and numbers to classify traded products.
"Last month, shea butter got its official HS code, and Chinese customers will be able to taste chocolates with shea butter soon," Wei said.
Xinhua