Dedicated team members quick to spring into action in Thailand
Share - WeChat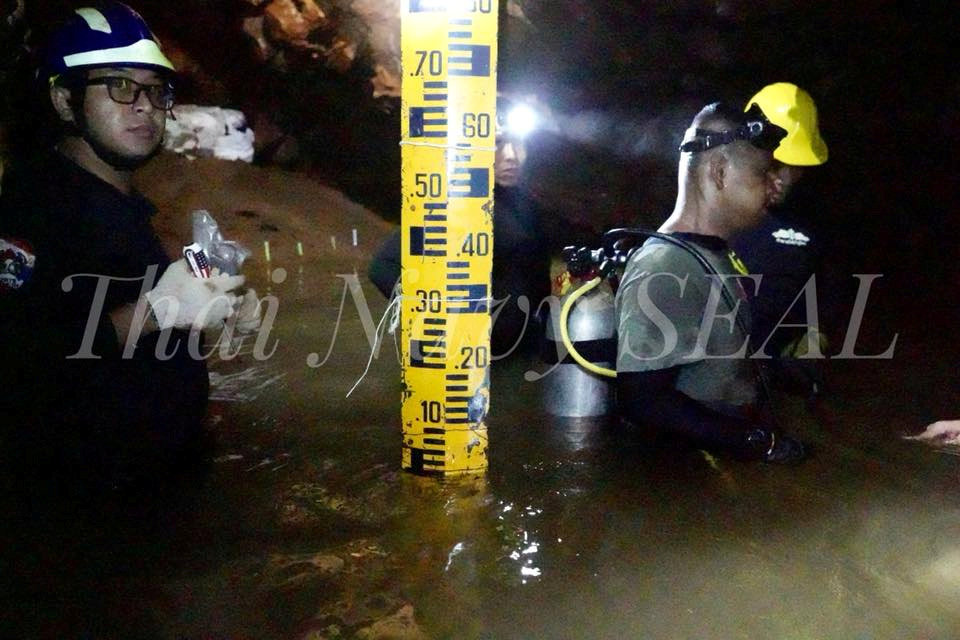 It took just a day after hearing news that 12 boys and their soccer coach had been reported missing in Thailand for the seven Chinese rescuers to arrive in the northern Thai city of Chiang Rai.
On June 23, reports said the boys, age 11 to 16, and their 25-year-old coach had disappeared after a match. They were thought to have been trapped in the flooded Tham Luang Nan Non cave in Chiang Rai, a popular tourist destination.
Wang Ke, a 45-year-old Beijing man who is also founder of the non-governmental rescue organization the Peaceland Foundation, heard the news.
On June 26, rescue operations started but reports said constant heavy rainfall was hampering the efforts. Wang knew the "golden 72 hours" for saving lives had ticked away.
He started to contact the Chinese embassy in Thailand, saying he was willing to send Chinese civilian rescuers to help find the boys.
Wang also sent recruitment letters to volunteer rescuers in his foundation. "Professional cave exploration and diving skills wanted," he wrote in the letter.
Wang sent the letters on June 27 and soon received replies from both the embassy and the volunteers. With approval and support from the embassy, seven rescuers led by Wang Yingjie, partner of Wang Ke in the Peaceland Foundation, headed to Thailand on Friday.
In cooperation with more than 100 civilian rescue teams, members of the foundation have a wealth of experience in carrying out similar operations in disaster search and rescue work, including in the mountains of Myanmar and Nepal.
The foundation was founded in May, around the 10th anniversary of the Wenchuan earthquake in Sichuan province. But Wang Ke and Wang Yingjie have been devoted to volunteer rescue work for the past 10 years.
In 2008, Wang Ke joined the Beijing Olympic torch relay on Mount Qomolangma, the world's highest peak, also known as Mount Everest. On May 12 that year, a magnitude 8 earthquake struck Wenchuan, leveling almost the entire county.
Wang Ke said he can still recall the devastation in which thousands died, which came just days after the relay, toppling buildings and sending landslides crashing into cities.
He mobilized his friends and colleagues in Beijing to donate materials and funds to Wenchuan, where he got to know Wang Yingjie and Qiu Lili, who became partners with him in further volunteer work, including search and rescue missions.
Besides his daytime job as manager at a telecommunications company, like most of the volunteers in the civilian rescue team, Wang Ke has received professional training and has taken part in international rescue work several times.
In 2011, he joined rescuers after an earthquake in Myanmar. Four years later, he was a member of the Chinese civilian rescue team in a massive earthquake in Nepal, in which the team recovered 24 bodies, provided help to 2,320 people, and carried out epidemic prevention disinfection for more than 20,000 people in Kathmandu.
"In most of my rescue work, I paid for my own travel, bought rescue equipment and supplies, and so did the other members," Wang Ke said, adding that the main source of funding for the team was the members themselves.
For the task in Thailand, the seven members have brought 400 kilograms of supplies and equipment, including an underwater robot, 500 ropes, several GPS monitors and hundreds of pieces of other equipment, all funded by the foundation, with the money mainly coming from members' donations.
"Sometimes we do social fundraising, but the difficulty is in letting the public understand the purpose of overseas rescue." Wang Ke said, adding that the funding problem is one of the key ones encountered by the civilian rescue teams.
Another problem, which he thinks is more difficult to solve, is gaining trust. He said it is difficult to gain trust from the countries affected as "they will doubt your professionalism and motive".
In the past 10 years, many civilian teams have entered foreign countries without permission from governments or related institutions, resulting in them doing only marginal work, or nothing at all, Wang said.
With help from the Chinese embassy in Thailand and the China-Thai Cultural Communication Association, the seven rescuers have been given local approval, Wang Ke said. The Chinese members are working with scores of professional rescuers from the United States, United Kingdom, Australia, Sweden, Myanmar, Laos and other countries to help their Thai counterparts.
Another Chinese team, Green Boat Emergency Rescue from Beijing, also arrived in Thailand on Tuesday with the Peaceland Foundation. The two Chinese teams will take part in cave search and rescue work and give medical help.
Last month, the Peaceland Foundation organized Chinese volunteers in carrying out anti-poaching operations in Zimbabwe. In coming months, these volunteers will go to Cambodia to take part in a mine removal campaign.
Wang Ke said the foundation's active participation in public welfare has increasingly attracted attention. Chinese singer Wang Yang, known popularly as "Lao Lang", is a member of the foundation's executive board and he carries out a great deal of publicity and fundraising work for the foundation, Wang Ke said.
"There are now tens of thousands of volunteers that the foundation can mobilize, and all of them are experts in various fields. I can see in the future that they will contribute their own strength to help more people in need in the world," he added.